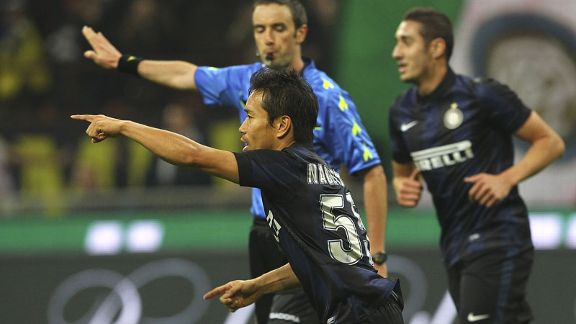 GettyImagesYuto Nagatomo made sure of the points for Inter Milan with the second goal against Livorno
Inter extended their unbeaten streak to five games with a 2-0 win over Livorno on Saturday, a game that will be most remembered for the return of Javier Zanetti from injury eight minutes from time.

With the win, Inter closed the gap on second and third place -- Napoli and Juventus, respectively -- to three points ahead of their meeting on Sunday in Turin.

An own goal from Livorno goalkeeper Francesco Bardi put Inter ahead and man-of-the-match Yuto Nagatomo wrapped up the win with a well-taken goal late on.

Return of Zanetti

The Stadio Giuseppe Meazza stadium erupted in a standing ovation when Javier Zanetti came on for Saphir Taider with 8 minutes left in the match. The Inter legend made his comeback after rupturing his Achilles tendon in April -- an injury that doctors said would require seven to nine months to heal. The 40-year-old returned in six-and-a-half months.

When he replaced Taider, Zanetti slotted right into a defensive central midfield role alongside Esteban Cambiasso, as I suggested in midweek.

Zanetti played better than his stats showed:

•Touches: 11
•Passing Accuracy: 71%
•Tackles: 1
•Dribbles Won: 2

Not covered in the stats was that it was Zanetti who sparked the move for Inter's second goal -- a move that eventually ended with a nice threaded pass from Mateo Kovacic that Nagatomo scored from.

Zanetti's appearance was more a tactical move by Inter boss Walter Mazzarri than an indictment of the performance of Taider, who I thought played well again.

Taider is starting to take control of that right side of the Inter midfield and he was all over the pitch. What was most pleasing about Taider's play on Saturday was that he did a much better job keeping possession. On Saturday his passing accuracy was 92% up from the 79% he had against Udinese a week ago.

Better defensively

It was really good to get another clean sheet, as Inter limited Livorno to only one shot on goal. After going through a spell when Inter were conceding goals left and right, that is two clean sheets in a row for the Nerazzurri after last weekend's 3-0 win at Udinese.

It is not a coincidence that Inter have looked better defensively over the last three games with the return of Walter Samuel.

After Hugo Campagnaro got injured, Inter did not look like a solid defensive team with a back three of Rolando, Andrea Ranocchia and Juan.

But Samuel, like Campagnaro, brings experience to the Inter back line and we saw that on Saturday.

Man of the Match: Yuto Nagatomo

At the beginning of the season Yuto Nagatomo was terrific and almost all of Inter's attacks came down his left hand side. After a couple of sub-par games Nagatomo was back to his best, dominating the left side of the pitch and providing the attacking and defensive width down that side that Mazzarri wants to see.

A Professional win

Inter are in the midst of a run of very winnable games and they professionally took care of business. Once Inter went ahead on Saturday, I never really felt that the Nerazzurri would go on and lose the game.

That is a really good sign. It is easy for players (and fans) to get up for the games against the big teams in Serie A like Roma, Juventus and Milan.

It is much more difficult to get excited about playing a struggling side like Livorno. The fans come to the Giuseppe Meazza stadium expecting to see a home win, and sit back in anticipation of seeing Inter score.

Last season under Andrea Stramaccioni, these were the games that Inter struggled in -- the games when they dropped points to teams in the bottom third of the league. Strama's inexperience shone through as he struggled to lead Inter to victory when the team was not playing well.

But that is not the case with Walter Mazzarri. He is the voice of experience that Strama wasn't. He understands that the next three games are very winnable, and with Napoli and Juventus involved in fierce battles in the Champions League, this is possibly a time for Inter to take advantage of any slip ups that the teams ahead of them might have.

That is why Saturday's win was so important. The three points means that Inter will be closer to either Juventus or Napoli (or maybe both) than they were on Friday. And that is a very good thing.