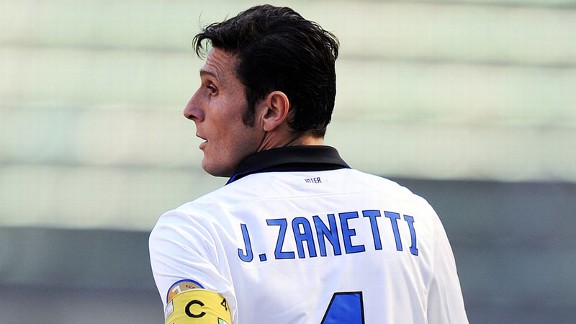 GettyImagesJavier Zanetti is set to make his return for Inter Milan.
Possibly as soon as this weekend against Livorno we will see Inter Milan legend Javier Zanetti back on the pitch, as he makes his long-awaited comeback from his Achilles injury.

Zanetti was an unused substitute at Udinese at the weekend and Inter boss Walter Mazzarri says that he does not feel it will be too long before the 40-year-old is back in action.

"I was uncertain whether to let Zanetti enter the pitch or not because his conditions seem to be very good," he said. "During the training matches I've asked the other team-mates not to put him (under) too many pressures because he has just got back, but he seems so comfortable with the ball that he could have given his support... if I had lined him up.

"Of course we have to be careful because he needs time. I can't tell precisely, but I believe that he may be available soon."

I have to admit that when Zanetti ruptured his Achilles tendon back at the end of April I did not expect to ever see him play again, especially at his age.

At the time of his injury, Zanetti acknowledged the possibility that he would never play for Inter again saying:

"I just want to play at least once more in front of the Inter fans. I would hope it might be more than once."

But Zanetti has not only came back from this serious injury, but has done it ahead of schedule. A testament to the work he has put in to get himself fit for one more season.

And I do expect it to be one more season. Zanetti is 40 now and when he retires at the end of the season he will go down as one of the all-time great Inter players.

While technically not a one-club player, Zanetti has made 845 appearances for Inter in all competitions, and his longevity puts up alongside not only Inter's all-time greats, but Serie A's also.

He has a spot waiting for him on the technical side of Inter when he finally hangs up his boots and calls an end to a glorious career.

And what a career it has been, both at club and international level. Zanetti holds the record for the most appearances by a non-Italian born in Serie A and his 834 official matches for Inter is a record that will never be broken.

But it is not just his longevity that has made Zanetti a special player. He is a winner. Consider that at Inter, Zanetti has won every possible trophy he could, often multiple times:

- Five Serie A titles
- Four Coppas Italia
- 4 Supercoppas Italiana
- 1 Champions League
- 1 UEFA Cup
- 1 FIFA Club World Cup

On top of that Zanetti holds the record of the most capped player for his country and has represented Argentina in the Olympics (1996) and two World Cups (1998 and 2002).

So what does the near-term future hold for Javier Zanetti? It will be interesting to see where Mazzarri plays Zanetti, a player who is known for his versatility.

Ironically Inter's biggest weakness at the moment is a right wing-back, an area of the pitch that Zanetti has a lot of experience playing. In Mazzarri's system though a wing-back has to be able to get up and down the pitch, helping out on defence before leaping forward to provide width when Inter attack. Ten years ago Zanetti would have been perfect for this type of role, but not at age 40. I fear that he doesn't have the legs anymore.

The obvious position for Zanetti to slide in to is that defensive or central midfielder role that Esteban Cambiasso occupies. I am not saying that Zanetti will or should replace Cambiasso on a regular basis, but I can see Zanetti stepping into the line-up for Cambiasso when Mazzarri wants to give him a rest.

Another option would be late in games, when Inter are nursing a lead and Mazzarri is looking to bring on a player with experience that can help see a game out. If this case, then Zanetti would slide in next to Cambiasso and provide that defensive coverage.

If Zanetti does make his long-awaited return to the Inter line-up this weekend, I hope that Mazzarri brings him on as a substitute so that the Inter faithful can give this legend of the game the applause and recognition that his brilliant career deserves.