Inter owner Thohir must sack Branca and Ausilio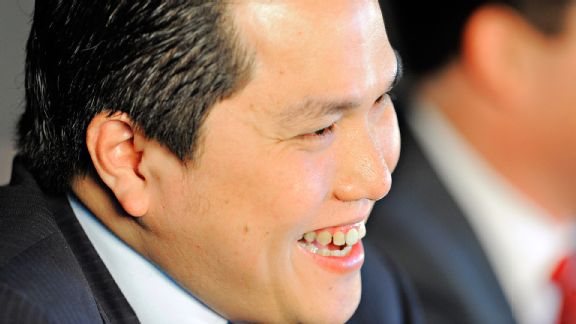 Doug Kapustin/Getty ImagesInter Milan owner Erick Thohir must restructure to protect the club's youth.
Like any Inter fan I have been reading and following what the club's new majority owner Erick Thohir has been saying about his plans for the team.

Earlier in the week Thohir was quoted in an interview with the La Repubblica saying:

"I'll meet with Moratti and boss Walter Mazzarri in the middle of November to discuss our plans for signings. During that meeting, we'll also talk about the plan with regards to youngsters.

"My dream? It's to use more players from the youth team, which is doing very well in their own championship. We need to be confident. I think a number of younger Italian players are worth giving a shot in the first team to show what they have to offer."

Thohir followed that up with an interview with Gazzetta in which he said:

"I know we need some flank players for both the right and the left... Right now the transfer market is closed, and first I want to talk to Moratti and the coach."

Similar sentiment from the new Inter boss in both interviews. Thohir saying that he will talk to Massimo Moratti and Walter Mazzarri in November to iron out the January transfer targets, but he knows already that Inter need reinforcements at both wingback positions and that his long term vision is to see more home-grown players in the Inter first team.

What was left unsaid in those comments was the job security, or lack there off, for Inter's current Technical Director Marco Branca and Sporting Director Piero Ausilio, neither of who were mentioned by Thohir.

It is the job of Branca and Ausilio to nurture and develop Inter's academy players and home-grown talent. With only one player currently in Mazzarri's squad who has came through the Inter academy, they have both failed at their job.

What makes the lack of progression of Inter's academy players into the first team squad even more frustrating is that several of them go on to contribute and start for other top European clubs.

This past summer Inter sold two young defenders, right back Giulio Donati (23) to Bayer Leverkusen and center-back/left back Luca Caldirola (22) to Werder Bremen. Both players play in positions that Inter are looking to strengthen in January, yet both are currently contributing in the Bundesliga.

Donati has made 10 appearances for Bayer Leverkusen this season, including two starts in the Champions League. Opta's, whoscored.com gives him a score of 7.4 for the season, which makes him one of the best right backs in the Bundesliga this season. Hamburg right back Heiko Westermann has the highest score of 7.5.

The scouting chart on Donati says that his strengths are crossing the ball and short passes, two attributes that I am sure are near the top of the list for what Mazzarri will be looking for in January.

Luca Caldirola has not had as glowing a start to his career in Germany as Donati has. Nevertheless, Caldirola has started every game for Bremen this season (10) and Whoscored.com gives him a score of 6.87 for the season.

In hindsight the decision to sell Donati looks like a mistake and the jury is still out on the Caldirola deal. The problem for Inter fans is that if you go back through the young players that Branca and Ausilio have sold over the years, these are mistakes that have happened over and over.

You only have to go back to January of this year for the poster child for Branca and Ausilio's ineptness. The sale of Philippe Coutinho to Premier League side Liverpool for 10 million euros. Anyone who watched Coutinho in an Inter shirt knew that he had the skills to develop into a world-class player. But Inter ran out of patience and now he stars in the Premier League and his transfer value is already 50% higher than that Inter sold him for.

Or go back to summer 2012 when Inter gave up on then 19-year-old striker Luc Castaignos who was sold to FC Twente for 6 million euros after never really getting a chance at Inter. Inter signed Castaignos from Feyenoord after the striker scored 15 goals in 37 appearances. Since returning to the Eredivisie with FC Twente, Castaignos is back amongst the goals once again with 17 in 43 games. His 6 goals in Holland this season make him the four highest scorer in the league.

So that is four players that Inter have let go in the past 16 months, of which three of them at least could be helping Inter today. Go back further and Inter's transfer history is littered with players who Inter sold too early.

And there lies the second problem with Branca and Ausilio's tenure. By giving up on players too early, Inter ends up selling these players for a fraction of what they are really worth. Not only that, but by selling them Inter has to go out and find replacements who, often cost more than the players Inter are selling.

The only way to break this circle of selling too soon, and overpaying for replacements is to change the people making these decisions. Which is why I think Thohir should fire Branca and Ausilio and bring in Leonardo. Inter's problem is not developing talent. The academy is doing a good job with that. The issue is deciding when and how to incorporate these talents into the first team squad and that is something that Branca and Ausilio seem incapable of doing.