Inter off target in Atalanta draw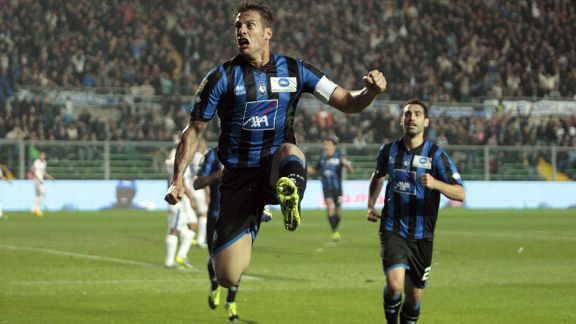 APGerman Denis wheels away after netting an equaliser for Atalanta against Inter Milan.
Inter Milan drew 1-1 away to Atalanta on Tuesday night. Ricky Alvarez put Inter ahead early on but Denis cancelled that out. Despite playing well, Inter almost threw away the point late on but Juan Pablo Carrizo made a brilliant save to deny Yepes. Carrizo replaced Samir Handanovic at half-time due to the Inter number one picking up an injury.

Inter played well for long periods of the game but could not find the way through to grab a winner.

The draw is another two points dropped and that has been the story of Inter's season so far. Draws against the likes of Cagliari, Torino and now Atlanta means 6 valuable points dropped in the race for a Champions League place. Add them to Inter's total and the Nerazzurri would be on 25 points, and in second place ahead of Napoli and Juventus' games this week.

Instead Inter are three points behind their Champions League contenders with both Napoli and Juve having that game in hand. And that is what has been so frustrating about Inter this season. They have had opportunities to really make a statement but have not been able to.

The dropped points is going to make it extremely difficult for Inter to grab one of these Champions league places this season unless Roma, Napoli or Juventus hit a really bad period of form. And at the moment that looks unlikely.

Inter Player Focus: Walter Samuel

Veteran defender Walter Samuel made his season debut on Tuesday and he replaced Andrea Ranocchia in the heart of the Inter defence and did not look out of place.

The data from fourfourtwo.com shows Samuel's involvement in the game:

His 89% passing accuracy was impressive, especially considering that Ranocchia's passing accuracy is 85.6% for the season.

But what I liked best about Samuel's performance is that he added a little bit of steel to the Inter back line picking up a yellow card to go with this three fouls. By comparison, Ranocchia has averaged less than a foul a game this season.

Kovacic In The Number 10 Role

Interesting move by Walter Mazzarri on Tuesday as he played Mateo Kovacic in the number 10 role while Alvarez dropped into a more traditional midfield position.

Kovacic (stats from fourfourtwo.com)

Kovacic v Alvarez Head to Head
Passes (completed)
Kovacic 59
Alvarez 61

Pass completion %
Kovacic 95%
Alvarez 85%

Chances created
Kovacic 1
Alvarez 1

Shots
Kovacic 1
Alvarez 4

Shots (on target)
Kovacic 0
Alvarez 2

Goals
Kovacic 0
Alvarez 1

Tackles
Kovacic 1
Alvarez 3

Fouls
Kovacic 2
Alvarez 2

As the stats show, Kovacic held his own in comparison to Alvarez against Atalanta, which will be one of the big positives that Mazzarri will take from the match.

The performance of Kovacic potentially allows Mazzarri to drop Alvarez into that third central midfield position on a more permanent basis next to Guarin and Cambiasso. Mazzarri has struggled to find a third player to slot into that central midfield position and maybe Alvarez is the answer, at least in the short run.

My worry about making that move is whether that makes Inter too offensive minded and leaves them open defensively? With both Kovacic and Alvarez in the line-up, plus Guarin, that is three players who are not known for their defensive work.

Poor Choice Of Shots

I have written several times recently about how bad Inter's shooting has been, and that the Nerazzurri need to do a better job not only in being more clinical in front of goal but also when deciding to shoot.

Inter outshot Atalanta 13-12, but when it came to shots on target, Atalanta had an 8-4 advantage. How could Atalanta put 75% on target and Inter only 30%?

The majority of the Atalanta shots were taken in the Inter penalty area, and even their long range efforts were mainly on target.

What strikes me is the poor decision making that the players are making in the final third. At least four of Inter's shots are from at least 30 metres. It is extremely difficult to consistently score goals if that is where you are shooting from. What continues to amaze me though is that this is not a one game problem for Inter. They have been taking shots from poor angles and distances all season and I cannot understand why Mazzarri is not working on this problem on the training ground every day.