Verona begin crucial stretch of games for Inter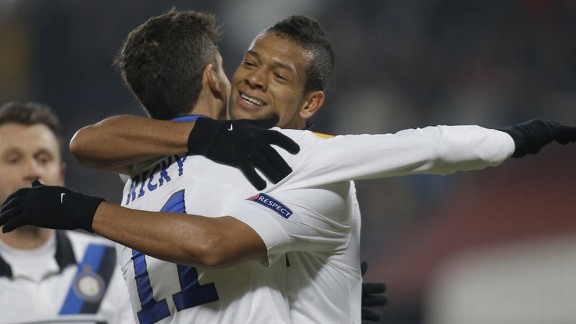 APFredy Guarin will be Inter's key player against Verona.
Inter will hope to get back to winning football games on Saturday as they host Verona at the Stadio Giuseppe Meazza.

Lost amidst the international break and the red card of Samir Handanovic last weekend is that Inter have failed to win their last three league games, picking up only two points.

Considering that two of those games were away to Cagliari and Torino, games that you would normally expect Inter to claim maximum points, Saturday's game does have the feel of a must-win game.

After a tough start to the season, this was the stretch where I expected Inter to really solidify their status as Champions League challengers.

So far it has not lived up to expectations.

Inter's next five league games are against Verona (H), Atalanta (A), Udinese (A), Livorno (H) and Bologna (A). Only two of those opponents are in the top half of the table and Inter need to take maximum points from these five games.

In order to do that, Inter will need to do a better job of converting chances into goals.

Inter are third in Serie A with an average of 15.9 shots per game, but only six of them are on target (38%).

What is eye opening about that statistic is where Inter are shooting from.

Around 58% of Inter's shots are taking place inside the penalty area, while 14% of those occur in the opponents' six-yard box. Since you would expect that the vast majority of those shots hit the target, it would suggest that Inter is only putting about 25% of its other shots on target. You cannot win games consistently with that low of a shooting percentage. For Inter to get back to winning games, they have to improve that number.

But to back up a bit, before you can have a shot on goal you need to create the shooting opportunity. And as this chart shows, Inter have been on a downward trend since the first week of the season. The one blip in there is the Sassuolo match when Inter scored seven goals.

Key Player -- Fredy Guarin

If Inter are to create and score more goals, then Guarin needs to be involved as he leads the team with an average of 3.1 shots per game.

Considering he has played eight games and scored one goal, I hope that Guarin has been taking extra shooting practice at Appiano Gentile as that goal from an average 25 shots suggest that either Guarin is taking shots from poor positions, or that he needs to spend more time after training practicing his shooting.

But Guarin means more to Inter than just shots. With Esteban Cambiasso, and a rotating door of players playing alongside Cambiaso and Guarin, it is up to the Colombian to provide the link between the midfield and Inter's attack. Playing so far forward in the link role you would expect Guarin to be creating chances for himself or others.

The other stat that I would expect to be higher is his assists. Guarin has only two this season and with his attacking play and position on the field, I expected that to be higher.

Guarin supporters will point out that the midfielder has created 14 chances in his eight appearances this season (only Ricky Alvarez has created more), yet only two of those chances have turned into goals. Which brings me full circle back to my original point. If Inter are to get back to winning games, they need to be more clinical in front of goal. And that starts with Guarin providing that link between the midfield and Alvarez and also being fully engaged and involved in the game. At times watching Guarin I get the impression that he is simply not interested in what is going on around him.

Prediction

While Verona are ahead of Inter in the table, I am not convinced by their record. Every time they have had to step up a class this season they have faltered, losing to Roma and Juventus. I expect that trend to continue on Saturday, as Inter win 2-0.