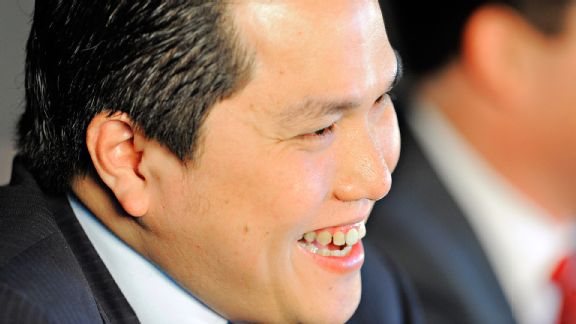 Doug Kapustin/Getty ImagesA new stadium is just one of the several areas in which new Inter Milan owner Erick Thohir is expected to upgrade.
There were a lot of leaks to the media in the build-up to his takeover of Inter Milan, but since the completion of it, Erick Thohir has gone quiet leaving Inter fans wondering about what his actual plans for the club are?

There are three areas in which Thohir needs to focus on: the new stadium, director of football and transfer targets.

First is the stadium. There has been very little said on this, at least publicly, in the last six months

- Report: Torino-Inter nearly suspended

The original plan that was outlined by general manager Marco Fassone back in April was that Inter would have wrapped up the legal procedures before the start of next season, with an eye on the new stadium being ready for the beginning of the 2018-19 season. With Financial Fair Play, Inter need to maximize their match-day revenues if they are to stay competitive with Juventus, never mind the top teams in Europe. And having their own stadium is essential to that. So is the timetable outlined by Fassone still correct and is Thohir prepared to spend the money for the building of a new stadium?

The next area is staff. Most new owners like to bring in their own people to run the club. I cannot see Thohir getting rid of Walter Mazzarri, but Marco Branca and Piero Ausilio are on much shakier ground.

I am not a big fan of Branca. He did a great job when Mourinho was at Inter and his acquisitions of Lucio, Diego Milito and Samuel Eto'o helped win the treble.

But since then, Inter's transfer philosophy has changed and Branca has not been able to adapt. Inter have missed out on too many players, especially from South America, like Paulinho and Lucas, due to his inability to close the deal.

Also, in 2012, Inter's Primavera (under 19s) won the NextGen Series, a competition which involved the under-19 teams from 16 of Europe's best clubs. I expected several members of that team to be pushing for places in the Inter squad by now and that hasn't happened which is a major disappointment.

If Thohir does decide to get rid of Branca and/or Ausilio, then he has a ready-made replacement in Leonardo, whose year-long suspension was recently lifted by the French FA.

Leonardo is reportedly moving back to Milan to live and given his experience as sporting director at Paris Saint-Germain, and his knowledge of Inter and Serie A, he would seem well suited to take over from Branca and/or Ausilio.

Third, and the one that is of the most interest to Inter fans is what sort of money is Thohir going to invest in the club? With UEFA's Financial Fair Play regulations now in force, new owners cannot come in and just spend money regardless of revenue, like they did at Manchester City, PSG and Anzhi.

That being said, there are a lot of opportunities coming up for Thohir to shape the club in the way he wants.

Inter have worked really hard over the last 18 months to slash their budget and get rid of a lot of older players who were on high wages.

Will Thohir want to continue in this direction making Inter younger (and cheaper)? If he does, then the team is perfectly placed to make a splash in the next two transfer windows as the contracts for Luca Castelazzi, Samuel, Cristian Chivu, Javier Zanetti, Esteban Cambiasso and Diego Milito are all set to expire at the end of season.

Add in Rolando and Wallace, who are on season-long loans, and Inter could potentially find itself looking to sign as many as eight new players over those two transfer windows. That does not take into consideration the club selling any of its existing players (Andrea Ranocchia?). That is a potentially huge turnover in the squad from one season to another and one where Thohir can transform the team without putting Inter into further debt.

So who will Inter target during these transfer windows, especially in January? It is no secret that Mazzarri wanted at least one more wingback during the summer. Jonathan and Wallace have not done the job this season and I will be shocked if Inter does not go after someone like Emiliano Insua of Atletico Madrid or Genoa's Sime Vrsaljko in January. Keep in mind that Zanetti is expected back later this year, and if Zanetti can regain the form he showed a year ago, his return will be like a new signing.

Defensively Inter need some help, as I have repeatedly wrote that Rolando, Ranocchia and Juan do not inspire me. The challenge will be finding someone who is comfortable playing in a three-man defensive formation.

And up front, if Milito leaves, Inter will need a veteran striker to take the pressure of Rodrigo Palacio and help bring the young strikers along.

The ball is firmly in Thohir's court. He owns Inter Milan. It would be nice to know what his intentions are especially around the stadium, staff and transfer budget.