Examining the case for Inter Milan's defence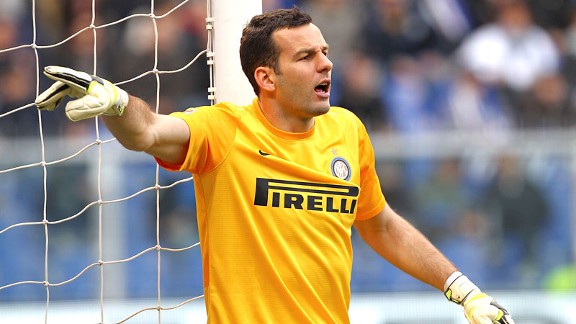 Marco Luzzani/Getty ImagesGoalkeeper Samir Handanovic has been superb this season in net for the Nerazzurri, who would be wise to keep him in Milan.
This is the fourth part in review of Inter's season. The first looked at how Walter Mazzarri has brought stability to Inter this season. The second looked at how stats call into question Rodrigo Palacio's place in the team, and then earlier this week, the third focused on how Inter's young midfielders are giving Mazzari some options.

That leaves Inter's defence as the only part of the team not yet reviewed.

At the back, Samir Handanovic has developed into one the best goalkeepers in Serie A. When Inter signed him to replace Julio Cesar in 2012, we knew Inter was getting a good goalkeeper, but did not realize that he was this good.

Handanovic's 77.8 save percentage is the best of his career, and is tied for fourth in Serie A behind Morgan De Sanctis (Roma) at 94 percent, Pepe Reina (Napoli) at 86 percent, Rafael (Vernona) at 82 percent and Gianluigi Buffon (Juventus) at 78 percent.

More important, it is almost 10 points higher than last season's 67.9 percent rate. That is the equivalent of conceding three fewer goals on the same number of shots faced. That is a huge jump in one term.

It is not just Handanovic's shot stopping that has been impressive. Under Mazzarri's system of playing out from the back, Handanovic is being asked to play almost like a deep sweeper at times, intercepting long balls and playing out from the back with his feet. It is something he is adapting to, as his 73.8 percent passing accuracy shows. If Handanovic can ever get close to the passing accuracy of Bayern Munich's Manuel Neuer (89.4 percent), then Inter's ability to build from the back would take a massive step forward.

Injuries have impacted Mazzarri's defensive lineup, as it is clear that he prefers a three-man pairing of Hugo Campagnaro, Andrea Ranocchia and Juan Jesus. Rolando has been filling in for the injured Campagnaro in recent games, and unfortunately the drop-off in performance between the two is pretty dramatic.

Campagnaro is off to one of his best seasons. Whoscored.com has him ranked as the best defender in Serie A this season. I wrote earlier this season about the positive impact that Campagnaro was having on Ranocchia and Juan. So not having him in the lineup is a double blow for Inter. Not only does his absence make Inter weaker defensively, but Ranocchia and Juan don't play as well when he is not around.

It is the drop-off in quality between Campagnaro and Rolando that worries me most. You would hope that if a starter gets hurt, the backup can come in and perform at a similar level. That is not the case here, as the data from WhoScored.com illustrates.

Other / WhoScored.com
These are average numbers per game, which makes it a little easier to compare the two players. The difference between the two is quite stark. Campagnaro is averaging significantly more clearances and tackles per game.

Just as worrying as the drop-off between Campagnaro and Rolando is the downward slope that Ranocchia seems to be on. If you compare his stats to Juan's, at first glance they are similar, and whoscored.com gives them similar grades for the season.

Other / WhoScored.com
But the data from squawka.com shows a disturbing trend, as it shows that Ranocchia's performance has steadily declined after an impressive start to the season.

It is Inter's defence that is the biggest concern heading into the next set of games before the next international break.

Handanovic is as good as anyone in Serie A, as is Campagnaro so that half of the Inter defence is solid. It is the other half that concerns.

As mentioned, Ranocchia is reverting to the form that frustrated Inter fans last season. At times he looks like a solid international-level player; at other times, he would not get picked for a pub team.

Ranocchia is not a prospect anymore. He is a 25-year-old international and has been at Inter since January 2011. At some point he has to live up to expectations, and if he doesn't, it might be time for Inter to start looking at different options.

Juan is steady, but as his data from squawka.com shows, the past three games before the international break were not encouraging.

While most of the focus in the January transfer window seems to be on what wing-backs Marco Branca is targeting, I hope he is also looking at strengthening other areas of the Inter defence.

Mazzarri has done a great job strengthening Inter defensively this season, but it remains the weakest area of the team, and an area that Inter will have to upgrade if they are to maintain a Champions League challenge.