Young midfielders giving Mazzari options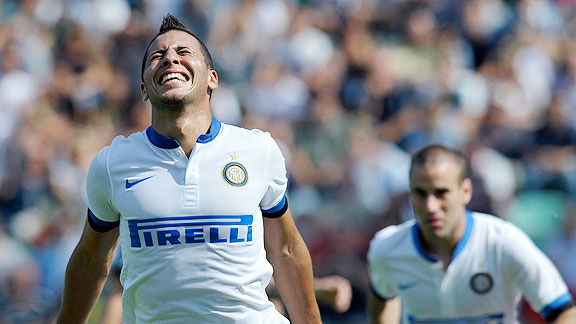 AP Photo/Marco VasiniSaphir Taider, left, is one of several young midfielders contributing at Inter.
Inter Milan boss Walter Mazzarri appears to have settled on Fredy Guarín and Esteban Cambiasso to fill two of his three central midfielder positions, but he is still searching for someone to play alongside the veterans.

In Inter's first seven games, Mazzarri has started Saphir Taider four times, Mateo Kovacic twice and Zdravko Kuzmanovic once, a clear indication that he has not yet decided on the best fit for his central midfield three.

Taider appears to have the inside track on the role, especially as he started in Inter's three big games this season against Juventus, Fiorentina and Roma. But he has yet to play 90 minutes in any league game, indicating Mazzarri still has some questions about his performance.

Comparing the performances of Kuzmanovic, Kovacic and Taider this season compared with Guarin and Cambiasso's. The stats are from whoscored.com and Squawka.com (key-AK-Kuzmanovic; MK-Kovacic; ST-Taider; FG: Guarin; EC-Cambiasso):


| | | | | | |
| --- | --- | --- | --- | --- | --- |
| Appearances | 1 | 2(5) | 4 (2) | 7 | 7 |
| Average Rating | 6.51 | 7.01 | 6.77 | 7.35 | 7.41 |
| Avg. Passes | 40 | 27 | 28.8 | 38.6 | 50.9 |
| Passing Accuracy | 92.5% | 94.2% | 90.2% | 77% | 79.2% |
| Avg. Tackles Won | - | 1.3 | 1.7 | 1.6 | 3.6 |
| Avg. Duels Won | 50% | 76% | 42% | 41% | 58% |
| Avg. Def. Actions | 1 | 1 | 2 | 2 | 4 |
| Chances Created | 1 | 3 | 3 | 12 | 8 |


What stands out is what a brilliant start Cambiasso is having. He leads Inter's midfield players in almost every category and at 33 is having one of his best seasons in an Inter shirt.

On the other hand, Guarin is having the kind of up-and-down season that totally frustrates Inter fans. At times he can be brilliant and at other times he can look totally disinterested.

Mazzarri publicly rebuked Guarin for his performance after the Fiorentina game.

"Fredy knows he has to work [on his game]," the Inter boss told Radio Deejay. "He had a great game against Sassuolo [last weekend]. Then, against Fiorentina, he seemed dazed."

Guarin needs to play at a more consistent level or he could see his position under threat long-term by Taider and Kovacic.

Taider and Kovacic appear to be in a straight battle for the third central midfield place. Taider has started more games, but has yet to play a complete game, with Mazzarri preferring to substitute him around the 60th minute, usually by Kovacic.

Taider was asked about the substitutions by Le Buteur and said that he has no problem with them.

"The coach makes his decisions and you need to respect them," the 21-year-old midfielder said. "We must not forget that at Inter there are great players, and that the coach needs everyone.

"The season is long; there are still so many games to go. We are all united to carry the club forward.

"Every week I try to show him that I'm ready and that he can count on me. As I have already said, for me Inter is a great opportunity that will allow me to improve further."

Which is really interesting are that the stats show that the 19-year-old Kovacic is having a better season than Taider. His passing is more accurate and he has created the same number of chances despite playing less minutes.

But I wonder if the long-term midfield decision for Mazzarri it not who partners Guarin and Cambiasso, but when to have Kovacic and Taider partner Cambiasso?

I am not a fan of Guarin. His inconsistent play and laissez-faire attitude frustrates me. Yes he can be brilliant -- he is creating almost two scoring chances a game -- but is he going to get any better? Or is what we see now is what we are always going to get?

I believe it's the latter, which is why I would not be surprised to see Kovacic replace Guarin in the Inter line-up. While he has played in a more defensive role for Inter, Kovacic started his career as an attacking midfielder, and that is where he is at is best, controlling the midfield with a wonderful range of passing.

The concern for Mazzarri in making that move is can Kovacic and Taider handle the pressure of the Champions League race at their age?

As long as Inter are within touching distance of the three Champions League places, it will be difficult for Mazzarri to make the move to youth as it would look like he is potentially giving up on the season.

But we have seen enough in flashes from Kovacic and Taider to make me believe that they are more than good enough to marshal the Inter midfield during a Champions League race. Plus, by introducing both Kovacic and Taider, Mazzarri will be able to play Kovacic a little bit more forward, where his creativity could help Inter's lack of scoring.

Who do you think should play alongside Guarin and Cambiasso, or would you give both Kovacic and Taider an extended run in the side?