Stats call into question Palacio's place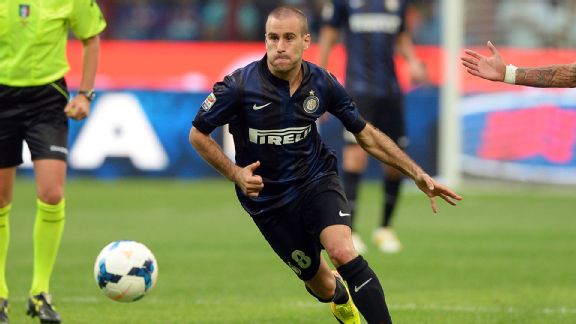 Claudio Villa/Getty ImagesRodrigo Palacio's shot rate is considerably low when compared to Serie A's top strikers.
In analyzing the stability that Walter Mazzarri has brought to Inter earlier this week, I wrote about how Mazzarri prefers a settled line-up.

From an attacking standpoint, Mazzarri has settled on a Ricardo Alvarez-Rodrigo Palacio partnership up front. Between the two of them, they have five goals and four assists in the opening six games (Ishak Belfodil has started one game).

- Bennett: Faded FA Cup glimmering again

Behind The Numbers:

The stats show that Inter are third overall in Serie A with an average of 16.6 shots per game. Interestingly, Inter are not in the top five in shots per game at home, but lead Serie A with an average of 18.3 shots per game away from home.

The reason is that Inter have played Genoa, Juventus, Fiorentina and Roma at home, while Catania, Sassuolo and Cagliari have been the away fixtures. You would expect Inter to generate more shots in those away games due to the opposition.

The interesting part is that despite scoring seven goals at Sassuolo, Inter have managed only nine goals in their other six games combined and their 16 goals this season is less than Napoli and Roma.

So how can Inter be one of the most offensively-minded teams in Serie A, yet only average 1.5 goals per game (excluding the Sassuolo game)?

One big reason is the accuracy of Inter's shooting -- or should I say inaccuracy? Inter averages only 5.6 shots on target, which is the lowest of any team in the top six. That number looks even worse when you factor in where Inter are shooting from.

The chart below fromwhoscored.com shows that 14% of Inter's shots are taking place inside the six-yard box.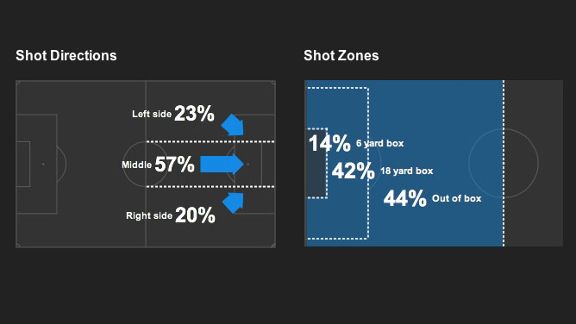 whoscored.com

That 14% is far more than anyone else in Serie A. Bologna and Fiorentina are second with 9%.

So to summarize, Inter is third in Serie A in shots per game, leads Serie A in percentage of shots inside the six yard box, but except for one breakout game, are averaging only 1.5 goals per game.

Why?

One reason is that while Palacio is the best attacking option that Inter have at the moment, he is a step below the other top strikers in Serie A like Francesco Totti, Carlos Tevez, Mario Balotelli or Gonzalo Higuain

Whoscored.com has Palacio as Inter's third-best player this season, behind Alvarez and Hugo Campagnaro, but an in-depth look at his numbers show that he is not giving Inter the attacking play that they need:

These stats are from whoscored.com and Squawka.com:

-- Goals: 3
-- Assists: 1
-- Shots per game: 1.9
-- Shooting Accuracy: 50%
-- Passing Accuracy: 70%
-- Aerial Duels Won per Game: 3.3 (51%)

Two numbers jump out at me. One is that Inter's center forward is averaging only 1.9 shots per game! Really?

The top five strikers in Italy so far this season have averaged just under five (4.98) shots per game, with Balotelli leading the league with 7.5. The likes of Tevez and Higuain are both over three. Inter need to get more shots out of Palacio if they are at stay in the title race.

Surprisingly, Palacio is winning only just over half of his aerial battles. This is a concern because the Mazzarri's system is to get the ball wide to the wingbacks and have them cross the ball into the penalty box. Inter is tied with Genoa for the most crosses in Serie A with 28 per game, but all those crosses will not matter is the target man is winning only 50% of the battles.

I am sure that Mazzarri is well aware of these numbers and I wonder if as the season progresses whether we will see Belfodil, Mauro Icardi or Diego Milito get an opportunity to see if they can provide a more cutting edge in front of goal than Palacio.

They have all made cameo appearances this season, but are scoring at a much better rate than Palacio. Palacio, remember, has three goals and one assist in six starts, plus on appearance from the substitute's bench.

Icardi has two goals already in just five substitute appearances while Milito has two goals and an assist in his three appearances off the bench. Belfodil has yet to score in his one start and one substitute appearance.

The long-term striking options appear to be Icardi and Belfodil, while I think Inter were hoping that Milito could be the bridge until the kids are ready. Unfortunately Milito's continuing injury problems, he is out for five weeks, after getting injured in training, means that might be a bridge too far for him.

Which leaves Mazzarri and Inter with a dilemma: Do they stick with Palacio until the kids are ready, even if it costs them a top three finish this season? Or do they give Icardi and Belfodil more playing time now and see if one or both of them is ready to step up and lead the front line? The third option is to add a veteran goal-scorer in January who can come in for the rest of the season and provide that bridge that Milito cannot.

What do you think Inter should do?