Mazzarri has brought stability to Inter this season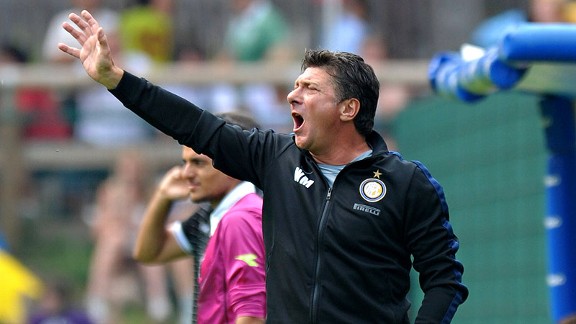 AllsportNew Inter Milan boss Walter Mazzarri is building a solid side.
With the international break and no games for Inter for the next two weeks, it's a good time to take a step back and look at how the Nerazzurri have done in the early part of the season.

First, I will focus on the impact that new coach Walter Mazzarri has had, and in subsequent posts, I will break down the defence, midfield and attack so far this season.

We are only seven league games into Mazzarri's stewardship of the club, and everyone would agree that he has Inter playing at a much higher level than they have been since Jose Mourinho left.

After seven games, Inter are in fourth place with 14 points, five points behind Napoli and Juventus in second and seven points behind leaders AS Roma. Inter have scored 16 goals and conceded six; the seven they got against Sassuolo inflates that number.

Under coach Andrea Stramaccioni, Inter started last season off really well and at this point of the campaign were in fourth place with 15 points, having scored 11 goals while conceding six.

So Inter have basically the same record at this point in the season under Mazzarri as they had under Stramaccioni. But I don't think those numbers do Mazzarri credit.

Mazzarri took over an Inter squad whose confidence was shattered after a horrendous second half of last season and for the most part has Inter once again playing with a swagger of old. This is still a work in progress, but the signs are there that Mazzarri has Inter moving in the right direction.

Squawka.com allows you to compare stats to last season, and they show that Mazzarri is having success implementing his new system.

Possession is up to 54 percent from 52 percent
Passing accuracy is up to 85 percent from 84 percent
Average duels (tackle, foul, take on, headed) is up to 57 percent from 53 percent
Small incremental improvements, but as the season progresses and the players become more comfortable with Mazzarri's 3-5-1-1 system, I expect those numbers will continue to improve.
More Settled Lineups

As the season has progressed, Mazzarri is slowly settling on a preferred lineup. In the seven league games, Inter have started only 16 players.

Defensively, Samir Handanovic, Andrea Ranocchia and Juan Jesus have started every game, while Rolando has started the past two games in place of the injured Hugo Campagnaro. While the stats don't back it up, Inter look stronger defensively this season, especially when Campagnaro is playing.

I was worried about Mazzarri's three-man defence, especially after the failed experiment that was Gian Piero Gasperini. But the players have adapted well to it, and if Campagnaro can stay healthy, Inter appear to have one of the stronger defences in Serie A.

I like that Mazzarri is not chopping and changing his back three. He is sticking with a small group of defenders and letting them get comfortable playing together in his system.

Things are not quite as settled in midfield, where Mazzarri has struggled to find a right-side wing-back as well as someone to play alongside Esteban Cambiasso.

Mazzarri has started Cambiasso, Fredy Guarin and Yuto Nagatomo in all seven league games this season. Cambiasso and Guarin have been linchpins in the centre of the midfield while Nagatomo has switched from the left side to the right side in an attempt to get more consistency down both wings.

The manager has tried Zdravko Kuzmanovic (one start), Mateo Kovacic (two starts) and Saphir Taider (four starts) alongside Cambiasso and Guarin. It is hard to tell at the moment whether Mazzarri is rotating these players based on the opposition or whether he has not settled on which one should start on a regular basis.

All three of them pass the ball extremely well (all over 90 percent passing accuracy), and it will be interesting to see in the coming weeks which one grabs the central midfield place and makes it his own.

While the battle for central midfield is competitive, the battle for the wide player opposite Nagatomo is not.

Mazzarri has tried Jonathan (five starts) and Alvaro Pereira (two stars), but neither has impressed. I don't think Jonathan is the answer on the right, and I am not a big fan of Pereira because when he plays Nagatomo has to move to the right, where he is not as effective.

Unless Jonathan, Pereira or Wallace starts to impress in the next month or so, I expect Inter to go buy a right winger in January as this is their most glaring weakness at the moment.

Ahead of the midfield, Mazzarri has almost exclusively gone with a Ricardo Alvarez and Rodrigo Palacio partnership. Between the two of them, they have five goals and four assists in the opening six games. (Ishak Belfodil started for Palacio in the last game and scored.)

Alvarez has been Inter's best player by a mile this season while Palacio has consistently been in the top three. This is the one area where Inter has the most depth and quality. In Belfodil, Diego Milito and Mauro Icardi, Mazzarri has some good attacking options.

It will be interesting to see how Mazzarri rotates the two attacking positions as the season progresses. He appears to prefer having a settled lineup that he can send out every week, but Belfodil, Milito and Icardi need games to stay sharp. That might be the Inter boss's biggest challenge as the season progresses.

Overall, Inter fans have to be happy with the stability that Mazzarri has brought to the team. The players are adapting to his system, and his settled lineup is helping create consistent performances.