Reasons to fear Inter takeover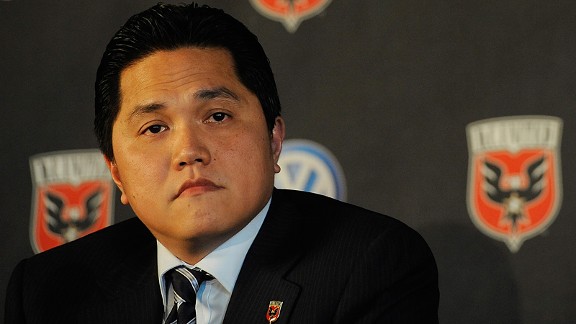 GettyImagesErick Thohir looks likely to complete his takeover of Inter Milan in the coming days.
Is it just me or is anyone else starting to get worried about Erick Thohir's takeover of Inter Milan?

The latest media reports suggest that the deal could be closed this week, but we have been hearing a deal is imminent for months now. Thohir was first linked with Inter back in May. Here we are, six months later, and the deal has not been closed. Why? What is holding it up?

Who exactly is buying Inter?

Originally the press reported that Thohir was the one buying the majority ownership in Inter from the Moratti family.

But now reports have leaked that Thohir is not the only one buying the team. According to Italian journalist Tancredi Palmeri, Thohir will be one of three Indonesian businessmen buying the club.


Inter's president Moratti announcing that 3 indonesian new owners are actually taking Inter over, with Thohir having majority with 30%

— Tancredi Palmeri (@tancredipalmeri) September 30, 2013


Why the change in the ownership group? A group purchase is a recipe for disaster. Instead of the current model, with one person making all the decisions, you will have four shareholders involved, none of whom will have a majority share. What happens if they disagree? Who breaks the deadlock?

One thing to keep in mind is that Moratti doesn't actually own a 100% stake in the club; minor shareholders collectively own an estimated 6-8% and Inter's long term shirt sponsor Pirelli also owns 4.6% of the shares. So by selling off 75% to Thohir, Moratti will end up with around 12.4% of the club, not the 25% that is being widely reported.

New stadium project

With Uefa's new Financial Fair Play rules, new owners cannot come in and launch a spending spree like we saw at Manchester City or Paris Saint-Germain. So while the Thohir group will undoubtedly contribute some money for Walter Mazzarri to spend in the January transfer window, it will probably be a relatively small amount (under €25 million).

The two areas where the Thohir group will have the biggest impact on the future of Inter is in the development of the new stadium and in growing the commercial revenues of the club.

The bulk of Inter's revenue currently comes from media (primarily TV rights). Today, Inter makes a paltry 12.5% of its total income from matchday revenues. Most of the non-Italian teams in the Deloitte Money League top 10 range from 24% to 31%, while Juventus tripled its matchday income by moving into its self-owned stadium.

So building a new stadium has to be the Thohir group's biggest priority. Juventus's stadium cost €120 million to build, but with a capacity of 41,000, it would be too small for Inter. So lets say €200 million for a new stadium. If we hear little about a new stadium from Thohir when he officially buys the club, that will be a big red flag to me.

Commercial sponsorship opportunities

The third revenue source for a football club (after matchday and media revenue) is commercial. This is an area where Inter's new owners should really be able to make a difference.

Inter's commercial revenues (kit deals, sponsorship, etc) are currently worth around €112.4 million. That is in line with AC Milan and Juventus.

Thohir's PR group has publicly said that there are 11 million Inter Milan fans in Indonesia. If that number is remotely accurate, then the Asia market represents a great opportunity to grow the commercial side of its business.

Many of Europe's big teams are looking to make inroads into the football mad Asian market, and having owners from that part of the world will give Inter a huge advantage over everyone else.

The USA is another huge market. Thohir has an ownership interest in the NBA's Philadelphia 76ers and Major League Soccer's D.C. United.

The US is home to many of the biggest brands in the world and is a market that Manchester United (who have American owners) have successfully mined for commercial deals over the last five years.

If Inter can be half as successful as United have been in America, that region will provide a massive boost to the team revenue.

Football is a global sport now and with Uefa's FFP rules, clubs need owners with a global reach and not deep pockets.

Misgivings about the deal

So why do I feel so uneasy about this takeover? Erick Thohir checks a lot of the boxes that you want from an owner. But two things worry me: passion and money.

Massimo Moratti and his family have been fantastic custodians of Inter. They love the club and have invested over a billion euros in Inter over the last 20 years.

Erik Thohir does not have that same passion for the Nerazzurri. He is looking at Inter as an investment opportunity. And when you look at a team from that perspective instead of as a fan, you make different decisions.

There have been a lot of foreign owners who have invested in Premier League clubs over the last five or six years, thinking that it was an investment that would make them money. Ask the fans of Blackburn Rovers or Liverpool (under Tom Hicks and George Gillett) how that worked out for them.

The other concern I have is whether Thohir has the money that Inter needs. After spending €350 million to buy the club, does Thohir have another €200 million for the stadium and €25 million a year for a transfer budget? Being a billionaire on paper is one thing. Being liquid as able to spend €600 million on a football team is an entirely different matter. Is Thohir able and willing to spend that kind of money, or will Inter fans come to regret the day that the Moratti family sold their ownership in the club?