Dominant Inter denied by Cagliari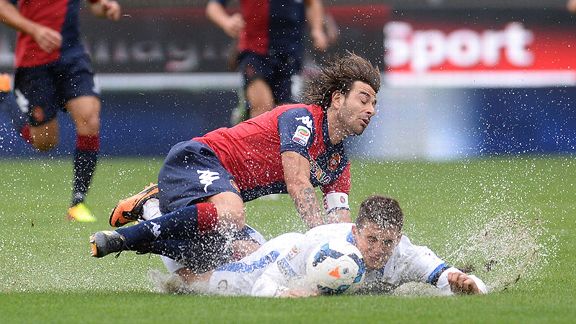 GettyImagesInter Milan slipped to a 1-1 draw against Cagliari.
Cagliari and Inter drew 1-1 on Sunday in a game that played out much like I had expected in the preview I wrote on Saturday. This was the ultimate trap game, coming between top four battles against Fiorentina and Roma, and one that I expected to be a really tough game for Inter. I also expected that Inter's recent problems of winning at Cagliari would continue and that the score would be 1-1.

So for once my crystal ball worked. The question is how did Inter lose a game that they dominated in almost every important category?

Look at these numbers:

Possession: Inter: 54.5%, Cagliari: 45.5%
Passes: Inter: 352, Cagliari: 286
Shots: Inter 15, Cagliari 9

So in short, Inter had more of the ball, made more passes and created more chances than their opponents, but still managed to fail to win the match.

The reasons as to why Inter came away with only a draw instead of all three points was that the Nerazzurri were disappointingly wasteful in the final third of the pitch, as can be seen in the chart from fourfourtwo.com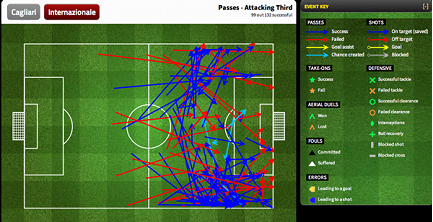 Other / FourFourTwoInter's passing in the attacking third.
The blue lines indicate successful passes, and the red lines unsuccessful ones.

The surprising point to me is where Inter were successful attacking, and that was down the right. In almost every game Inter have played this season, they have predominately attacked down the left via Yuto Nagatomo. Today Walter Mazzarri played Nagatomo on the right, with Alvaro Pereira playing on the right and I find it really interesting that when Nagatomo switched sides, the thrust of the Inter attack changed with him.

Despite all those misplaced passes into the penalty box, Inter still managed 15 shots on goal and what will please Mazzarri is where those shots were taken from.

So while I am disappointed that Inter dropped two points today, especially to concede the equalizer so late, this is the chart that encourages me the most.

When a team has five shots from inside the six-yard box you expect a higher return than one goal. If Inter continue to create eight chances a game inside the penalty box, goals and victories will follow.

Man of the Match: Mateo Kovacic

After an impressive performance against Fiorentina in midweek, Mazzarri put Mateo Kovacic in the starting line-up and the 19-year-old Croatian responded with his best game of the season with Kovacic hardly putting a foot wrong all day.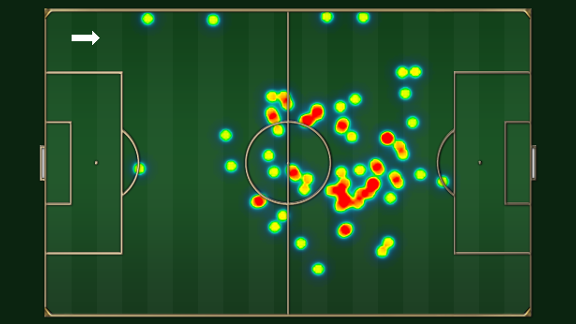 Other / ESPN statsMateo Kovacic heat map against Cagliari.
Kovacic was all over the field against Cagliari, and was especially active in the middle to right side of the Inter attack. As a midfielder player in Walter Mazzarri's system, it is not just about going forward, you also need to defend and Kovacic did his bit, back tracking and defending in Inter's half of the field.

Kovacic's 83 touches were a team high, as was his 94% passing accuracy. Passing accuracy numbers can be deceiving at times as they can depend where on the pitch the passes are taking place.

What makes Kovacic's passing data so impressive is that almost all of his passes took place in the Cagliari half of the pitch.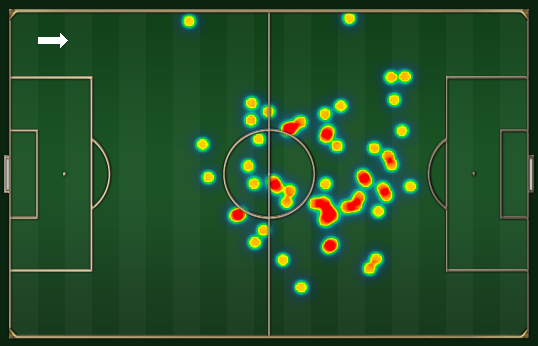 Other / ESPN statsMateo Kovacic passing heat map against Cagliari.
Disappointing Player: Ricky Alvarez

Ricky Alvarez has been brilliant this season. Heading into the Cagliari game, whoscored.com had him rated as the best player in Serie A this season with an average score of 8.9 out of 10. The closest player to him was Hugo Campagnaro at 8.2.

After playing so well all season, Alvarez was due for a bad game and today he had it.

With only 32 touches and a 78% passing accuracy, Alvarez was nearly invisible on Sunday. What is most disappointing about Alverez's performance was that he was on the fringes of the play all day, seemingly disinterested.

No surprise that Mazzarri dragged him off at half-time and brought on Mauro Icardi. The Argentine was a lot more involved in the Inter attack than Alvarez had been and did a good job getting himself into more dangerous positions. And that paid off for the 20-year-old striker who scored his second goal of the season to put Inter ahead.

Overall I don't think Inter fans can be too disappointed with the result. After six games, Inter are in fourth place and a chance to cut Roma's lead next weekend when the two sides meet in Milan.