Inter look to avoid letdown at Cagliari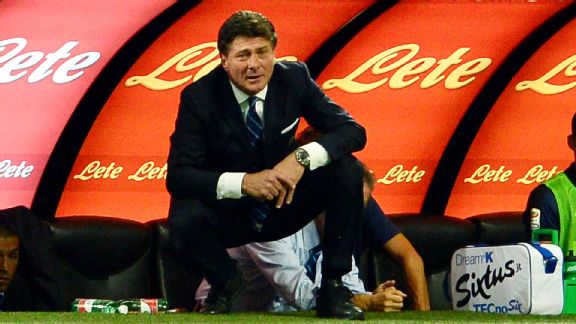 Giuseppe Cacace/AFP/Getty ImagesInter Milan manager will be wary of a letdown on Sunday versus Cagliari.
Inter travel to Cagliari on Sunday in what is the ultimate trap game. Coming between top four battles against Fiorentina and Roma, it would be easy for Inter to take Cagliari lightly.

But they should do that at their peril. Inter have not won at Cagliari since 2010 and last year lost 2-0.

The way the schedule is set up this week with the game against Fiorentina last Thursday and now the Sunday trip to Cagliari, it is like a Europa League week and Inter struggled making that Sunday-Thursday transition last season.

After playing in Europe on a Thursday last season, Inter only won four of the eight matches that it played the following weekend. Three of those loses were against Siena, Atalanta and Parma, teams you would normally expect Inter to defeat.

Which is why the Cagliari trip worries me. After the comeback win over Fiorentina, the Italian media started to consider Inter Scudetto contenders, and are already looking forward to the game next week against Roma as a battle between the top two sides in Serie A.

- Report: Montella backs Inter title challenge

It would be easy for Inter to overlook Cagliari and not be professional in their preparation for the match. Which is why having an important, experienced manager like Walter Mazzarri is so important at times like these. He knows how to keep his team focused on the match at hand and not look ahead to the upcoming games.

Inter Player Spotlight: Rodrigo Palacio

When Inter signed Mauro Icardi this summer, as Diego Milito was returning to fitness, many Nerazzurri fans expected that Rodrigo Palacio would be on the bench by now, as either Icardi and/or Milito would be leading the Inter line.

Instead Palacio continues to be Mazzarri's first choice striker with three goals and one assist in five games so far this season and a whoscored.com rating of 7.99 making him Inter's third best player this season.

A combination of stats from whoscored.com and squawka.com illustrate how good Palacio has been this season:

-- Total Goals: 3
-- Passing Accuracy: 71%
-- Total Chances Created: 5
-- Average Duels Won Per Game (tackles, fouls, take on, headed duels): 49%
-- Shots: 2.2 per game
-- Passes per game: 29
-- Shooting Accuracy: 60%

The chart below shows where Palacio's shots have been taken from. The six shots from inside the penalty box, and close to the six-yard box, is where Inter will want to see Palacio involved in the attack. The shots out on the left, is not where Mazzarri wants to see Palacio.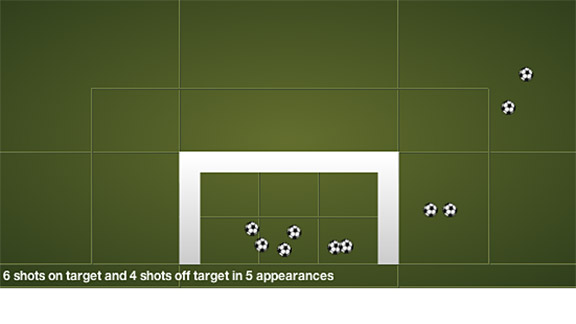 Courtesy of WhoScored.comA shooting chart of Inter's Rodrigo Palacio.


One thing that I am sure that Mazzarri and his staff will be working on with Palacio is simply getting him more involved in the game. His 2.2 shots per game are not enough considering that the top strikers in Serie A are managing almost double that:

-- M. Balotelli -- 7.5 shots per game average
-- Candreva -- 5
-- G. Rossi -- 4.4
-- M. Gabbiadini -- 4.2
-- Diamanto -- 4

With his 60% shooting accuracy, getting Palacio more involved and shooting more, especially from positions within the penalty box, will surely lead to more Inter goals.

Opposing Player Spotlight: Daniele Conti

Daniele Conti, who has been Cagliari's best player this season, plays in a deep lying midfield role, right in front of his back four, as can be seen in this chart from whoscored.com.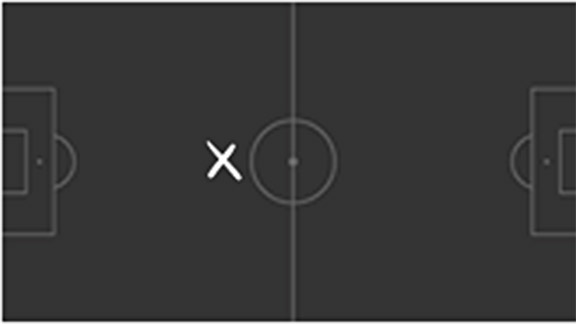 Courtesy of WhoScored.comA look at where Cagliari's Daniele Conti plays.


A combination of stats from whoscored.com and squawka.com illustrate how good Conti has been this season:

-- Avg. Duels Won: 58%
-- Passing Accuracy: 89%
-- Avg. Defensive Actions per game: 5 (Blocks, Interceptions, Clearances)
-- Man of the Match Awards: 2

Conti's assignment on Sunday will be to pick up and neutralize Ricky Alvarez, who has comfortably been Inter's best player this season. The winner of that battle could well decide who wins the game.

Prediction:

As mentioned earlier, this game really worries me for a variety of reasons. It is away from home, and a place that Inter have struggled at recently, and comes after a Thursday game.

Mazzarri has for the most part played with a settled starting XI this season, and I worry that a little bit of tiredness might start to creep into the legs of some of Inter's players.

On the plus side the Nerazzurri come into the game full of confidence after Thursday's comeback win over Fiorentina. They are second in the league and have only conceded two goals all season.

I expect this to he a really tough game for Inter, and for Inter's recent problems of winning at Cagliari to continue.

Score: Cagliari 1 Inter 1.