Diego Milito returns in style for Inter Milan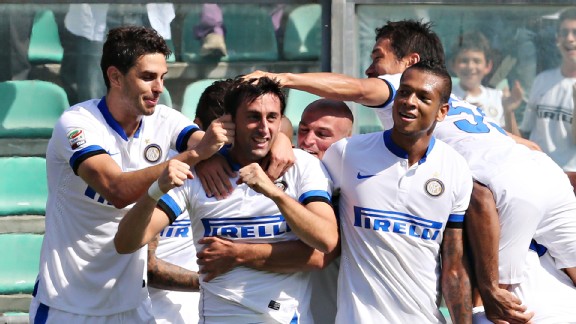 Maurizio Parenti/AFP/Getty ImagesDiego Milito scored twice for Inter Milan on Sunday.
Inter Milan celebrated their 2,700th game in Serie A in style on Sunday with the club's biggest away victory in the top flight of Italian football, thrashing Sassuolo 7-0.

The victory also saw the return of Diego Milito to first team football after seven months out with a serious knee injury. Milito celebrated his return in style with two goals and an assist.

Keys to victory

Providing Width
In writing the preview to this game I mentioned the importance of Jonathan and Yuto Nagatomo in Walter Mazzarri's preferred 3-5-2 formation.

As wingbacks they are expected to drop back into a five-man defence when Inter lose the ball, and then provide the width when Inter attacks.

Against Sassuolo they got the width part perfect as the chart below from fourfourtwo.com illustrates. The blue lines illustrate a successful pass in the final third of the pitch and the red lines show failed passes.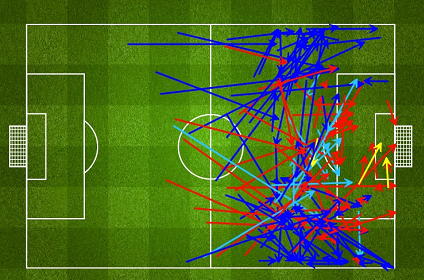 Other / FourFourTwoInter Milan's pass chart against Sassuolo.
It is pretty clear from the statistics that Inter's best attacks came down the wings, especially the left.

The one criticism that people have with Mazzarri's 3-5-2 system is that is can all get very narrow and easy to defend if the wingbacks cannot provide that width. Nagatomo in particular, against Sassuolo, showed how the left wingback role in Mazzarri's system is played.

Mazzarri is not convinced that Jonathan is the right player for Inter's system. In the last 23 minutes against Sassuolo we got a glimpse of Chelsea's Wallace, who is on loan to Inter this season. The youngster had a 100% pass completion and I have a feeling that we will see more of him as the season progresses.

Welcome Back Diego
An in-form Diego Milito can take Inter from contending for a Europa League spot to contending for a Champions League place. He makes that much of a difference.

Inter's main Serie A rivals all have world class strikers, such as Gonzalo Higuain at Napoli, Carlos Tevez at Juventus and Mario Balotelli at Milan. Diego Milito is Inter's world class striker.

That is not a knock on Rodrigo Palacio, who has been playing in the number nine role this season, but he is not a pure striker. On Sunday he was all over the field, winning aerial duals and tackles, making good passes and creating shots on target.

My point is that you don't see the likes of Higuain and Balotelli running all over the field. They are there to provide a focal point to their team's attack and to put the ball in the back of the net. And that is what an in-form and fit Milito does for Inter.

The following stats from Sunday illustrate the difference between Palacio and Milito. In Palacio's 54 minutes he had 30 touches and four shots. By comparison, in Milito's 36 minutes he had 16 touches and three shots on goal. So Milito was involved less in Inter's build up play but had more shots on goal. Over the full 90 minutes, Milito will average more than one shot more than Palacio per game. And that is with "El Principe" still sort of match fitness.

It is that kind of efficiency that Inter have been missing since Milito got hurt last season.

The brilliance of Ricardo Alvarez
Ricky Alvarez was simply brilliant against Sassuolo. According to ESPN's stats Alvarez had 97 touches on Sunday (Only Campagnaro had more) and an 83.5% passing accuracy. Incredible numbers for player playing the number 10 role.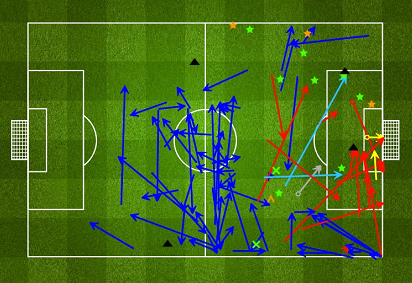 Other / FourFourTwoRicardo Alvarez's passing chart against Sassuolo.
But as the chart from fourfourtwo.com shows, there is still room for improvement in Alvarez's game especially in the final third of the field, which is where the red lines for failed passes are.

If Alvarez can become just a little more efficient in the final third, and Milito gets back to the Diego Milito of 2011-12, then Inter will have one of the most potent attacks in Serie A.

Overall thoughts
Anytime you win 7-0 it is a cause for celebration. Sassuolo away could have been a tricky game for Inter, coming after the Juventus game and ahead of the Fiorentina game. But Inter showed great concentration and preparation and professionally went about dismantling Serie A's worst side.

It was also great to see Milito back in an Inter shirt and scoring goals. If Inter are to contend for, and qualify for a Champions League place, they need a 20-goal season from Milito.

After leaking goals last season, Inter are a much better team defensively than they have been in years, conceding only one goal in all competitions this season. The Inter players are still learning Mazzarri's system, which means that the Nerazzurri could get even better defensively as the season progresses.

Inter passed their first test of the season with flying colours against Juventus recently. Two of their next three games are against teams in the top four. They play Fiorentina in midweek and then Roma on October 5. Like the Juventus game, both the Fiorentina and Roma games will be at the Stadio Giuseppe Meazza. If Inter can pick up maximum points in both of those games, they we can maybe start to dream about this being a special season for Inter fans.