Champions League or bust for cost-cutting Inter
The release last week by La Gazzetta dello Sport of the wages of each player in Serie A, illustrated the work that Inter has done over the last three years to slash the wage bill in order to comply with UEFA's Financial Fair Play rules.

There are lots of different reports about what Inter's actual wage bill is. The numbers below are pulled from the Swiss Ramble who does a fantastic job explaining the financial numbers of teams and Deloitte Money League.



Other
Inter's wages rose steadily throughout the last decade before peaking at €234 million in the 2010-11 season.

Unfortunately revenue could not keep pace with the spiralling wage bill and despite winning a succession of Scudetto's, Inter were losing over €100m a year during this period. This was obviously not sustainable.

So two years ago, the Inter board made the decision to get the club's financial affairs in order and they started by slashing wages bill and selling many of the team's higher paid players. The results have been impressive as wages as a percentage of turnover went from 104% in 2010 to 54% in 2012.

Compare the Inter wage bill from the 2009/2010 Inter side to today (figures are net before bonuses). Today Rodrigo Palacio is Inter's third highest earning player at €2.6m net. In 2009/10 that salary would have made him Inter's 18th highest paid player.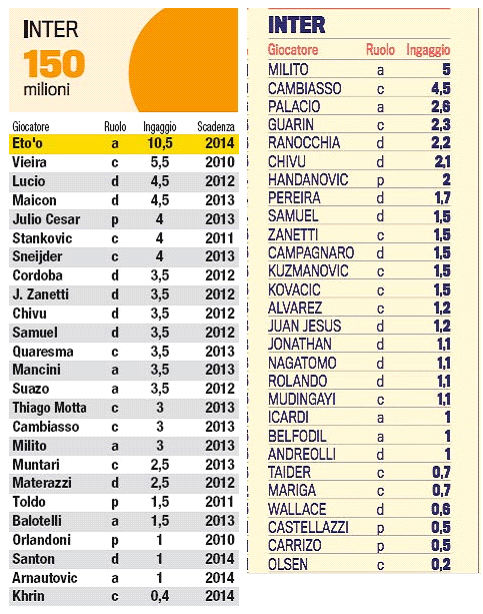 Other / La Gazzetta dello Sport
The problem is that the performance on the pitch fell as Inter let go many of their best players. Of the 25 players in Inter's 2009/10 squad, only four are still with the club. That is a remarkable turnover.

It is not as if Inter were letting go of players past their prime. The likes of Samuel Eto'o, Wesley Sneijder, Thiago Motta and Mario Balotelli are all playing Champions League football this season.

So Inter went from perennial Champions League participants to the Europa League last season and they are out of Europe completely this season, as the wage bill was slashed.

And that is the financial spiral that Inter are in. Under UEFA's Financial Fair Play rules, Massimo Moratti, or Erick Thohir for that matter, cannot cover loses of €100m a year in order to rebuild the team.

So how does Moratti (or Thohir) rebuild Inter back into a European power under these new rules?

Champions League qualification is a MUST:

The revenue that the Champions League produces is creating a wealth gap, not only in Serie A, but across Europe between the haves (those who play in the Champions League) and the have nots (those who don't).

Qualifying for Champions League football next season is a must as it will generate at least €40m in additional revenue for the club.

No pressure then on Walter Mazzarri because the longer it takes Inter to qualify the bigger the financial gap between Juventus, Milan, Napoli and Inter will be. Every season out of the Champions League means that Inter's rivals can add stars like Kaka, Carlos Tevez and Gonzalo Higuain.

New stadium:

Inter have three main revenue sources; match day revenue, media revenue (TV etc) and commercial revenue (sponsorship).

The Deloitte Money Report from the 2011/12 season showed that of the top 20 teams in Europe, only three clubs generated less than Inter's €23.2m on match day. That is a remarkable number.

Even three of Inter's Serie A rivals (Juventus €31.8m, AC Milan €33.8m, Napoli €24.6m) generated more match day revenue. Only Roma at €14.7m generated less revenue than Inter.

Having their own stadium would allow Inter to potentially double the amount of match day revenue, especially if they qualify for the Champions League, and construction of this project has to start as soon as possible.

Unfortunately for Inter, a new stadium, and its revenue stream is years away. That leaves qualifying for Champions League football as the only positive road back into Inter becoming a European power again.

Which is why Inter's start to the season is so encouraging. Under Walter Mazzarri's guidance, Inter are a much more difficult side to beat. While finishing in the top three this season is a financial necessity, the performance on the pitch, at least so far, has made this a realistic goal.