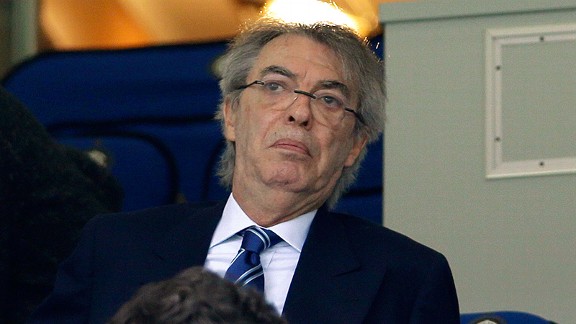 AP Photo/Luca BrunoInter owner Massimo Moratti is reluctantly selling up.
Inter begin the 2013-14 season as prisoners of Massimo Moratti's apparent inability to make a clear decision with regards the sale of the club. As a consequence, the Nerazzurri's dealings in the transfer market have been hampered during a key period of rebuilding.

The only certainty is that after 18 years the owner of Inter will be forced to sell the club that his father Angelo (Inter president from 1955 to 1968, who oversaw two European Cups wins) and then he himself took to the top of world football during a time when spending was astronomical.

But since 2009 the Saras Raffinerie Sarde SpA, the family company that deals with oil refining and production of electricity, has not paid out dividends and recently had to sell a minority stake to Russian company Rosneft. Funds are limited and Inter, a team that has been stripped down over the last two seasons, continues to require at least €70 million of fresh investment every year. These are the facts. Then there are the negotiations.

The only credible talks currently under way are with the Indonesian Erick Thohir. Offers have been made by Russians and even the former Inter president Ernesto Pellegrini, who in 1995 sold the club to Moratti for about €25 million, has come forward looking to create a consortium of entrepreneurs to help the club and keep Moratti as president.

However, this was all smoke and mirrors, except for Thohir: a majority shareholder of D.C. United (MLS) and a minority shareholder of the Philadelphia 76ers (NBA), as well as owner of several sports clubs in Indonesia. Thohir, like Moratti, owes his riches to his father Teddy, who is the head of a financial holding company that generates over €10 billion of revenue per year.

But despite the similarity, Moratti doesn't like Thohir. It's nothing personal, but Moratti just isn't keen on selling Inter.

The duo have been locked in negotiations and while the first meeting between the Inter owner and Thohir was a friendly affair, the second, at the beginning of August in Milan, was quite cold. Importantly though, an agreement appeared to have been reached and Thohir would pay €350 million for 70% of the shares of Inter Milan.

However, the deal almost collapsed after Moratti claimed that Thohir had guaranteed that in the near future he would remain the president, or his son, Angelo Mario, would take over.

Thohir took time out from the deal, but eventually decided to move forward and it is very likely that in the coming weeks they will sign a contract.

However, nothing is yet complete and sources close to the family claim that despite financial problems, Moratti does not want to sell Inter, while the rest of the family would like to get rid of a company that in a few years could eat all of their assets. It's reminiscent of what happened to Roma and the Sensi family, before the arrival of James Pallotta.

The protracted talks have hit Inter in the summer transfer market, where the only high level acquisition was the coach Walter Mazzarri, who left Naples without any real reason to do so.

On the pitch, a series of youngsters with much to prove arrived: Icardi (from Sampdoria) Belfodil (from Parma), or medium-low level players. The latest arrival is Saphir Taider, a 21-year-old French-Algerian midfielder and a great friend of Belfodil.

A player like Taider would have struggled to be a reserve player in Jose Mourinho's all-conquering Inter Milan of three years ago, but in Mazzarri's set up he is a credible player.

These low level operations are typical of a club that is going to be sold and does not want to burden the budget with large out goings, and the word from inside Inter is that the real purchases will be made in January.

It's a situation that does not sit easily with the fans at present, even if they do have confidence in Mazzarri. An attendance of 17,000 against Cittadella in the Italian Cup -- a remarkable achievement -- proves that.

But Inter now have to operate in a different world and despite the mooted deal to bring Samuel Eto'o back from Anzhi in an attempt to hark back to past glories, when Moratti could buy the best players in the world and Champions League qualification was the minimum goal, it now looks like a dream and will be hard to go back. For Moratti, but also for Thohir.