Optimism for Inter's new dawning era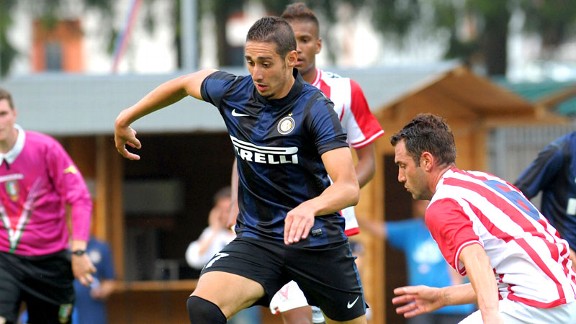 Dino Panato/Getty ImagesIshak Belfodil is one of the youngsters who has been seeing playing time during Inter's preseason.
The 2012-13 season was probably the first season that I have ever wanted to finish as soon as possible. As far back as February I was ready to see an end to the disastrous campaign that was making Inter a laughingstock not only in Italy, but also across Europe and the rest of the world. It's fair to say that for the first time in my 18 years as an Interisti, I was almost embarrassed to admit to the team I support.

However, I knew with the announcement that reinforcements such as Mauro Icardi, Diego Laxalt and Ruben Botta would be joining the Nerazzurri this summer, I could be fairly confident that things would improve tenfold in the 2013-14 season. When it was decided that Andrea Stramaccioni wasn't up to the job, and was to be replaced with the experience of Walter Mazzarri, it only added extra weight to my growing optimism.

Add to all this the impending investment that will be arriving from Massimo Moratti's sale of a reported 75% of the club to Indonesian media tycoon, Erick Thohir, and my optimism has turned into the realisation that the club have finally turned a corner and can really push to once again become a European powerhouse of the game. I know we are still nowhere near the point where you will see Inter winning another Scudetto, and the next Champions league title is realistically only a faint light of hope on the horizon, but the reality of a new stadium finally getting closer and the club's debts being wiped out takes Inter one step closer to returning to the top.

As I said at the beginning of the last season when the optimism was high for Stramaccioni's youth project, it will take many years for the project to reap the rewards and patience is the key word for the fans to remember. This sentiment still stands today. Yes, Stramaccioni's youth revolution didn't happen as we hoped, but the club has still managed to reduce its average age and wage bill by a considerable amount. This was one of the main objectives of the last season, and all the talk of Mazzarri not being a coach to play young players so far has seemed unfounded, with the likes of Icardi, Ishak Belfodil and Alessandro Capello make big impressions at Pinzolo. Then of course there's the youngster who will become the heart of this new look team -- Mateo Kovacic. Can you truthfully say that with these exciting young players becoming the core of Mazzarri's tactics that it's not a sign of the club making progress?

There is one area of the Inter structure that still needs a major overhaul to help the club move forward however, and that's the transfer department. Don't get me wrong, I realise it cannot be easy for Marco Branca and his team to do their jobs with a very limited budget, on top of dealing with the demanding Inter fans and team president who expect the best quality available to be signed. I certainly appreciate the good things they have achieved. For instance, the signing of Icardi when bigger clubs were chasing him and also when they snatched up the signatures of Botta and Marco Andreolli on free transfers. No one can deny the excellent job they have done in some respects.

However, certain aspects of what they are doing within the club overshadow any of the good points. The most devastating in recent memory has to be the sale of Phillipe Coutinho to Liverpool FC which to this day I cannot see the sense in. While on the subject of selling members of the club's overinflated squad -- which Mazzarri himself has stated needs reducing -- there appears to be a distinct lack of motivation from the transfer department to find interested clubs for those players who are deemed surplus to requirements. Yet ask them to find a destination for one of the club's promising youngsters and you can almost guarantee you'll never see them in Nerazzurri colours ever again.

In regards to finding players to purchase, there has been several cases this summer of players announcing to the press their desire to play for Inter, yet the club appears to ignore these 'come and get me' requests in favour of chasing harder to secure players who probably would never sign for the club anyway. The prime example of this was long-term target Paulinho who last month spoke of the legends who have played at Inter and how he would relish the chance to follow in their footsteps. This was completely ignored by Branca and company. After signing for Tottenham, the player revealed how no offer arrived at Corinthians to take the midfielder to the black and blue side of Milan. "Inter made two offers for me in two consecutive transfer windows. One offer arrived in the beginning of this year when I decided to stay with Corinthians. This window, Inter didn't make an offer for me. The only club which made an offer this window was Tottenham." Paulinho told SportTV. This revelation came as a huge surprise to me considering the club's admiration for the player who they had been chasing for at least 12 months.

Ok, so I admit his price was slightly high and Inter have a bigger need for a more defensive player, but the player they are looking towards -- Radja Nainggolan -- is now likely to cost around the same fee. Paulinho isn't the only player to state his desire to play for Inter this summer either. In fact, there have been several, the most noticeable is defensive target Aleksandar Dragovic, who upon turning down a move to Dynamo Kiev told the press, "I want to thank Dynamo, but joining Inter is my dream and I hope it becomes reality." Unfortunately without selling one of the current squad, Dragovic proved to be too expensive for the Nerazzurri and on Thursday it was revealed that he had lost patience with waiting for Inter and has now signed for Dynamo.

It's a real shame Inter hadn't made contact with him, especially with Moratti and Thohir meeting to finalise details of the investment in the club on the same day. When this deal goes through, Inter will be in a position to buy the players it wants with less importance on selling unwanted players first, and I believe Dragovic would've waited a bit longer if Inter had shown more interest and explained the situation to him. I just hope that Dragovic will be the last player who wanted to play for Inter, and who Inter wanted to sign, that ends up not arriving to the club.

With the Thohir takeover looking to be only days away, there is already talk of the Indonesian contacting ex-PSG director Leonardo about a position at Inter. What this position will be is unclear, but there are plenty of fans hoping that Thohir is looking to replace Branca with the Brazilian, regardless of Moratti's fondness for the current technical director. Of course, this in itself could be a risky decision as Leonardo last fulfilled that role at a club where money is no object, and he will have to work to a much tighter budget for the Nerazzurri.

Whatever the future will bring, Interisti must embrace this new era that is about to dawn for us in the long and proud history of the club. We are all thankful to Moratti for all the wonderful memories and achievements that the club has fulfilled under his guidance, but now is the right time for him to make the ultimate sacrifice and lose his controlling stake in the club he loves; to ensure Inter becomes stronger in the long term, a prospect that has me excited to witness the next chapter of FC Internazionale.