Mazzarri's training plan on schedule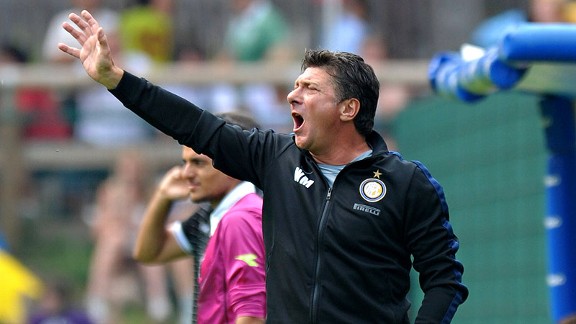 AllsportNew Inter Milan boss Walter Mazzarri is building a solid side.
Monday's training match saw Walter Mazzarri's Inter claim a 3-1 victory against a Vicenza team that will be playing their football in Italy's third tier next season. It's hardly a great score line against a team the Nerazzurri should be walking all over, but as Mazzarri himself said: "Right now the last thing we're looking at is the result. We're still trying to get our balance right.

The evidence of how hard Mazzarri is as a taskmaster was shown in his post-match interview where he told of being pleased with the work the team has done so far and praised how well the team have been handling the gruelling workload. However, he also acknowledged that his team still have a lot to do before they are playing to the standard and understanding that his tactics require to be competitive in the league.

In Monday's match there were three main areas where Mazzarri found fault: the pace of his players, how they played out set-piece situations and lastly, their ability to deal with counter-attacks.

He explained to the media after the match that his tactics rely on the players constantly running to find spaces and create chances, or to track back and regain possession, "Clearly, the speed of play isn't where I'd like it to be yet, given the heavy workload they've had," Mazzarri stated during the interview. He also explained that the intense fitness training he has subjected the team to during their time at Pinzolo will ensure they have the stamina and strength to fulfil his wishes for the entirety of the matches, not just the first hour, throughout the season. Mazzarri is definitely a man who knows what he wants from his players: "I'd like to see everyone moving at 100MPH."

As for Inter leaking their only goal of the pre-season so far to a counter-attack from Vicenza, this just highlights the elephant in the room left over from the Andrea Stramaccioni era. Inter's inability to deal with effective counter-attacks was one of the main reasons the club failed so miserably last season, and it is obviously still a problem that the team need to work on. Unlike his predecessor, however, Mazzarri seems to have a plan to enable his team to deal effectively with these threats. He revealed that the best way for his team to save themselves from being caught on the break is to make sure they slow the opposition attack down, giving time for his players to track back and remove any threat. I believe he has already made a step towards achieving this by reducing the gap between the defensive line and the central midfield, but now they need to perfect ways of distracting the flow of these counter-attacks even if they aren't in a position to dispossess the man on the ball.

Even more encouraging was the fact that in Inter's last training session in Pinzolo before leaving to play their friendly against FeralpiSalo on Tuesday, Mazzarri used the session to work on all three of those issues he identified the evening before. The focus was entirely on active and passive tactics, dead-ball drills and of course, speed practice. This may seem like a small thing to most, but I am really happy to see Mazzarri is not only identifying the problems, but also putting measures into place to improve and resolve the issues shown by the team in their preparations for the upcoming season.

Against Vicenza two players stood out above the rest to me: Fredy Guarin and Alessandro Capello. Guarin is a player we all know has the ability to be a real game-changer and it is hard to doubt his loyalty to Inter, but last season he showed a tendency to make wild long-range shots at goal that usually ended up somewhere in the top tier of the curva. Under Mazzarri, however, he's been allowed to play in a deeper role in midfield than the trequartista position he played last season, and already he really seems to be finding his form. Although he is still taking shots at goal from outside the area, they are now generally on target or very close. If he can continue with this improvement, I can see Guarin bringing a very respectable goal tally over the course of the season.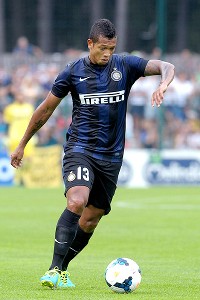 Dino Panato/Getty ImagesFredy Guarin has impressed thus far for the Nerazzurri.
Youngster Capello is a new arrival at Inter and although the 17-year-old striker was signed for their primavera team, the impression he has made in the last couple of friendly matches has shown a maturity to his game that has allowed him to integrate easily with the senior players. Capello's impact has been so great that the media have even suggested that he may not play for the primavera side at all this season, instead jumping straight into the first team. I personally feel he has shown much more quality than we've ever seen from Samuele Longo in the senior team and I wouldn't be surprised if his arrival signals the end of Longo's time with the Nerazzurri.

Mazzarri appears much more down to earth about Capello's chances of promotion: "He showed up a bit late and is fresher than the others. Having done less work he sparkles more on the pitch. For players with heavy legs like Icardi or Belfodil it's normal to be a bit behind from this standpoint. Let's wait because it's a bit early to start making these assessments. The games that count will soon be here and things will be different." The ideal scenario for Capello would probably be for him to get some match practice with the primavera team but be on standby for the first team in case of any injury crisis.

A day after the Vicenza game, Mazzarri's Inter travelled to face FeralpiSalo in a very hot and high altitude game in Rovereto. Unfortunately, I didn't managed to watch the game but the reports I've read suggest Inter took the initiative and played well especially from the wings.

"We found it a bit harder, we were a little slower, but we've rounded off our pre-season training camp in the best way possible and that's the main thing." Mazzarri told the press following the match, "the lads have dealt with the workload well. Everything's going according to schedule. We're happy." There's that word again from Mazzarri -- 'workload'. I think he keeps emphasising this word to allow us fans to appreciate that the team we are watching is a work in progress, and is a team that has been working very hard on their fitness, but have had little tactical training for Mazzarri's plans to really become second nature.

Hugo Campagnaro, who scored his first Nerazzurri goal in this game, confirmed this: "Our legs are finding it a bit hard and our heads are working faster at the moment. We'll need to do a lot better but we've only been working on tactics for a week." Despite the short amount of time Mazzarri has had to instil his philosophy, I can already see improvements in an Inter team that embarrassingly finished ninth last season.

The Nerazzurri's first real test of the Mazzarri era will take place on Saturday afternoon when the team travel to the Imtech arena in Germany to test themselves against Bundesliga side Hamburg. Following this friendly, Inter will then fly to the USA to compete in the Guinness International Champions Cup pre-season tournament against far tougher opponents such as Chelsea, AC Milan and Real Madrid. These next few weeks will really test the team and give a real insight into the effect that Mazzarri's regime is making on them, which should give us fans a much better idea of how the team will fare come the start of the Serie A season.