Are Juventus just playing games with Inter?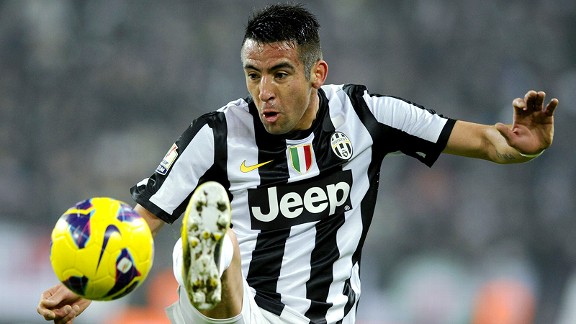 Claudio Villa/Getty ImagesMauricio Isla has publically expressed his desire to leave Juventus for Inter Milan.
Mauricio Isla is a player I really want to see running the right flank of Inter manager Walter Mazzarri's formation, but the deal for the Chilean wingback is turning into another one of those long-winded transfer sagas that Inter always seem to get involved in. The kind of negotiation that leaves the Nerazzurri disappointed, and sees the club's identified alternatives already snatched up or priced out of range. By that point, they are then forced to buy a mediocre alternative before the transfer window shuts.

Let's face it; this was never going to be an easy deal to seal for the Nerazzurri. Bitter rivals Juventus, with whom they have to negotiate for the player, were always going to make the process as difficult and as expensive as possible. Bearing in mind that Juve only own 50% of the rights to Isla, I feel Inter's initial offer of six million euros was a fair price, especially considering that the player missed the majority of last season due to a bad injury and the Bianconeri's preference of playing Stephan Lichtsteiner in the right wing position instead.

Juventus, however, stuck to their guns demanding that Inter pay their figure of €7.5 million for the player. These negotiations have rumbled on for what seems like weeks now with Inter trying to find a compromise in price which both clubs can agree on. Finally on Thursday it seemed that the stalemate had been broken and Inter agreed to pay the requested €7.5 million for the Turin side's share of the player.

Inter's chief of the medical staff Doctor Combi even travelled back to Milan from the Pinzolo training camp to conduct the medical examination on the player ahead of the move. Only when he arrived in Milan there was no sign of Isla, as it turns out Juventus had completely changed their mind and decided to block the deal. There were even rumours that he had been removed from the transfer market completely.

- Juve turn down Inter approach for Isla

Juve coach Antonio Conte told the press "Isla is a Juventus player, he is my player. I am very happy to be his Coach. He had a difficult season last year because he was coming back from a serious injury. I am convinced that this year he will have a great season, so I am happy to have him in the squad and train him. He will play for a place on the wing."

Personally I don't believe Conte has any intention of using him regularly in his squad. Last season he was full of praise and admiration for Lichtsteiner, so why would he even consider replacing him with Isla in the upcoming season? Also, during a recent friendly that Isla played in with Juventus, the Bianconeri fans were heard to be booing and jeering the Chilean. This was the result of comments made recently by Isla himself stating his desire to sign for the Nerazzurri:"Inter would be perfect because they are a top club that wants to return to what they were in the past." Exactly how Conte thinks he can still be accepted back into his team is beyond me.

So why are Juventus making Inter work so hard to secure Isla's signature? Transfer market expert Alfredo Pedulla explained to SportItalia's show 'SpecialeCalciomercato' why Juventus has blocked Isla's transfer to Inter: "These things can happen because these two clubs don't exactly have a history of an idyllic friendship filled with caresses." It is no secret that there is no love lost between both the clubs and their fans, and I hold a theory that Juventus are taking advantage of the flaws in the Nerazzurri's transfer strategies and dragging out these negotiations as long as possible to distract Inter from securing their other transfer targets.

What I mean by this is that Inter, as we all know, aren't the best at chasing several transfer targets at once. They generally pick one or two players then become completely focused on the negotiations for those and miss out on other players that they may have wanted to sign. Two recent examples of this are former Corinthians man Paulinho and Gino Peruzzi from Argentinean side Velez Sarsfield, both of whom were taken to the English Premier league while Inter were distracted trying to seal deals for Isla and Radja Nainggolan, a strategy made all the more ridiculous by Inter's own admission that they can't even afford the Cagliari midfielder at the present time.

This isn't even the first time Inter have missed out on players who are just as good and usually cheaper just because the club has been too busy focusing on other targets. Maybe Juventus are using this tactic against Inter because they think the Nerazzurri could really challenge their dominance with a few select signings, but one thing is very clear to me: while Inter are running around in circles chasing a couple of players they may never actually sign, the other teams -- i.e. Juventus -- are securing quality signings that are making them much stronger than Inter.

Inter need to learn to forget about signing certain targets if the negotiations are dragging out or looking difficult. They should be moving their attention to another player that can fill the role they are looking for. If they use this philosophy, they will be much more likely to sign the quality players they want, for a reasonable price before other clubs beat them to the punch.

Following the news that the Isla deal was blocked, it was rumoured Inter would then make a move for either PSG's Gregory van der Weil or Daryl Janmaat from Feyenoord as alternatives, which fits in perfectly with how I feel the club should now handle the situation. However, on Saturday, it seems that Juventus have reopened the negotiations for Isla and have once again drawn Inter's attention away from two very talented and young alternatives. Unfortunately, it appears that Marco Branca and his transfer team just can't seem to see the error of their current strategy, and it seems to me Juventus are enjoying drawing them back into the same trap again with Isla, possibly with the intention of never actually selling the winger to Inter.

As much as I would like to see the Chilean playing for Inter, far too much time has been wasted trying to complete this deal, so I'm now hoping Inter will come to their senses and decide to move on from Isla if they can't secure his signature by the end of the weekend.