Pinzolo: The iron sergeant's boot camp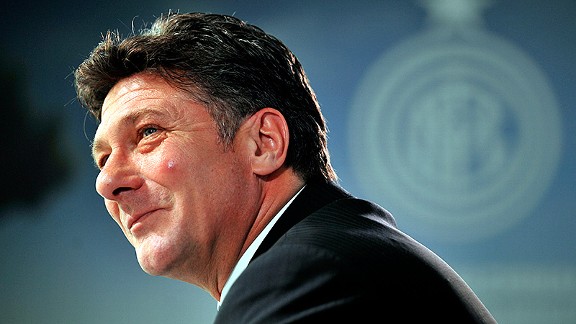 Olivier Morin/AFP/Getty ImagesNew Inter boss Walter Mazzarri is putting last year's ninth-place finishers through a physically-demanding preseason regimen.
After five training sessions under Walter Mazzarri at the Pinzolo training camp, it is already becoming clear that the new Inter boss means business. Working closely with his players and his management team, he is pushing to get the absolute most out of his players ready for the upcoming season.

The players may argue that this year's pre-season training camp is seeming more like a boot camp for marines, but as they will be going to war in the upcoming Serie A campaign to defend the honour of the Nerazzurri, that is exactly the level of commitment they need to show. Already in just the three days the team has been training at Pinzolo, Mazzarri has put his players through a punishing training regime that has included the following: three technical sessions, four training matches, two strength workouts in the gym, four tactical sessions, one session practicing 1-on-1 situations, an aerobic session, and two Fartlek sessions which is like a cross country run that involves the players running a circuit at varying speeds depending on the terrain, as well as uphill and downhill runs.

- Mazzarri: The players want revenge

As you can see, this gruelling regime is biased towards getting the team to the peak of their physical fitness, which is something that has sorely been lacking in recent seasons. During an interview with the Inter Channel, the club's new fitness coach, Giuseppe Pondrelli, confirmed the intentions of Mazzarri's plans for the camp: "We work in a fairly traditional manner: two sessions with a technical and tactical part as well as fitness. Clearly it's more tilted to the fitness end in this period, although there's always a ball involved." The fact that Mazzarri keeps a ball involved in the training is something I am especially pleased to see, training that includes the ball was an important part of Jose Mourinho's preparations while he was with the club, and in my opinion it helped the players focus more on what they were trying to achieve ready for the upcoming match days.

The Inter channel went on to ask Pondrelli: We've noticed a lot of physical work, particularly running. The lads finish tired, and rightly so. Are these positive signs? To which the fitness coach replied: "It's right that they're tired after having trained for the sport that they practice. Fatigue comes from both training after a break as well as tactical work or work with the ball that the coach has you undergo. Not just from running for your fitness coach."

Obviously, the more the players train to this level of intensity, the better their fitness and stamina will become which will give them an advantage on match days. Another advantage we should hopefully see is a reduction in the amount of muscle injuries the players suffer. Prondrelli is known for being a wizard at reducing injuries, and considering he and Mazzarri have worked together for 13 years, I believe they have worked out a training system that works very well to fulfill that reputation.

It seems that the physical side of preparing the players isn't the only thing Inter's "Iron sergeant" Mazzarri is promoting within his team; he is also making an effort to get to know each of his players, too. "It's very important for me to speak to them, I want to get to know them personally." Mazzarri told the media during his first press conference of the season, "My first impression is that they're up for it. They're hard-working professionals who want to make up for last year and that's a great starting point. Football is about emotions, you have to play on people's motivation, but I get the impression that motivation is already sky high in this group."

This again is a positive sign to me. Under Mourinho's guidance, Inter were highly successful due to the Portuguese coach's way of building self-confidence and motivation in his players, and it appears that this is an important factor for Mazzarri too. As Yuto Nagatomo told Japanese press a couple of days ago: "He's a very charismatic coach. I'm raring to go, in fact I don't think I've ever been this fired up before."

We've seen that already Mazzarri is working hard to build not only the fitness of his squad, but also their mentality to play to win. Once the Inter boss is satisfied that these things are up to a satisfactory level, we should then see a shift of focus towards the tactical side of the game. I get a strong feeling that even at this early stage of the pre-season Mazzarri knows exactly how he wants his new team to play, and unlike his predecessor, he has a clear plan on how to create an identity for Inter on the pitch.

His plan is to use three different formations depending on the situation of a game or the opponent -- a 3-4-3, 3-4-1-2 and also a 4-3-3. He has also stressed however that he will not change his tactics too much in the early stages of the season until each formation is perfected. Combine this with each player being issued a specific role in each tactic and I believe we will see a much more organised and disciplined Inter take to the pitch next season.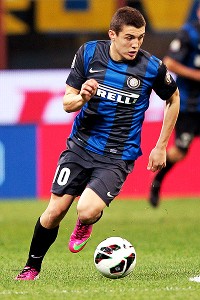 Gabriele Maltinti/Getty ImagesThe key figure in Mazzarri's Inter will be rising star Mateo Kovacic.
One thing that does seem certain is that Mazzarri will build his new-look squad around one central player, Mateo Kovacic. When asked about the young Croatian he said: "Now that I'm coaching him I'll see his potential strengths and weaknesses. A player with the qualities he's got needs to be getting into shooting positions and scoring goals, using his talent in key areas of the pitch. One aspect of his game he needs to work on is making runs forward without the ball." Reading into this statement it appears we will see a much more offensive Kovacic under Mazzarri than the one introduced to us by Andrea Stramaccioni.

I heard a rumour the other day that when speaking with Kovacic, Mazzarri asked him which foot he feels most comfortable playing with, to which the 19-year-old replied his right. Upon hearing this, Mazzarri told him that from then on he should try and play solely with his left foot. Whether or not this actually happened I do not know, but if it did, I can see huge benefits to the Inter squad if Kovacic can play with both feet. The role I imagine that Mazzarri sees for the number 10 if this is successful is a free roaming midfielder who can play right across the pitch, find the most dangerous spaces, while being very difficult for the opponents to mark effectively. In fact, it would be very similar to the role Andre Villas-Boas played Gareth Bale in last season for Tottenham to great effect, though I have to say that with more time to grow into the role, Kovacic would be much more effective than the Welshman.

One thing that has also really impressed me in the last couple of days is Mazzarri's realistic view on what he can achieve this season. During his press conference he told of an Interista that asked him to win the Scudetto for Inter, to which he replied: "Give me time and I'll get there. I want to be a point of reference and do things seriously, not someone who spins a line. Let's not forget that last year's team finished ninth. Now it's up to me to get them firing on all cylinders. I want to see an Inter team that doesn't give up, that goes for it, that has a soul and an identity. That's what I want and what I think I can promise."

I find this attitude to be very refreshing and honest. The impression I get from Mazzarri so far is that he really does have a long term plan to return the club to greatness, but he's under no illusions that it will take time and hard work to achieve the next Scudetto for the club. Realistically, I can see Inter fighting for a top-three finish this season.

When Mazzarri was first rumoured as a replacement for Stramaccioni I was sceptical as to what he could do for the club, but already he has converted me into believing his methods of doing his job to an almost military standard could be exactly what Inter needs to become a club that other teams fear once again.