Icardi: A legend in the making
(Editor's Note: This blog post has been updated to reflect proper sourcing.)

In ancient Greek literature, the myth of Icarus tells the story of a boy who failed to listen to his father's advice about flying too close to the sun with his wings made of feathers and wax. His story ends in disaster when he defies his father and the wax melts and he falls to his death. The myth of Icarus is meant to show an example of failed ambition.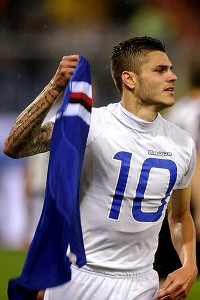 Claudio Villa/Getty ImagesMauro Icardi has swapped his Sampdoria kit for one at Inter, where he will wear No. 9 this coming season.
In this new-dawning era for Inter, they too have a youngster who is full of the ambition to aim as high as possible. Mauro Icardi is ready to take up the challenge of playing for a club of Inter's heritage and I hope that unlike Icarus, Icardi will listen to the advice given him and prove high-flying ambition can lead to greatness for both himself as a player and his new club, FC Internazionale.

"I'm happy to have arrived here. I hope to do my best for the team and the fans. I can't wait to start the new season." These were the 20-year-old's first words on the Inter website following the club's announcement of securing 50 percent of the exciting striker's card from Sampdoria, despite increasing interest from some of Europe's Champions League-qualifying clubs.

It was a gentlemen's agreement between Inter president Massimo Moratti and Sampdoria supremo Riccardo Garrone that ensured the Nerazzurri signed one of Serie A's hottest prospects. But the Argentine himself has stated a desire to play alongside legendary compatriots such as Diego Milito, Esteban Cambiasso and Javier Zanetti.

-Moratti: Inter can win Scudetto
-Andreolli happy to be back at Inter

Ever since the rumors of this transfer began, it was considered Icardi would become the apprentice of Milito, whose vast experience will enable the youngster to grow as a player and perfect his trade ready to replace the treble-winning legend as the club's hit man in front of goal.

The pressure of replacing such a potent striker such as Milito is a challenge in itself, but Icardi has also stated his desire to wear the iconic number 9 worn by some of the best strikers in the history of football, Ronaldo and Samuel Eto'o to name just two. This will make Icardi the youngest Inter player to be awarded the important number 9, but I believe he will do the honor justice, just as I'm sure Mateo Kovacic will do wearing number 10.

Why am I so sure Icardi will succeed as Inter's frontman? Despite his age, Icardi has already proved to be deadly in front of goal at every team he has ever played for. He started playing when he was just 5, and in 2002 the Spanish side Union Deportiva Vecindario signed him to their youth team, where he played six years while scoring a fantastic 384 goals.

It was this eye for goal that attracted the attention of his next destination, Barcelona, where he played in the Blaugrana youth team with a certain Lionel Messi. In two seasons with the Catalan club, he added nearly 40 more goals to his total.

In January 2011 he made his move to Italy -- where his father's family is from -- on loan to Serie B side Sampdoria's Primavera team, where he carried on his tradition by scoring 13 goals in 19 appearances. This goal rate saw Sampdoria make the move permanent in July 2011 for a bargain price of just 400,000 euros.

In 2011-12, Icardi became the top scorer of the youth league, which earned him his professional debut against Juve Stabia in the Italian second division. Ten minutes after taking the pitch, he scored his first professional goal and secured the win that took Sampdoria to the promotion play-offs.

Last season, he became a regular fixture for newly promoted Sampdoria team and bagged a reasonable 11 goals in 33 appearances, not a bad return for his debut season in the top flight. The tally included a brace at Juventus in a 2-1 upset of the league champions, and another when the Bianconeri traveled to Genova later in the season.

The three goals Icardi scored on Juventus' goalkeeper Gigi Buffon in 2012-13 instantly endeared him to Inter fans, who have struggled to consistently score against their bitter rivals since the days of Julio Cruz -- even Milito has only scored two goals against them. Hopefully this is a tradition Icardi can continue in his new Nerazzurri colours.

As Max De Luca points on out on sansiroheroes.com, Icardi is a clinical finisher, with outstanding off-the-ball movement and should be a strong components of a counterattacking system. That he's not known for his creative abilities should not be a problem -- I imagine his role will be similar to Milito's, where he will rely on the likes of Ishak Belfodil, Rodrigo Palacio and Kovacic to supply him the ball while he concentrates on spearheading Walter Mazzarri's formation.

I have high hopes for Icardi; for me, he is the most exciting young striker the club have purchased since a 21-year-old Ronaldo was pictured alongside Sandro Mazzola signing with the Nerazzurri from Barcelona. Of course, Icardi can't be compared to 'il Fenomeno' as their styles are completely different. In my opinion, Icardi will become a player more in the mould of the Fiorentina legend and ex-Inter striker Gabriel Batistuta.

I know they are huge boots to fill, but I truly believe Messi's good friend Icardi can become a top striker like 'Batigol'. I just hope he can rewrite the Icarus myth for himself, and his own high-flying ambition won't see him fail. Instead, it should allow him to become a part of the legendary Inter story for many years to come.