Cassano proves Inter's decision to sell was right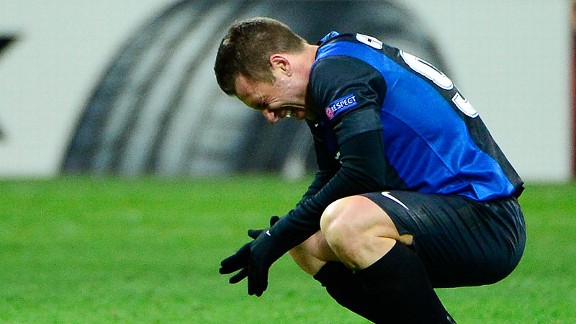 OLIVIER MORIN/AFP/Getty ImagesUpon joining Parma, the always controversial Antonio Cassano had a few choice words for Inter manager Walter Mazzari.
When the deal taking Antonio Cassano to Parma was finalised earlier this week it wasn't clear whether the sale of the Italian forward was part of the negotiation for Ishak Belfodil or not. The initial offer from Inter for the youngster included both Cassano and Matias Silvestre, though with the Argentinean defender seemingly not interested in a move to Parma, the details of the deal became a little unclear to the fans who only get told the minimal information about the club's transfer dealings.

- Cassano completes move to Parma

The undisclosed nature of the deal seeing Cassano leave Inter brought about reports that it was a straight swap for 50% of Belfodil's card. This hasn't been the case however, as acknowledged by Parma President, Tommaso Ghirardi, who confirmed to the press that the deals for Cassano and Belfodil were completely separate. He also insisted that his club were still interested in Silvestre to lead his defense, however as Belfodil is now an Inter player it seems any negotiations for the defender will also be a separate offer.

That leaves the question what have Inter paid for the 21-year-old Franco-Algerian striker? When the interest first came to light the figures quoted for the 50% of his card were ludicrous: 10 million euros plus the loan of both Cassano and Silvestre. As I stated in my article at the time, that seemed a huge valuation for a player who has scored only eight goals in 51 appearances between three clubs. Admittedly, he is tipped as being a hot prospect for the future, but I just can't see how he justifies a price tag in excess of 20 million euros.

Italy sports newspaper, Gazzetta Dello Sport, seem to think differently however, claiming that he and Mauro Icardi will make a formidable pairing up front for Inter. They also claim his versatility as a forward will give Walter Mazzarri the options of playing him as a striker, a second striker or even in a free role from the wide left forward position that he often played in for Parma. This s very similar to the role Andrea Stramaccioni played Cassano last season when playing the 'tridente' with Diego Milito and Rodrigo Palacio.

This then brings me neatly back to the Cassano deal. A deal that seems to have split opinions between the Inter fans who can't agree whether Inter have done the right thing in selling the controversial Italian. One section of the club's fan base claim that Cassano would've been crucial for Inter achieving a top three finish in this upcoming season to ensure a return to Champions League football next season, and I have to agree his incredible touch on the ball, his creativity and his great reading of the game will be sorely missed.

However, I and many other Interisti, are of the opinion that Inter have done the right thing in offloading the player who scored eight and created 12 goals last season for the club. No one can deny the talent Cassano has, or even his love for Inter --- after all, he has often been seen in the stands with Marco Materazzi watching Inter's games, even when he played for rivals AC Milan -- but even Antonio himself admits he has never achieved more than 30-40 per cent of his true capability.

This is mainly down to a tendency to be lazy on the pitch. Last season we saw time and time again that he would play fantastically for 40-45 minutes and then practically disappear for the remainder of games. This may be down to a lack of stamina following his previous heart problems, but I think he could've given much more in the majority of those games.

This isn't even Cassano's biggest flaw; that has to be his temperament. Since his debut for his hometown team of Bari back in 1999, it has been clear that his short temper has caused problems with teammates and coaches alike, and has meant more often than not that Cassano has mademore headlines for his behaviour than his great footballing talent. His new President at Parma, Ghirardi, insists that: "He has matured. At age 31, he doesn't do the dumb things he did when he was 20."

Admittedly, his time at Inter was less disruptive than his stints at previous clubs, but he still managed to cause problems within the team when he and his coach, Stramaccioni, had a bust-up during training earlier this year. This was an incident that wrongly became quite public, but in the following months it became clear there was a rift between the two Italians, and that of course will have had a knock on effect for the morale of his teammates and the team spirit in general. This kind of negative influence would be detrimental to the building of Mazzarri's team, especially with the young and impressionable players being introduced this summer.

You only have to look at the issues that were caused by another loose cannon in the Inter changing room a few years ago when Mario Balotelli was at Inter. He, too, was sold in order to return tranquility to the team (as well as to make a nice profit on the youngster).

Following his move to Parma, Cassano himself proved that Inter made the right decision selling him when through the media he publicly attacked Mazzarri, solely blaming the new Inter boss for his sale: "I thank [president Massimo] Moratti, [sporting director Marco] Branca and [director Piero] Ausilio, but not Mazzarri, because before he signed he told me that I was a fixed starter with the team and then after he arrived he said I was a starter, but one that should go home," he continued by stating, "He pushed me to go away. I went away because I could not return to Inter in his plans." He then concluded the tirade by arrogantly claiming that people should put up with his attitude to have him on the team: "Everyone must be aware that when you have Antonio, it is for better or worse."

Upon hearing this, Mazzari must have been gobsmacked, and immediately released a statement through the official Inter website saying that what Cassano said were lies and that he has yet to decide anything about his new squad and he hasn't even spoken to the striker since Inter played Napoli early last season.

For Cassano to make these comments during his Parma press-conference just proves to me that Inter have made the right decision by cashing in on the troubled forward, and it would've only been a matter of time before he ended up clashing with Mazzarri like he has so many times before with his various coaches.

As for his replacement, Belfodil, the jury is still out for me, but I am hoping that he proves Gazzetta's prediction right and can justify the huge fee Inter probably paid.