A look into Inter's mercato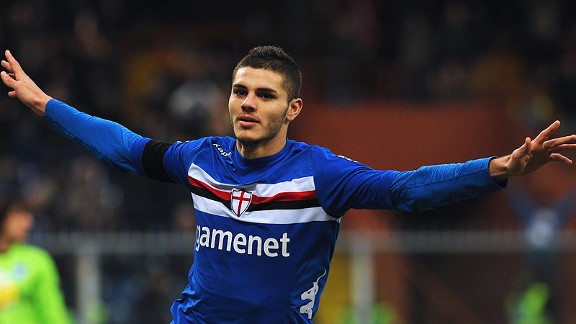 Valerio Pennicino/Getty ImagesMauro Icardi could be the star of the show for Inter next season.
As of Monday, the transfer window is again now officially open until the end of August. Despite many rumours of potential signings for the Nerazzurri, starting as far back as January, Inter's transfer dealings have been slow to materialise following the end of the season.

So far. the only real confirmation of an incoming player was when Mauro Icardi arrived at the club for his medical. During the second half of last season, it was reported Inter confirmed five new signings for this summer -- besides Icardi, the club are expecting Hugo Campagnaro, Diego Laxalt, Marco Andreolli and Ruben Botta, though the club has not confirmed when they will arrive.

Campagnaro will play an important role for Walter Mazzarri as the coach implements his three-man defensive line -- the centre-back was an integral part of the tactic when they both were at Napoli -- though I doubt very much the 33-year-old will play more than a backup role.

-Inter, Thohir still talking about deal

Ex-Inter primavera defender Andreolli's return to the Benemata is a deal I'm not entirely convinced about. His defensive abilities are mediocre at best, and for a centre-back I find him fairly unconvincing in making tackles. But Andreolli's agent said Mazzarri had tried to sign him at Napoli team on several occasions. Maybe the new Inter boss sees some potential in him that I'm missing?

Laxalt was signed by Inter in the January window, but the move was delayed until this summer when he could get a European passport. Despite Laxalt being a promising young player, it is widely regarded that Mazzarri doesn't see him as being part of his 23-man squad. This I find disappointing as Laxalt is a self-confessed Inter fan, and I'm hoping he may still be able to convince the new coach of his usefulness during the preseason training camp at Pinzolo. After all, players who support the club will always give more on the pitch.

Last but not least among these purported new arrivals is Botta, who possesses phenomenal potential and could become a massive star for the Nerazzurri in the future. He isn't a player fans are likely to see on the pitch for some time as he could be out until at least November after tearing the cruciate and external meniscus ligaments in his left knee early in May playing for Tigre in Argentina. The seriousness of his injury means he is going to have to prove himself to find a place in Mazzarri's formation ahead of players who will feature from the start of the season.

Besides these players, Mazzarri has stated his desire to bring in a right wing-back, a centre-back, another central midfielder and another striker. Any moves to fill these requirements have been seriously hampered however by the club's lack of transfer funds. Club president Massimo Moratti has said players must leave to create the funds needed to sign any more.

This is a sensible policy considering the club's finances, but while Inter awaits offers for their current players, rivals are making moves to strengthen their squads considerably. Just last week Juventus confirmed the signing of Carlos Tevez from Manchester City for just nine million euros. OK, so Inter wouldn't have been able to afford his extortionate wage demands and his temperament could cause big problems in the Juventus locker room, but his scoring ability still gives one of the Nerazzurri's main rivals a massive advantage for the upcoming season.

It is also looking as if this 'sell-first' policy has meant Inter have missed out on both of their targets to fill the central midfield position. Tottenham Hotspur have had their 17-million-euro offer for Paulinho accepted and just Monday reports sugested Roma have completed the signing of Radja Nainggolan for a fee in the region of 8-10 million euros.

Letting these players go after they both stated a desire to play for Inter is inexcusable. The latest name to pop up is Napoli's Valon Behrami, who at 28 doesn't exactly fit in with what Inter were trying to achieve with Paulinho or Nainggolan.

On a positive note, Fredy Guarin is now likely to stay, so it is a defensive midfielder the club particularly needs. I believe the best option is for Inter to show some faith in their own youngster Alfred Duncan. Duncan is a prime target of Paolo Di Canio's Sunderland and Inter have already rejected a bid from the Black Cats. The interest from foreign clubs alone should alert Nerazzurri bosses the 20-year-old is being considered good enough to make the step up to first-team football, so why not give him a shot in the team that developed him?

With Erick Thohir's bid for 40 percent of the club getting nearer, Inter are now starting to make some moves in the transfer market, and the latest name for the defence is Basel's Aleksander Dragovic. The 22-year-old Austrian defender is gaining a good reputation as a player to watch, and I think he would make an excellent addition to Inter's defence. I think he would combine well with and complement Juan Jesus in the Nerazzurri back line.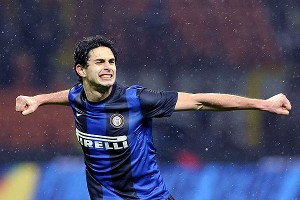 Claudio Villa/Getty ImagesAndrea Ranocchia could be leaving Inter, who coulld use the cash from a sale.
With the possible arrival of Dragovic, rumours are rife Andrea Ranocchia may be on his way out of the club, with Manchester United's new boss David Moyes keen to sign the Italian International. Since his arrival at Inter in January 2011, he has only managed to show glimpses of the ability Inter were expecting, and as much as I wanted him to be a success I think he's had ample opportunity to prove he has what it takes. Unfortunately, I just can't see him fulfilling that potential now, so if a decent bid arrives for the 25-year-old Inter should definitely cash in.

Another player who is likely to join Inter is Juventus' Mauricio Isla, with an agreement of the fee between the clubs not far off. I think Isla will be just the signing the club has been looking for on the right wing since the departure of Maicon last season, and with reports of Moratti personally going to meet Andrea Agnelli to thrash out the last details I believe it will only be a matter of days before Isla officially joins Inter.

On the left wing, there is still talk of interest in either Manchester City's Aleksandar Kolarov or Napoli's Camilo Zuñiga, but with Juventus and Tevez trying to lure Kolarov to Turin, and Aurelio De Laurentiis wanting Zuñiga to stay in Naples, both could prove extremely difficult for the Nerazzurri to sign. I think Inter should keep Alvaro Pereira for another season as a backup for Yuto Nagatomo, who is more than capable of playing the left wing-back duties.

Finally, there's the spearhead of Mazzarri's formation. Icardi is pushing for the number 9 shirt that went unused last season and I think he should most definitely have it. With Icardi, Diego Milito and Rodrigo Palacio, Inter have a deadly strike force. but if nothing else last season has taught the club that they need quality in depth too.

With this in mind, the deal to bring Parma's Ishak Belfodil is almost done, including Antonio Cassano going the other way -- as I've said before I believe the club are hugely overpaying for this young striker, but I suppose if he does reach his alleged potential, then he will prove to be a fantastic signing and worth a lot more than this fee.

Add to these names Samule Longo, who has returned from his loan at Espanyol, and Mazzarri has a forward line capable of scoring plenty of goals against most opponents. This might not be the star-studded transfer window Interisti were hoping for following the introduction of Thohir's millions, but the main thing fans have to remember is that even with investment the club still has to watch its finances.

I believe these additions will strengthen Mazzarri's squad sufficiently to enable the team to fight for a top-three finish next season. Then, once the club returns to Champions League football, we will see Inter attracting the big names once again.