Inter: The worst-run club in football
While watching the Serie A season review on ESPN recently, I was struck by a comment made by Gabriele Marcotti about Inter being the worst-run club in football. Initially, I was a little bit annoyed by the comment -- after all, no one likes to hear anybody criticising the club they support. But Marcotti is someone who definitely knows what he is talking about and I've been an Interista long enough to know that he is completely right.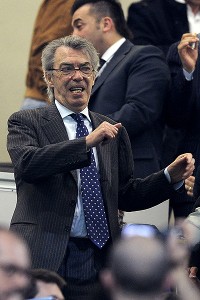 Claudio Villa/Getty ImagesInter Milan's Massimo Moratti spent big to win the Champions League three years ago, but was it worth th cost?
As I've written many times, I am a supporter of the Moratti family; like many Interista I'm proud to know the club's owner/president is a true fan of the team like myself. There is no denying that Massimo Moratti has done some great things for Inter over the years, bringing into the team some of football's most iconic players of the last 20 years -- for example Ronaldo, Javier Zanetti, Samuel Eto'o and Roberto Baggio, to name a few.

His passion and drive for success has led to one of the most glorious periods in the club's history, but the silverware won during this golden era came at a huge cost to the Nerazzurri supremo. It is reported that Moratti has spent at least 600 million euros on his team in his search for success. - some sources suggest this figure could be as high as 1 billion.

It is well known that from the day Moratti became club president in 1995, his single-most important goal was to return Inter to the pinnacle of European football by winning the Champions League, which he finally achieved in 2010. It has always seemed to me that matching the success his father Angelo had with 'La Grande Inter' in the 1960s became an obsession for Massimo over the years, and the huge amount of money he spent to trying to achieve that goal has weakened the financial stability of the club considerably.

Furthermore by surrounding himself with directors that tend to agree with his decisions (no matter how ludicrous) the structure within the club lost sight of the business aspect involved in running a football club.

The most baffling thing about Inter's situation is Moratti is also the CEO of the successful Saras oil company, so it's not that he could be accused of being naive in how to run a business. The only explanation I can think of is that Moratti doesn't view Inter as a business; instead he appears to see it as a hobby, or even a real-life version of Football Manager.

This blasé attitude about the revenue Inter needs to be self-sufficient has meant that while the Nerazzurri were winning trophies with overpaid and aging stars while only thinking about their short-term success, other clubs around Europe were taking a more sensible approach by building their brands, increasing revenues, cutting excessive wage bills and concentrating on promoting young talented players with a view to the bigger picture.

The result has been seen in Inter getting weaker every season since 2010 while other clubs have become much stronger and are now leaving them far behind.

With the club achieving Moratti's goal of becoming European champions, his 15-year crusade to dominate Europe came to an end -- and with it, I feel as if part of his passion for the club has gone. It seems that finally with his obsession of matching his father's success being achieved, he is now being forced to focus on a way to fix the mess he's created.

I would say that in hindsight Moratti should have used his heavy spending on building a stadium for his club, a project that is now high on his list of priorities for the future. In recent years he has also worked alongside UEFA to help introduce the Financial Fair Play rules, it seems to me he is using UEFA's concern about the financial situation of football in general to curb his own addiction to spending big on star players.

However, the stadium and stabilising Inter's finances is something he can no longer achieve on his own and he realises he needs help to bring a new vision to the club to match the modern world of football.

Moratti's old-school methods of running a club no longer work in this new era. Although he is adapting the way he runs things, such as reducing the club's wage bill by 80 million euros in two years, he knows the only way his club can return to the top is by bringing in outside investment to kick-start a revolution.

I have a few concerns about how Moratti is approaching these changes, though I'm hoping he can prove my doubts wrong in the long term. He is still reluctant to make changes in the structure of the club, a structure that consistently proves to be made up of people not capable of doing their jobs to the highest standard that should be expected. Marco Branca and his transfer team are a prime example.

In the last few days reports suggest long-term target Paulinho will be signing for Tottenham for a fee of 17 million euros. This is despite the Brazilian stating his desire to play for Inter; it seems Branca just ignored this 'come and get me' invite, concentrating instead on a deal for 50 percent of Ishak Belfodil for a ridiculous €10 million plus the loan of Antonio Cassano.

The club have also sold two promising young defenders, Luca Caldirola and Giulio Donati, to German clubs for fees I believe are much less than their actual values. Have they not learned from their mistakes of selling promising youngsters in the past? Why can't Moratti see the damage deals like these are doing? It just emphasises the need for a new regime in the upper ranks of the club -- as I've said previously, the Moratti family needs to stay involved in the club, but now is the time for somebody new to come in and take over the driver's seat.

I realise that Serie A in general isn't the powerhouse it once was and hence can't attract the investment that, say, the English Premier League can. But I'm still not 100 percent sure that the deal Moratti is negotiating with Erick Thohir for 40 percent of the club is the right choice to make for the future.

From what I've been reading, Thohir doesn't appear to want to make changes to the structure or even particularly get involved in the day-to-day running of the club; he wants to just invest money to buy top-quality players and achieve success. If this is true, I'm very worried about the long-term future of the Nerazzurri. That type of attitude would only result in a repeat of the mistakes Moratti has made over the years and do nothing to improve the future stability and youth development within the club.

Reports this week suggest that the deal is pretty much done and dusted, so all we can do is hope that Thohir learns from Moratti's mistakes, and the two can work together to enable Inter to once again become one of the world's elite clubs. You never know, with Thohir's influence the Nerazzurri may even be able to change Marcotti's opinion about their ability to run the club to a world-class standard.