Can Inter afford to lose Handanovic?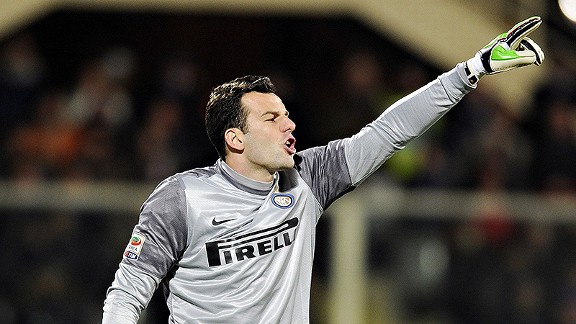 Claudio Villa/Getty ImagesSamir Handanovic: One of the most talented goalkeepers in world football
Slovenia goalkeeper Samir Handanovic joined Inter last summer, forcing the departure of the highly paid Julio Cesar from the Nerazzurri. The rights and wrongs of how Inter dealt with trying to reduce the wage of the treble winning Brazilian keeper has been much discussed over the past season so I'm not going to go back over that old ground.

We are now nearly twelve months on from this change and Cesar's QPR have been relegated from the English Premier League. Rumours suggest that the Brazilian number one may be close to returning to Italy, possibly for the capital side Roma.

- Handanovic 'not moving to Barca'

As for Handanovic, last season wasn't the best of his career but his heroics and world-class goalkeeping skill managed to save Inter's disastrous season from becoming much worse than it was. His class and ability shone through so much that despite conceding an embarrassing amount of goals, he still claimed 12 clean sheets for the Nerazzurri and attracted interest from several big clubs, such as Arsenal, Manchester United and Barcelona.

So the question is: can Inter afford to lose a player of Handanovic's quality after just one season at the club?

He is largely regarded as one of, if not the best goalkeeper in the world at the moment. Maybe with that thought in mind the question should be more a case of: can Inter afford to keep Handanovic?

There are two reasons why I say this. Obviously, it would be great for him to stay, but Inter aren't exactly financially stable these days - as I mentioned in my last article they have been losing money year on year for some time now. So would it be sensible for the club to turn down a bid in the region of the €30 million that is being suggested that could lure the keeper away from the Giuseppe Meazza?

Even the legendary Italy and Inter goalkeeper Gianluca Pagliuca can't see him staying. "He is the best of the younger generation, along with Bayern Munich's Manuel Neuer," the 46-year-old told Sky Sport Italia. However, he went on to add: "If an offer of €30 million was made then I would accept it. That is a lot of money."

Unfortunately, I am inclined to agree on this point. Samir cost the Nerazzurri a reported €11 million, so a €19 million profit in less than 12 months could benefit the club greatly.

Another thing that must also be considered is that if he did remain at mid-table Inter (I say mid-table because a club can only be realistically judged by their last league finishing position) he is almost certain to want to negotiate a new contract.

It stands to reason considering that if he did move to the likes of Barcelona or Manchester United he would be offered a higher wage than he currently receives. For Inter to entice him to stay they would be forced to improve on his current deal, which could then put them back in a similar position they were facing last year with Cesar.

That in itself gives the interested clubs a great bargaining tool for clinching the Slovenian's signature, but to make things even harder for the Nerazzurri, clubs like Barcelona can also offer Champions League football. If Inter had managed to secure a place in next seasons Europa League they may have had more power in the negotiation, but as it stands Handanovic's career with the Nerazzurri may be a short lived affair.

So where does that leave the club if Samir is sold for €30 million? They will not be able to replace him with a similar quality keeper.

Maybe Cesar could make a surprise return? He supposedly wants to head back to Italy, and despite how he was previously treated, he still holds the Nerazzurri close to his heart. Though there is an issue with that idea, with the Brazilian close to signing for Roma.

Obviously Cesar, who is approaching 34-years-old, won't be as talented between the posts as Handanovic, or even as good as he was back in 2010, but as a short term fill-in while the club bloods the very talented Francesco Bardi, he would be ideal.

Bardi himself would be the obvious no-cost replacement for Handanovic, but regardless of his phenomenal performances in the under-21 European Championships recently, he is not quite ready yet to take up the challenge and pressure of being Inter's number one.

Another name that has been linked as a replacement is Morgan De Sanctis, who Napoli are looking to replace this summer with Rafael from Santos. De Sanctis is being touted as the most likely replacement in the Inter goal, he has had a fantastic career in Serie A especially during his time at Udinese, but at 36-years-old there is little sense in making a move for him. Inter should be considering making a move for a younger upcoming keeper like Rafael for themselves instead.

Of course, for now this is all speculation and for the time being at least Handanovic remains as Inter's number one. However, it's difficult to see how the club can afford to keep such a sought after and talented player.