Inter really doing what's best for the club?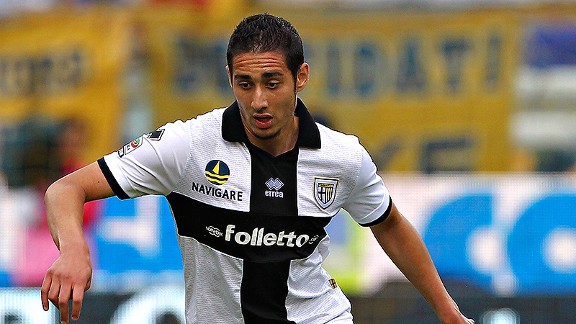 Marco Luzzani/Getty ImagesNew Inter striker Ishak Belfodil has been hailed as the next Karim Benzema.
"I'm in charge of Inter and I try to do what's best for the club." This is what Inter President Massimo Moratti told the awaiting journalists outside his Saras offices on Tuesday evening. As expected for this time of the year, this response was in connection to questions about the transfer dealings of his club, in particular two deals that were revealed earlier in the day.

The first of these deals came to light just a few hours before the 'Azzurrini' took on Spain's Under-21 team in the European cup final. An achievement the young Italian team managed partly thanks to the fantastic performances produced by a Nerazzurri-supplied defensive third. It seems, however, that the appreciation of these players isn't really shared by the management at Inter, and before the competition had even finished, the 23-year-old Guilio Donati has been deemed surplus to requirements by Inter.

The proud new owners of the Primavera right-back are German side Bayer Leverkusen who have secured themselves a bargain for just three million euros. Now I know the regular readers of my blogs are thinking that I've recently said Inter should cash in on the right-back seeing as he doesn't fit into the club's tactics, and I still stand by that. Where I have a problem is the transfer fee paid by Leverkusen. I recently saw a report that showed the estimated value of some of the Nerazzurri youth players and in that it stated that Donati is worth six million euros. I realize this figure may have been slightly inflated, but realistically I would say Inter could've pushed for at least 4.5-5 million for the young defender, especially considering his recent performances for the Italian U-21 team.

The second deal that became public on Tuesday involves the 21-year-old Parma striker Ishak Belfodil. The French-Algerian player is being touted as the next Karim Benzema, though to be honest until this deal was brought to my attention I had never even heard of the youngster. The deal with Parma is reported to consist of ten million euros, plus both Matias Silvestre and Antonio Cassano on loan with the right to buy at the end of next season. I, for one, have several issues with this deal.

Firstly, the proposed deal is for just 50% of Belfodil's card, which even without the proposed loan deals included is a preposterous value for a relatively unknown striker who has made just 51 appearances in his senior career between three clubs: Lyon, Bologna (on loan) and Parma since 2009. To make this valuation even more unbelievable, he has only scored eight goals in that time, all of which were last season with Parma. As I've mentioned I hadn't even heard of the lad until a couple of days ago, so maybe I'm the wrong person to judge, however, from all the research I've done on the player since, I fail to see how he is worth anything more than 5-6 million euros for 100%.

The other issue I have is the loan of the two players on top of that extortionate fee. Don't get me wrong; I know that the money saved on Silvestre and Cassano's wages will save the club a lot of money, which can only be a good thing. It is also an ideal solution to enable Inter to offload the defender that they were forced to purchase following last season's unconvincing loan spell, but I fail to understand the desperation the club seems to have to quickly remove Cassano from the squad.

Cassano is clearly not in Walter Mazzarri's plans for next season, and I can completely understand this decision considering that last season he appeared to be suffering from issues with his stamina and even showed a degree of laziness on the pitch. However, Cassano is a quality player which he proved by producing eight goals and 12 assists for Inter in 2012-13. I also feel that if the club are looking to remove Cassano from the squad then they should be looking for a sale, rather than a loan to be able to introduce a bit of revenue that can be reinvested in the team.

Neither of these deals have as yet been formally confirmed by the relevant clubs, but the Donati one regrettably already appears to be done and dusted. The Belfodil deal is a bit more complicated with Silvestre telling the press that he wants to stay at the club and redeem himself in the Inter shirt. Unfortunately for him though I think he has already ruined any chance he had with the Nerazzurri.

Cassano is also weighing up his options, as well as this deal he has also been offered to Genoa as part of a deal that would see both Luca Antonelli and Andrea Bertolacci going the other way. A move to Genoa is highly unlikely however, with the player formerly playing for their rivals Sampdoria and even recently stating he would like to return there. There has been other interest too from other foreign clubs concerning an outright purchase of the Italian forward, but it is considered doubtful that Cassano would want to leave Italy.

It is alleged that Parma will be told of both Inter players' decisions by Monday. For now I have my fingers crossed that the deal for Belfodil falls through, even if that means Silvestre has to stay with Inter for another season. The price for the 21-year-old is far too high and I'm fairly certain it would become a deal that the club would live to regret.

What Inter is thinking by even considering deals like these is beyond me. I realise that Marco Branca and his transfer department are working to very strict guidelines and to a tight budget considering the financial situation at Inter, but both of these deals have me questioning the definition of "doing what's best for the club."

I fear we will once again witness a transfer window that will see all the good work that has been done by signing a quality player like Mauro Icardi being overshadowed by the terrible deals that are likely to be completed by Branca and co. Surely Moratti can see that one of the club's biggest issues comes from letting this department overspend on the wrong players for his team? It is becoming clear to me and many others that the only way the club can move forward is by replacing and revamping the whole of the Inter transfer department before any more damage is done, especially by the technical director who obviously isn't the right man for the job.