Is Nainggolan a better option than Paulinho?
When Paulinho spoke of his admiration for Inter, I was very excited by the prospect of the club signing the Brazilian. He is a player the club have been watching for some time now and recently he has been proving his worth to the Brazilian national team by scoring against England and Japan in the last few weeks.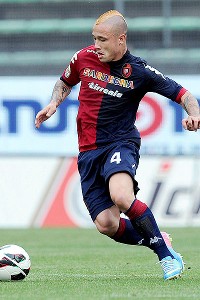 Giuseppe Bellini/Getty ImagesRadja Nainggolan has many good qualities,but would he be worth the expense for Roma?
However it seems that now the South American midfielder has stated his desire to make the move to European football, Inter have turned their attentions to a player much closer to home.

As we all know the transfer rumours surrounding Inter during the summer months are often just made-up stories or just plain speculation, but according to reports last week it seems the Nerazzurri have finally given up on Paulinho to concentrate their efforts on a young Belgian player who caught the attention of Serie A last season – Radja Nainggolan.

I just want to point out straight away I think that if this is true -- and all the signs are suggesting it is -- then I believe Inter are making another big mistake. Don't get me wrong, Nainggolan would bring advantages to the club as you'll see below. But he appears to be a decent player at best and I believe Paulinho to be a much better asset on the pitch, as well as a bigger potential star in the world game.

I don't want to sound too negative toward Nainggolan; in fact the Belgian-born player can offer Inter a lot of good things, including three seasons worth of Serie A experience. However, one of the main points the Inter management will be considering is the marketing potential of Nainggolan.

He may be Belgian-born but his Father was an Indonesian businessman and the player has been attracting a lot of attention from fans in his father's homeland. Indonesia also happens to possess one of the largest groups of Interisti in the world, so signing a player of Indonesian heritage would prove to be a very strategic move by the Nerazzurri, one that could prove financially rewarding on the merchandising side of the club's business.

Signing Nainggolan wouldn't just offer Inter a financial incentive; he also is proving to be a player who could also contribute on the pitch. So what could we expect from this 25-year-old whose first name roughly translates from Indonesian to 'King'? Could he possibly take the crown of Inter's very own Prince -- Diego Milito? To be honest, probably not, as he is a midfielder not a striker, and as we all know forwards generally receive more credit from fans than the players behind them.

However, he is a versatile player like Paulinho who can play in several midfield roles, though I wouldn't consider him a box-to-box player like the Brazilian. His preferred position is that of a defensive midfielder, though he is comfortable playing in the central, left and attacking midfield positions.

It is in the defensive midfield role where I think he would have the greatest impact within the Inter formation though, as he is more skilled in the defensive side of his game. His stackling and intercepting skills and then being able to hold the ball until his teammates find the right positions would, in my opinion, combine extremely well alongside creative genius Mateo Kovacic.

With the skill set he possesses, I wouldn't be surprised to see Walter Mazzarri assigning Esteban Cambiasso the role of mentoring the player, with a mind for Nainggolan to become the veteran's natural successor in the Nerazzurri midfield. One area of his game the Belgian national would have to improve would be his discipline -- last season alone Nainggolan was suspended three time for yellow-card accumulation after collecting 14 in 34 Serie A appearances. Despite not being sent off during a match, he was one of the most booked players in the league in 2012-13.

If Inter are to sign Nainggolan this summer, they will face a lot of competition for the player from clubs such as Juventus, Roma and AC Milan. Even Tottenham have shown interest recently since their bid for Inter's Fredy Guarin was rejected. The London-based club have now shifted their focus to trying to sign either Nainggolan or Paulinho for their midfield.

Regardless of all the interest the player is receiving from these big clubs, Nainggolan's current boss at Sardinian side Cagliari seems reluctant to let his star player leave; he reportedly believes the loss could consign his side to relegation next season. The biggest issue I personally have with Inter wanting to sign Nainggolan is the players the club are seemingly willing to sacrifice to make the deal happen.

Cagliari themselves have shown a lot of interest Inter star youth players Francesco Bardi and Luca Caldirola, and it is reported the Sardinians have been pushing for the Nerazzurri to include these two in any negotiations for Nainggolan. In my opinion, Inter could possibly include their half of Caldirola in the deal, but under no circumstances should they let go of Bardi ,who is continuing to show a fantastic potential to become the future first-choice keeper for both Inter and the Italian national team.

Another young player who is being rumored to be sacrificed to make this deal happen is tdefensive midfielder Alfred Duncan. Duncan has been attracting a lot of attention from Paulo Di Canio's Sunderland, who are considering making an eight-million-euro offer for the talented 20-year-old. I am a huge fan of the Primavera youngster and would be upset to see Inter let him go. In fact, Duncan is such a promising talent I would even prefer for the club to forget about both Nainggolan and Paulinho and just let the Ghanaian play instead.

As you have probably surmised, Paulinho still remains my first-choice target for Inter's midfield, but if that deal was to fall through, then Nainggolan would obviously make a suitable alternative. Though perhaps wrongly, from what I've seen of him, I am still yet to be convinced that the 25-year-old has what it takes to become Inter's 'King' of Milan.