Worries of misplaced optimism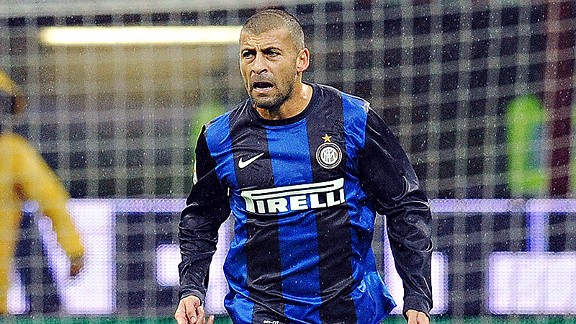 Giuseppe Bellini/Getty Images35-year-old defender Samuel has struggled with injuries yet his contract could be renewed by Inter.
For me and many Inter fans, the summer is a time full of optimism and hope, but over the last few seasons it has turned into a time of speculation and frustration instead. Perhaps wrongly I have been fairly optimistic about what this summer's transfer window will bring for Inter.

The club has managed to secure the signing of potential superstar Mauro Icardi to lead Walter Mazzarri's forward line, and with names such as Aleksandar Kolarov and Mauricio Isla also being linked, my optimism almost seems justified. However this is Inter we are talking about, the club that still has Marco Branca running the show when it comes to transfers, and already there are signs starting to appear that this could become another summer of hope that will turn into despair as the start of next season approaches.

Firstly, there are the Inter veterans who seem to have the ability to keep their contracts with the club through nostalgia more than usefulness on the pitch. Already the club has renewed the contracts of both Walter Samuel and Javier Zanetti. The Zanetti renewal I completely understand, following his recent terrible injury the club owes it to the 39-year-old to be able to end his 18-year Inter career in a better manner than being stretchered off the pitch. 'Il Capitano' is, after all, a symbol of the club in the same way that the late great Giacinto Facchetti was and always will be.

The 35-year-old Samuel on the other hand played just 16 times in the league last season for Inter on his two million euro a year contract, with injuries and fitness concerns hampering his availability to Andrea Stramaccioni's defensive line. No one can argue that when he's fully fit and in form Samuel was one of the best defenders the world has ever seen. But even with the suspect defence Inter possesses, I fail to see the sense of renewing his contract, even if the plan is to use him as a back-up player. Surely I can't be the only person who thinks it would make more sense to give youngsters like Simone Pasa or even the stars of the 'Azzurrini' Matteo Bianchetti and Luca Caldirola a chance with the first team, even if it's only as a back-up instead of relying on the unreliable fitness of Samuel.

Another possible disappointment comes from Cristian Chivu and Dejan Stankovic, both of which haven't offered anything significant to the Nerazzurri for a couple of seasons now. Chivu's future hasn't really been discussed by the club in public as yet, but the general consensus is that the player wants to end his career at Inter. That is all well and good as long as the 32-year-old is planning to retire in the next month or so. Ok, so I am slightly biased here as it's no secret that I don't like the player. In my opinion, up until he fractured his skull in January 2010, he was a decent player, but following his return he has been mediocre at best. I would even go as far as to say the guy is a liability to Inter's defence with the bad decisions and mistakes he makes, he certainly doesn't warrant the reported 2.1 million euro wage that he earns with the Nerazzurri.

Stankovic is a different matter, and to be honest my previous comment about not offering anything significant for a couple of seasons only really applied to Chivu. 'Deki' is (or should I say was) the type of player any coach would love in their squad. With a talent for accurate passing, versatility on the pitch and creativity, he is the epitome of a midfield workhorse. His biggest ability though was his long range shooting ability, which was summed up perfectly by his first time volley from the halfway line against Shalke in the Champions league in 2011 that caught keeper Manuel Neuer out of position and hit the back of the net -- this one moment for me confirmed Stankovic's place as a true legend of the club.

However, serious injury saw the 34-year-old out of action for most of last season and just making three very rusty and ineffective appearances for the club it was apparent he no longer had a place in this Inter team. Rumours are rife that 'Deki' will leave this summer to finish his career in the MLS, or possibly even ending his career where it started with Red Star Belgrade, but the player himself has come out and said he intends to stay at Inter. That statement leaves me hoping that the club's management see past any nostalgia for the player and find him a new home, because with a wage of nearly three million euros along with his medical bills from his injuries, all he is managing to do for the club now is drain their resources.

It's not just the decisions to be made about the veterans of the club that have me worried, some of Inter's newer stars have been linked with moves away from the club. Samir Handanovic is allegedly a target for Barcelona, who have offered a reported 24 million euros for the world-class keeper. Luckily, that has been rejected by Inter, but reports have suggested they would say yes to an offer of 30 million euros. This would be a huge mistake in my opinion. As I've said, Handanovic is a world class goalkeeper and even possibly the best in the Europe, so how Inter think they can replace him with just 30 million euros is beyond me, and more to the point, who is available at a similar standard to the Slovenian? Along with the 19-year-old midfielder Mateo Kovacic, he is the only other Inter player I would consider unsellable at any price this summer.

- Inter coy on Barca's Handanovic interest

A star Inter player the club could've sold for a huge profit is Fredy Guarin. I know a lot of fans consider the Colombian to be a vital component of the Inter squad, but as useful as he is, I consider him to be fairly easily replaceable if the club are offered a profitable price for him. Therefore, Inter's decision to turn down an alleged 20 millio euron offer from Tottenham was ludicrous. Guarin cost the club just under 10 million euros so any offer over 15 million euros should be seriously considered. A plus point for Guarin is the fact that he has come out publicly to tell the press that he wants to stay with Inter and make history with the club, so I can't knock the guy's loyalty and drive to succeed with the Nerazzurri. You never know, Mazzarri may even bring out a side of Guarin we have yet to see, and in a few months I may be saying Inter were right to hold onto him.

There is a long way to go before the start of next season. In fact, the transfer window at this point still remains closed so it is difficult to assess how Inter's summer will pan out. However, these early decisions, rumours and speculations are starting to make me worry that my initial optimism for a great summer will turn out to be nothing more than the wishful thinking of a fan wanting to see his team return to being a competitive force. Yet there is still a glimmer of hope as the rumours surrounding Inter's transfer dealings continue to tease the fans with the promise of a stronger squad for the upcoming season.