Mazzarri should learn from Herrera's 'La Grande Inter'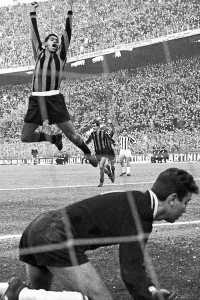 Keystone/Getty ImagesA reprise of the tactics that allowed Jair to flourish at Inter in the 1960s would be welcomed by Nerazzurri supporters.
In the past Inter have relied heavily on the attacking threat of their wing-backs, preferring their versatility in playing both offensive and defensive roles to the more traditional fullback teamed up with midfield wingers.

Even back in the ultra-defensive days of Helenio Herrera's Catenaccio-oriented 'La Grande Inter', one of the key components to making the system successful was his utilisation of the legendary Giancinto Facchetti in the left wing-back position, along with the winger Jair playing on the right flank to make his team a formidable attacking threat from out wide.





Now, coaches prefer a more-symmetric formation than what was seen in the 1960s. But even as recently as Jose Mourinho's Triplete-winning Inter we have seen a similar tactic being used to great effect. Admittedly, Mourinho's was a completely different formation to Herrera's, but a key feature was the use of Maicon in the right wing-back role, while over on the left flank Samuel Eto'o was used to great effect in a role not too different from that Jair used to play on the right.

Last season, however, Andrea Stramaccioni relied heavily on new arrival Alvaro Pereira for his left wing, while due to injuries and the sale of Maicon the right side was constantly changed between Javier Zanetti, Yuto Nagatomo and Jonathan. I had many issues with this setup -- first, Pereira appears to be more suited to a completely defensive full-back role. meaning he has never been able to play at his best in the Inter squad. Unfortunately, this means he will never really fit into Inter's way of playing, and is likely to be sold to the highest bidder this summer.

On the other side, the tactics were hampered by several issues. Zanetti just hasn't got the stamina to be running the right flank for 90 minutes solid anymore, and Jonathan has shown some good skill but hasn't got the quality required to perform week in and week out for a team that should be pushing for a Scudetto challenge. That just leaves Nagatomo, who I do believe has the right qualities -- just not on the right side.

Unfortunately, with the money spent on Pereira, Stramaccioni must have felt obliged to play him as often as possible instead of the left-sided Japanese wing-back.

In the second half of the season Strama did try to rectify the situation by bringing in a winger to play the Eto'o/Jair role, but unfortunately the player he received from Marco Branca and Co. was Ezequiel Schelotto who has proved to be a complete flop with the Nerazzurri.

Now, Inter are entering another new era under new boss Walter Mazzarri, and again I am expecting to see the wings being utilised fully to bring out the best in the squad. The big problem facing Mazzarri is he severely lacks the right sort of players to fulfill these roles.

With him likely to play a three-man defensive line, it will be crucial the club purchase the right players to give the team this attacking width while also allowing some defensive security to his centre backs.

Rumours are rife that Pereira could be replaced with the excellent Aleksandar Kolarov from Manchester City. I believe Kolarov would be an excellent addition, and the experienced 27-year-old is capable of playing in every position from fullback to attacking midfielder on the left flank, which is exactly what will be required for Mazzarri's tactics.

Of course, this is a role Nagatomo has proved more than capable of playing. But Kolarov is not only a better defensive player than the Japanese international, but he is also a much more proficient crosser of the ball when in the attacking third.

As for the right side, two recent rumoured Inter targets could be the ideal solution to create a tactic similar to Herrera's. First would be Juventus' Mauricio Isla, who is capable of not only playing in right-back but also in a right-sided or central defensive midfield role. With this in mind I would propose playing, Isla on the right of a central midfield three, but when the opposition are in possession he would drift into the right-back role to give the defence support on the right side.

The second part of my proposal would involve Inter purchasing their longtime target Alexis Sanchez from Barcelona, and for Mazzarri to play him out wide on the right side of the pitch in exactly the same role that Herrera played Jair all those years ago. With Sanchez in this position, Isla covering the right side of the defence and Kolorov as left wing-back, Mazzarri's formation would resemble a modern version of Herrara's, which would be far more unpredictable for Inter's opponents to counter than a standard 3-5-2.