Walter Mazzarri - A man with a plan
At noon Thursday June 6, 2013, Walter Mazzarri made his first appearance before the press as the 19th coach of FC Internazionale during the Massimo Moratti era. Depending upon the ongoing negotiations with Indonesian businessman Erick Thohir he might possibly even be the last.

The presentation of Mazzarri as the new Inter coach went ahead despite his ex-boss Aurelio De Laurentiis wanting the unveiling postponing until next month, due to his contract with Napoli not expiring until June 30. This, of course, was overruled. It would have been a ridiculous decision considering Napoli have already replaced him with ex-Inter boss Rafa Benitez.

During his presentaion at Inter's training facility in Pinetina, Mazzarri answered a wide range of questions concerning everything from his history as coach, the decision to leave Napoli and his intended tactics for next season.

The questioning started with journalists asking what his secret is for being in coaching for a decade without ever being fired -- of course, now that he has taken the Inter job it could be a record that ends with this position.

Mazzarri stayed humble and gave the credit to the staff and players he's worked with over the years, and the confidence he shows in all the people around him. I have to admit up until the last couple of seasons he's had with Napoli, I haven't paid much attention to him, but I see him as a professional kind of coach who tries to create a bond with his players and staff (similar to what we saw with Jose Mourinho at Inter.) He also places high importance in training his squad well, not only in the technical aspects of his tactics but also ensuring they are physically and mentally prepared for each game they face. These are all attributes that Mazzarri himself emphasized Thursday

The press then went on to question him about the circumstances leading to his decision to leave Napoli and also the reason he chose Inter over their rivals from the capital, Roma. The Italian press had previously alleged that De Laurentiis had compared him leaving for Inter like a cheating wife: "The marriage was split in two," he told reporters. "You can use money to convince a wife to stay with you, but if the wife wants to sleep with another man, then she will sleep with another man."

Mazzarri however, sees things slightly differently: "I spent four wonderful years in Naples, but like in any marriage, there may be a beginning and an end", and stated the reason he left Napoli was because they lacked the challenge and stimulation that he wants from his career. He went on to explain that his decision to leave dates to last summer, but with a lack of attractive proposals for the ambitious coach he decided to stay with Napoli and push on for glory.

This attitude made the Inter offer all the more appealing to him, and I have to say I respect him for being enthusiastic about taking up the fight to return Inter to being one of the best in Italy and Europe.

Again, this was something that he confirmed when asked about what goals Moratti has set for him and his team next season. He told the press that a team of Inter's caliber and history should always be aiming for the top, a trait that both Moratti and the fans hope Mazzarri can bring back to the fallen giant. He wants the fans to support their team so he can once again make us all proud to tell the world that we are Interisti. "The supporters want to see a tough team, a team that can play against anyone, and will return to winning on its own arena and limit the losses."

Moratti's vision of what he wants from his coach is someone much like Mourinho (sorry to reference him again, but unfortunately there has been no other Inter coach like him) who takes responsibility of all aspects of the team from the technical and fitness training right through to the players he wants in the team and how his backroom staff work, a coach who works as more of a manager.

This is exactly what he should get with Mazzarri, who has decided to keep key staff members such as Beppe Baresi to help him understand how things work within the structure of Inter, but he has also brought in trusted staff members he has often worked with in the past like fitness coach Giuseppe Prondelli and goalkeeping coach Nunzio Papale. These changes should allow him to really get a grip of every aspect of his new team and make his mark.

When questioned about what changes he wants to make to the Inter squad and who he wants the club to sign, he understandably became a bit cagey, insisting no real decisions will be made by him until he's had a chance to evaluate the squad during the pre-season training camp at Pinzolo.

One thing is certain though, the currently huge Nerazzurri squad will be streamlined under Mazzarri especially without any European commitments to consider next season: "I work with dual roles, I want 22 players ready, 4-5 players ready to take over. But I am convinced that many of the players who will be in Pinzolo will remain." I may be wrongly reading between the lines, but with this answer it seems to me that some players in the current 30-man squad will no longer be Inter players when the team arrive in Pinzolo July 8.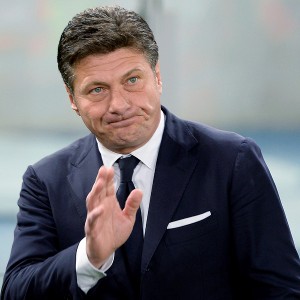 Andreas Solaro/AFP/Getty ImagesReports indicate Walter Mazzarri, who revived Napoli then turned down a contract to return, had eyed Inter since the spring of 2012.
A major concern of fans was also addressed during the presentation when Mazzarri was asked about his plans for the Inter youngsters. It seems young players will play a part in his plans, but he makes no secret of the fact that he will be looking to create a balance between youth and experience. This may not be the response Interisti wanted to hear. However, as he explained, a team full of young inexperienced players will never return the club back to the top of the league, but the right mixture of them with older, more mature players has the potential of ending Juventus' recent dominance of Serie A.

Another point of concern is his preference for a three-man defence, but as Ive written I believe Mazzarri could be the man to make it work for Inter as he likes to make sure all the players on the pitch have clearly defined roles to play, meaning that at no point should any of them not know where they should be or what should not be doing.

From reading the interview it is clear to me that Mazzarri and his staff have clear ideas about the identity they want to create for Inter on the pitch, something that has been severely lacking the past three seasons. He will arrive at Pinzolo with a clearly defined plan of what he wants from the team, and his first task will be to return confidence to his squad following their recent deflating season.

For now, Mazzarri seems confident and calm about his ability to shape his team, and he knows there is already quality within the ranks available: "I think this squad can make a championship at a high level if you buy players with certain characteristics." It's clear that he already knows what he has in mind for next season and which players he will build the team around, and I like the fact he is under no illusions about the scale of the task he has in front of him.

Up until Wednesday, I was undecided whether Mazzarri really was the right person to replace Andrea Stramaccioni and take the club forward. But after reading his first words as Inter boss, I am quietly optimistic this could be the man to return the Nerazzurri to greatness.

Most important, he understands what will set him apart from his predecessors and stake his place in Interisti hearts in the future: "A man must always give a little more to distinguish between a coach who is one in the crowd, and one that will be admired. If you manage to convey the right character, players will commit to the coach. It can make a difference."

If nothing else he has one thing that no Inter coach has had for years – A plan!

Read his full interview translated into English on SempreInter.com