My choice for Inter's midfield 'Mr. X'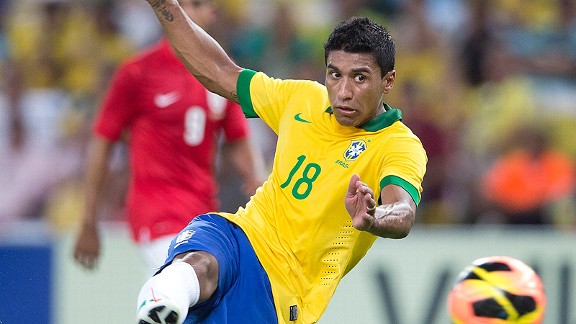 AP Photo/Silvia IzquierdoWill Paulinho finally end up at Inter next season?
With Walter Mazzarri's arrival, there has been many rumors that Inter Milan are looking for a "Mr. X" to combine with Mateo Kovacic in the Nerazzurri midfield.

My preferred choice for the club to target is a certain Jose Paulo Bezerra Maciel Junior. Of course, this may not be a name that you are too familiar with. He has been followed by Inter in a long running transfer saga for some time now, under his better-known alias -- Paulinho.

-Paulinho keen on Inter move

Last summer Inter were rumored to be in talks with Paulinho's club, Corinthians, but the player stated his desire to stay in Brazil and help his teammates to secure the Club World Cup in December 2012. Inter stayed respectful of Paulinho's wishes and withdrew from the negotiations until the next transfer window opened again in January 2013.

Paulinho achieved his goal and helped Corinthians secure their second Club World Cup title against Chelsea with a 1-0 victory, and it appeared the door was open for the Nerazzurri to return to the negotiation table.

His performances in the Club World Cup had attracted the attentions of a few rivals for his signature and both Chelsea and Manchester City were watching him closely. By the end of January however, Paulinho told the press in Brazil that he saw no reason to leave as he was happy at Corinthians and he was definitely staying.

The weeks during the winter mercato were dominated by three big stories for Inter -- the interest and subsequent sales of Wesley Sneijder and Phillipe Coutinho, and the potential purchase of Paulinho. When the Brazilian committed to Corinthians, it sparked a frustration among Inter fans who felt the player had been stringing the interested clubs alng and he should have said straight away that he didn't intend to move.

To be honest, if he had declared himself available, I still doubt Inter would have secured his signature against the two big-money English clubs and probably France's Paris Saint-Germain, too. Any one of those three would have quickly priced Inter out of the negotiations.

Now the summer has arrived, and with the major changes facing Inter's ownership and with new coach Mazzarri wanting to revamp the Nerazzurri midfield, interest in the Brazilian has been reignited. It also seems Paulinho himself has decided that this summer is the right time to return to Europe and prove himself with one of the European big teams, a decision that is possibly influenced by compatriot Lucas Moura -- who joined PSG in January -- and of course Neymar. who this week made the move to La Liga at Barcelona.

I say return to Europe as Paulinho spent a couple of seasons on the continent when he was 17 with FC Vilnius in Lithuania, and the following season as part of the polish side Lodzki KS.

Interest in Paulinho, soon to turn 25, is still high, so nothing is guaranteed for the Nerazzurri. But Paulinho seems to want a move to the Italian Serie A from the Brazilian Serie A, and regardless of Inter's lack of Champions League football in the upcoming season, it is their history and reputation that has caught his interest: "Inter are a club well known all over the world. This is where Ronaldo and players such as Julio Cesar, Lucio and Maicon played. Who would not want to wear the Inter jersey?" the midfielder told the media recently, which I read as an open invitation for Inter to go get him.

I think Paulinho would fit very well into the Italian game -- he is a strong box-to-box player who is as comfortable defending as he is attacking the opposition goal. The best description I have read for the type of player he is came from columnist Ryan Bailey of Bleacher Report: "Paulinho is a classic box-to-box midfielder in the mould of Yaya Toure or Steven Gerrard. He possesses Marouane Fellaini's strength and aerial prowess, and Frank Lampard's ability to find the net from long range."

From Inter's perspective, his skills would be ideal to complement a central midfield consisting of himself, Kovacic and Fredy Guarin. When the team is in possession, Paulinho has the ability to take the ball up the pitch to the attacking third; out of possession he can drop into a defensive midfield role with Guarin to support the back-line, and with Kovacic pulling the strings from the central midfield position, there will always be the opportunity to launch a counterattack.

Alternatively, I could see Paulinho taking up a free roaming Trequartista role behind Inter strikers, much like the role played by Sneijder in 2009-10 and more recently by Gareth Bale in Andres Villas-Boas' Tottenham side.

Paulinho isn't the only option available to Inter as their summer Mr. X; names such as Fernando from FC Porto or Montpellier midfielder Younes Belhanda, as well as established Serie A players Valon Behrami from Napoli and promising youngster Radja Nainggolan from Cagliari all being linked ahead of the Corinthians midfielder. I would be happy with any one, but my preference to add another dimension to the Inter squad would be Paulinho.

If Inter do decide to make a move for Paulinho this summer, there are no guarantees that that the club will be able to secure the Brazilian's signature considering the interest from the aforementioned big-money clubs along with the newly promoted mega-money Monaco, who have also stated their interest in the player. Maybe though, if the Erick Thohir deal goes through and Inter receive the rumoured 100 million Euro transfer budget, we might finally see Paulinho take to the Giuseppe Meazza pitch in the black and blue of Inter.