Is the Erick Thohir offer good for Inter?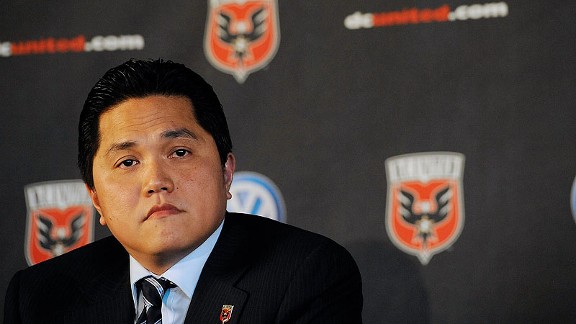 Patrick McDermott/Getty ImagesIndonesian businessman Erick Thohir may soon become Inter Milan's newest owner.
At the beginning of this season, there was a great buzz surrounding Inter with news of the China Railway Construction Corp. (CRCC) agreeing to buy a 15% share in the club for an undisclosed fee. The money this would've introduced to the club would not only clear any debts owed, but would also facilitate the construction of a new stadium for the Nerazzurri.

However, as the months passed, talk of this investment died down until it was eventually revealed that the deal had come to nothing. Massimo Moratti, knowing the importance of bringing in these extra funds to the club, has continued to search out a new partner to help secure the future for his pride and joy. With rumours of Russian and Arab billionaires being interested, the season has ended with just one concrete offer on the table, from Indonesian businessman Erick Thohir.

So who is Thohir? He made his fortune through the media industry owning companies dealing with magazines and newspapers, television and radio channels, as well as numerous advertising, ticketing, entertainment web sites. As a self-confessed fan of basketball, he holds stakes in three teams: the Philadelphia 76ers in the NBA, as well as two smaller stature teams, Satria Muda BritAma Jakarta and the Indonesia Warriors. His love of basketball extends to him being the current president of the Southeast Asia Basketball Association.

I know what you're thinking, how does someone with a passion for basketball help build a future for one of the world's biggest football clubs? Well, he has some experience here, too, after buying a majority share in Major League Soccer club DC United. It's hardly on a par with the stature of Inter, but at least unlike the CRCC offer, there is some experience in football and the sports industry in general. When Thohir bought into DC United he stated that his primary goal in his involvement was to build the club's global brand and to build them a new stadium. Both these things are areas within FC Internazionale that need addressing in the near future to maximise revenues. It has to be said though that Thohir has so far failed to move forward on any plans of a stadium for the Washington based club, which could be seen as a worrying sign.

So what is Thohir offering Inter? The exact details about the level of investment are purely speculation at this point, with Gazzetta Dello Sports claiming he's offering 300 million euros, while rival publication Tuttosport says its 260M euros. What they both agree on is that for his money he wants 100% ownership of the club.

I personally have several problems with this report. Firstly, the price seems far too low for my liking. During the talks between Moratti and CRCC in 2012, it was revealed the value of Inter was around the 500M euro mark. However, after doing some research I have found that following the dire season the club has just endured, that figure has plummeted to a value of just 316M euros according to Forbes, making Inter the 14th most valuable club in the world; so it seems Thohir has sadly got his valuation about right.

This percentage stake still causes me issue, though. I would hate to see the Moratti family leave Inter, and whether or not you agree with how Massimo has run the club in the last 18 years, you cannot deny that his family are an important part of Inter's history. Moratti himself seems reluctant to hand over control of his club either, preferring instead to sell just 30-40% of his shares. Another point worth mentioning is that Moratti doesn't actually own a 100% stake in the club; minor shareholder collectively own an estimated 6-8% and Inter's long term shirt sponsor Pirelli also owns 4.6% of the shares.

Personally, I think Thohir lacks the passion and love for the Nerazzurri that we fans want to see from the club's owner. After all, we would hate to see Inter become a club like PSG or Manchester City with wealthy owners who aren't as passionate about their club as the fans are. I agree Inter should be run as a profitable business with the best players possible, but not if that comes from the club 'selling its soul'. A cash injection is vital for Inter, but only if Moratti keeps the majority of control.

From the reports I have read it seems to me that Thohir hasn't mentioned building the much needed new stadium, and he appears to be more interested in building a team of superstars instead of building the club to become financially stable and self-sufficient long term. I realise that the alleged 100M euro transfer budget he is willing to give Walter Mazzarri is an exciting prospect, but I worry that Thohir would just be making the same mistakes Moratti made in the late 90s and early 2000s by spending money the club can't afford to sustain. We must not get carried away with the prospect of major signings and forget it was this free spending attitude that has put the club in its current financial situation.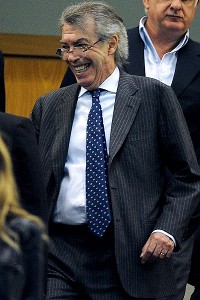 Claudio Villa/Getty ImagesThe free-spending ways of Massimo Moratti during the late 1990s and 2000s is being felt at Inter today.
So far I may have sounded very negative towards this deal, and to be honest I really am not convinced it is the right move for the club. However, there would be some positives that even with my scepticism I cannot deny.

Inter's biggest fan base comes from Indonesia, with allegedly reported over two million fans there. I have seen first-hand from the huge number of Indonesian Interisti that follow my Twitter account how much love for the Nerazzurri there is over there. Their passion for the club is just amazing considering that they reside not only in a different country but also on a different continent to Inter. So I feel that for the club to have a major shareholder that is one of their compatriots would be a huge boost to the support the club has in the Far East and also, in a way, would be a sign that the club acknowledges the support from this massive community of fans.

A new and exciting possible revenue stream that may be explored under Thohir is for Inter to follow the lead of Barcelona and Galatasaray by having their own basketball team. Basketball is growing hugely in popularity around Europe and in Italy, and with Thohir's knowledge, Inter would be perfectly placed to cash in on the growing trend of established football teams expanding their brand in other sports too.

With his connections with DC United we may also see the MLS team become a feeder club for Inter and give Primavera youngsters the opportunity to hone their skills on loan to the American club, in turn giving more exposure to Inter over in the U.S.

As I mentioned earlier, I believe Inter should remain in the hands of the Moratti family due to their passion, commitment and history with the club, but I do also think that Thohir's business minded detachment could work in the club's favour alongside Moratti. As long as he doesn't go crazy with the club's spending when buying superstar players, I think Thohir could help the club to generate more revenue while keeping the closeness to the fans that the Moratti family can give.

If Moratti and Thohir can agree a deal to make them almost equal partners, then we might just see a combination that brings the best of both worlds to the management structure within the club.

So with the negotiations ongoing and Moratti seriously pondering the club's future, I'm expecting a decision to be made in the upcoming days rather than weeks. The only real question for us fans is whether the parties involved will make the right choices that benefit the club more than their own egos or bank balances.