Who will provide the foundation for Mazzarri's squad?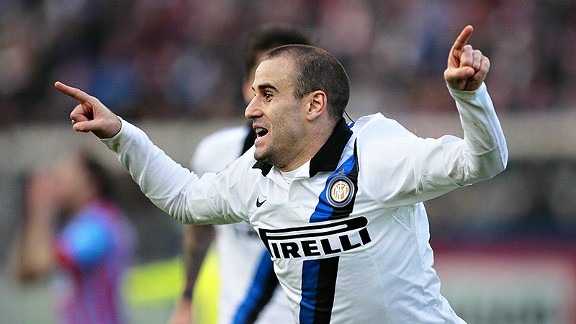 Marcello Paternostro/AFP/Getty ImagesRodrigo Palacio could skipper Walter Mazzarri's Inter side
Walter Mazzarri replacing Andrea Stramaccioni as Inter coach didn't come as a surprise to anyone. The rumours of the ex-Napoli boss making a move to the Giuseppe Meazza started way back in February. For me it remains to be seen the effect he has on the pitch for Inter, but I do believe that in this upcoming season his experience and tactical ability will be vital for the club to return to winning ways.

The staff he brings with him to Inter should also have a huge influence on how injuries are dealt with and prevented (a massive problem for the club this season), as well as creating training regimes that will get the most out of the Nerazzurri players.

- Stramaccioni out, Mazzarri in at Inter

Just which of the existing Inter players will still be wearing the club's black and blue colours next season is the subject of much speculation, but with the club having no European commitments to worry about a substantial downsizing in the squad size is expected.

Without European matches there will be much less of a necessity to rotate the players. This in itself will help the squad to gel together better and be able to perfect the tactics that Mazzarri will introduce, in turn this will make the Inter team a much stronger and a more focused unit.

One of the biggest problems Stramaccioni faced was his constant changing of the starting 11 and the formation they were playing, whether this was the result of bad management or the huge number of injuries is irrelevant. The main point is that it was this lack of consistency that prevented the team from performing as well as they should have.

It is also widely accepted that many of the current players haven't proved to be of the standard expected at Inter. Already the rumours are rife in the Italian press as to which players will remain. This article look at who should stay with the club and the role they could play within Mazzarri's team.

Samir Handanovic - With Barcelona reportedly interested in signing the Slovenian goalkeeper there is a chance the Spanish club may make an offer Inter can't refuse, but I'm hoping that he stays with the Nerazzurri for at least another season. Samir's world-class saves have been crucial to limiting the damage of the last campaign, so it would seem insanity to let such an important, quality player leave. Besides, regardless of the amount of money they could make from the sale, is there another affordable world-class goalkeeper that the club could replace him with?

Javier Zanetti - His Achilles tendon injury may see him out of action until at least November, but 'il Capitano' is unlikely to throw in the towel and retire before making a few more appearances for his beloved Inter. Let's face it, no one wants to see him leave the game that way. However, his days as a regular starter are now over. As hard as it is to accept, next summer he will retire, and once he returns to fitness there will be only a handful of cameo appearances for the Inter legend throughout the rest of the 2013/14 season. The truth of the matter is that if Inter want to return to the top they cannot rely on a 40-year-old, and I'm certain Zanetti himself understands this better than anyone.

Juan Jesus - This time last season there was talk of the young Brazilian being sold on without being given a chance in the Inter squad, luckily Stramaccioni saw something in the lad and he became a regular feature in Inter's defence. Obviously Juan isn't the greatest defender to wear the Inter shirt, but he is the club's strongest defender at the moment. As a youngster he will continue to grow and improve, especially under the guidance of Mazzarri. Juan has the potential to be one of the best in his position so the club must do whatever it takes to hold on to him and help his development.

Jonathan - I bet you didn't see that one coming? I have been one of the Brazilian wing-back's biggest critics during his time so far at Inter, but recent performances have shown a glimpse of promise. I'm not saying I think Jonathan should be a regular starter for the team, but as a back-up I don't think the club could go wrong. This appears to be an opinion shared by Mazzarri as it was revealed that he was considering taking him to Napoli last season, so he obviously sees a use for the wing-back. Mazzarri is also an expert at reviving players who appear to be past their best, just look at what he achieved with Goran Pandev at Napoli.

Yuto Nagatomo - I have to admit I've been a fan of Nagatomo since the first time I saw him play for Inter, and in the last season the Japanese wing-back has really proved his worth on either wing. His pace and passion to do well for the club are commendable, and although his defending leaves a lot to be desired at times his forward runs, especially on the left flank, brings a completely different dimension to Inter's attacks that can be lacking when he doesn't play.

Mateo Kovacic - The 19-year-old central midfielder is possibly Inter's greatest asset at the moment. With a potential that could see the youngster becoming one of the best in the world, it is no surprise that many people see him as the player Mazzarri should build his squad around. With the right players alongside him, we may even see one of the best midfields in the game being formed in the heart of Inter's formation over the coming seasons. Whatever happens though, this is one player Inter must do everything possible to keep in their squad.

Alfred Duncan - Although Duncan spent half of the last season out on loan, he is one of the NextGen-winning primavera players that has a huge amount of potential. His strong defensive midfield abilities have been an important factor in helping Livorno achieve a play-off place in Serie B, and I feel he is ready to make the step up into the Inter first team squad. My only worry is that Mazzarri isn't known for giving unproven youngsters a chance, which may mean that Duncan may become a bargaining chip in negotiations for a better known player.

Diego Milito - With just a year left on his contract and no sign of an extension in the pipeline, it isn't certain whether Inter's legendary striker will stay at the club next season, but despite his age I do believe 'El Principe' still has a lot to offer the Nerazzurri. With the talented youngster Mauro Icardi due to arrive at the club I'm not expecting Milito to be a regular starter, but his experience and eye for goal will still be invaluable in big games, such as against AC Milan and Juventus. His main role and biggest contribution is likely to be as a mentor for his young compatriot Icardi over the coming season, to help the youngster fulfil his great potential.

Rodrigo Palacio - As Inter's top scorer this season Palacio has already proved his worth to the team and the 31-year-old still has a lot to offer. His experience will prove invaluable alongside youngsters like Icardi, and in the absence of Zanetti I can see the Argentinean taking up the role of team captain.

As you can see there are not many of the current Inter squad that hold a safe place in the team, and even a few of those mentioned may not make it through the summer revolution. These are however, the players that will give the team a strong foundation to build on, and as I will explain in my next article there are a few more familiar faces we are still likely see in Inter's colours next season, just with a less important role to play.