Official: Mazzarri replaces Stramaccioni at Inter helm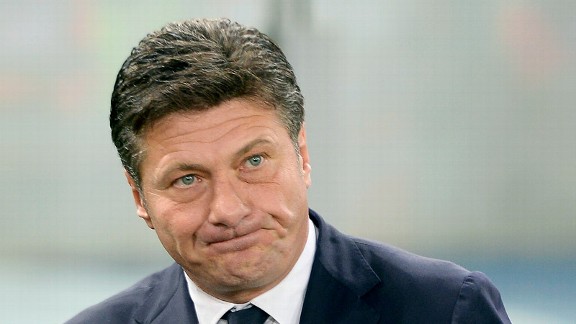 Andreas Solaro/AFP/Getty ImagesFormer Napoli manager Walter Mazzarri has replaced Andrea Stramaccioni as manager at Inter.
Finally, the inevitable has been confirmed on Inter's official website.

"FC Internazionale would like to announce that the club has appointed Walter Mazzarri as the new head coach. FC Internazionale would like to thank Andrea Stramaccioni for the great commitment and professionalism he showed in a particularly difficult year. Walter Mazzarri has signed a two-year deal."

- Stramaccioni out as Inter manager

It comes as no surprise that the former Inter Primavera coach has been removed from the head coach job after 14 months in the role following his uninspiring record of 31 wins, 11 draws and 23 losses since he was promoted into the job in March 2012.

Allegedly, Stramaccioni was informed of the club's decision to sack him via a telephone call on Thursday evening from Inter's technical director, Marco Branca. If this is true, it seems that the club have once again failed to handle the situation of removing a staff member in the right way. I agree with the decision to replace Stramaccioni, but Massimo Moratti owed it to the young manager to inform him of the decision in person and face-to-face.

The club are now working on a severance package to pay the tactician out of his contract, otherwise Inter will have to continue to pay Stramaccioni's wage for the remainder of the agreement which runs until 2015. This is something Moratti, Stramaccioni and the other directors of the club must come to an agreement on, but the really important question on the lips of the fans and probably the players too will be what changes can we expect from Mazzarri?

Hopefully good things, considering he is a coach with the experience and knowledge that Stramaccioni was lacking. Reports suggest that in a meeting with Mazzarri this week, Moratti promised his new coach a sizeable transfer budget to strengthen the squad, something the 51-year-old Italian will be happy about considering his preference for big name, quality players.

Mazzarri's tactics generally revolve around his 3-4-1-2/3-4-3 formations, and with Inter's new signing and former Napoli defender Hugo Campagnaro being an expert of running a three-man defence, it is likely the three-man backline is here to stay. Unlike with Giampiero Gasperini and more recently Stramaccioni, however, I'm not as worried about this since Mazzarri is a master of this formation and knows exactly how to make it work, hopefully by utilising Marco Andreolli and Juan Jesus alongside the experience of Campagnaro.

My big hope is that he sticks with Inter's project of introducing the squad's younger players into the starting 11, especially Mateo Kovacic and Alfred Duncan, as well as the new boys Mauro Icardi and Ruben Botta (when he returns from injury). Speaking of injuries, which has been a major talking point of Inter's most recent season, it is also rumoured that Mazzarri will be bringing with him to the club the Napoli fitness coach Giuseppe Pondrelli to be part of his staff. Pondrelli has a reputation of being an 'anti-injury' wizard, which will come as music to the ears of Moratti and the Inter fans.

One of Mazzarri's top targets for the transfer window will be one of his favoured Napoli players, the left wing-back Camilio Zuniga, who has had an excellent season under Mazzarri's guidance this campaign. I'm hoping this rumour is true as it would signal the departure of Alvaro Pereira who has been mediocre at best for Inter this year.

One hope I do hold for the summer is that with Mazzarri now at the helm and Moratti promising funds, we might see the club put in a bid for the ex-Napoli forward Ezequiel Lavezzi from PSG. I know it's doubtful, but I would love to see him play alongside Icardi in an Inter shirt. Mazzarri's three-man defence is making Inter fans cautious of the impact he will have at the club next season, but as I say, I'm hoping he can change their minds about this tactic. Whether or not he can take Inter to challenge Juventus at the top of the table as he has with Napoli remains to be seen. For now, I'm feeling very optimistic about a change in fortunes coming for the Nerazzurri in the next year.