Analysing Stramaccioni's awful season
Finally here we are at the end of the 2012-13 Serie A season, a campaign that promised so much following a disgraceful sixth-place finish the previous year. In my 2011-12 season review on my website Nerazzurri World, I spoke of an appalling season that ended with optimism for a more successful future under the guidance of a young up-and-coming coach by the name of Andrea Stramaccioni.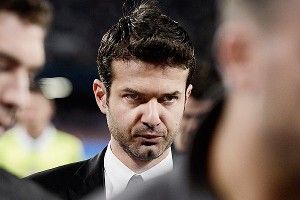 Roberto Salomone/AFP/Getty ImagesEven with a long injury list, Inter supporters questioned the few moves available to manager Andrea Stramaccioni.
Even by the start of the season in August, things were looking very promising, with a wealth of new faces combining with the experience of several veterans to create a squad that, on paper, looked as though they could possibly challenge Juventus for the title, even though the target was only for a top-three finish.

The buzz surrounding Stramaccioni's new-look Inter was infectious, and with over 35,000 season tickets sold the fans were ready for a season of the exciting football that 'Strama' brought to the team following Claudio Ranieri's departure.

Unfortunately, the bubble soon burst and the Inter of 2012-13 seemed incapable of winning matches in front of their own fans in the Stadio Giuseppe Meazza. Even against teams they should have easily beaten -- like FC Vaslui in the Europa League and Siena in Serie A -- they struggled to find a winning goal. It took Inter until the visit from Fiorentina at the end of September to find their first home win. I have wondered whether the then-new semi-artificial pitch at the San Siro had an effect on results considering AC Milan were suffering the same lack of home form at the time, but with improving results this was soon put to the back of my mind.

Things were looking much better following this victory and the Nerazzurri went on to complete a 10-game winning spree, which included their nost famous victory of the season when they ended Juventus' 49-game unbeaten run. Unfortunately, in the next league game it all started to come apart for Inter and they fell 3-2 in a loss at a 10-man Atalanta.

The remaining 36 matches across Serie A, the Europa League and the Coppa Italia can only be described as disastrous. Stramaccioni's Inter had just 12 wins and 17 defeats. The full season statistics of 26 wins, nine draws, and 21 losses in 56 games make for depressing reading, especially when you consider that the Nerazzurri failed to hit the back of the net in 11 of those games.

In all, Inter scored 89 times with Rodrigo Palacio leading the team with 22 goals across the three competitions. This tally isnt all that bad considering how decimated Inter's forward line was this campaign.

The real problems come from the team's defensive third. In all they have conceded a gargantuan 82 goals in 56 matches, almost 1.5 per game. This stat doesn't really show the true state of Inter's defensive problems as Nerazzurri goalkeepers managed to keep 16 clean sheets.

Despite the huge number of goals conceded, one man should be considered the hero of the squad for 2012-13 -- that man is Inter's number 1, Samir Handanovic. Not only has the Slovenian keeper produced some outstanding world-class saves to limit the number of goals conceded, he is also responsible (possibly solely) for 12 of the 16 clean sheets.

So who should take the blame for Inter finishing ninth in the league with such depressing stats? The players? The injuries? The backroom staff? Or the coach?

This is where opinion is split amongst Interisti. Personally I think everyone working within Inter Milan football club must accept a portion of the blame. Mistakes have been made in every single department over the last few years, and it has culminated in this awful season.

For me, however, the person who should take the majority of the blame is the man in charge of the tactics and squad selection, the manager. When all is said and done it is his job to produce the results regardless of the situations the club faces.

Up until the early months of 2013 I thought Stramaccioni had been unfortunate with how things were panning out during the season for him. After all ,following the Juventus victory I was hailing him as a tactical genius and the second coming of Jose Mourinho. I now think very differently.

I understand if a club suffers around 50 separate injuries in one season it will obviously have a huge effect on results -- no one can argue that -- and it highlights that changes must be made within the club to the medical and training staff to ensure this never happens again. However, I hold Stramaccioni responsible for this season's failure because of a few major factors.

Firstly, as head coach he is responsible for setting out the training plans that have obviously had an effect on the amount of injuries suffered. He has been quick to blame the injury crisis as a reason for not having much choice tactically during games. I understand losing key squad members like Diego Milito and Javier Zanetti is a massive blow, but I just can't agree that he hasn't had the right players to field a team capable of winning matches.

All the players at his disposal should be able to win enough matches to achieve Europa qualification at least, even if the Champions league top-three finish is out of reach. I just can't accept that these players who obviously did enough for Inter to notice and acquire them in the first place aren't good enough to perform at the level required.

The big problem I have is Stramaccioni's lack of vision tactically that has been evident throughout the season. He claims his preferred formation is a 4-3-3, yet he only played this set-up once all season in the league. Instead he has switched between 10 different formations of varying success, as well as showing a reluctance to change his tactics during games even when the opponents are dominating his team.

When he eventually does make a change it's generally with a substitution that would even make 'The Tinkerman' Ranieri scratch his head in disbelief, combined with yet another formation change.

As I mentioned in my last article following the humiliating defeat to Udinese I'm surprised at the patience Massimo Moratti has shown Stramaccioni. Many coaches in the past have been sacked after much better performances, but the Inter president has stuck to his word and given the young coach the full season to get things right.

Obviously, Stramaccioni has failed to get things right, and now with the season over rumours are intensifying as to what will be his fate. I can understand Moratti's reluctance to make the decision lightly as he must consider the effect of the injuries. However, he is not a stupid man and he will be considering Stramaccioni's job very carefully.

When journalists commented on Tuesday "The numbers don't make for good reading..." in reference to season's numbers, Moratti admitted: "You can't get away from that, I've realised that for myself."

Currently it is looking more and more likely that Strama will find himself out of a job by the weekend, and with the ex-Napoli boss Walter Mazzarri now available it is almost certain that he will take over the reins for next season.

It's not all so terrible for Stramaccioni, though. I agree with Moratti on this point: "he's a talented guy who will definitely be a success in this business." Unfortunately for Strama, I just can't see it being with the Nerazzurri. His coaching career started too high, too soon in one of the most high-pressure jobs of world football. To Strama's detriment, Moratti was expecting his youth coach to replicate what the young Pep Guardiola achieved with Barcelona.

Inevitably, his inexperience will ultimately cost him the Inter job. But if he can restart his coaching career with a lower-league team and build up his ability, I'm certain we will see Stramaccioni in the top half of Serie A once again in the future.

In the near future, I am hoping that whoever replaces him – whether that's Mazzarri or someone else -can return Inter to their rightful place of challenging for the Scudetto year after year.