Moratti faces tough questions after Inter's record 15th loss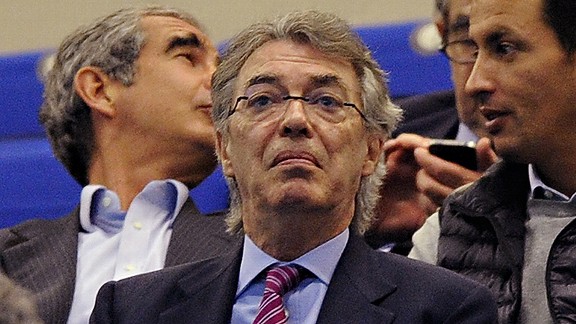 Claudio Villa/Getty ImagesInter president Massimo Moratti saw supporters' banners with a series of pointed questions about the club Wednesday during the loss.
Bitterly disappointed! That is the only description I can come up with about how I'm feeling following Inter's 3-1 loss to Lazio on Wednesday. Why am I so disappointed? It's not so much with the loss of three vital points -- after all, with the Nerazzurri's recent form I almost expected them to lose this match.

Up to the 40-minute mark I was actually impressed with the performance and drive that the Inter players were showing in an attempt to secure a victory. Admittedly the defensive blunder that resulted in the own goal wasn't their greatest moment, the goal seemingly going against Samir Handanovic following a collision with his centre backs as he dived to punch the incoming ball away.

According to Inter's website, the goal was credited to Lazio's Sergio Floccari after the ball apparently struck the attacking player last. But it looked to me to have hit Juan Jesus and Andrea Ranocchia before rebounding off the helpless Inter keeper into his own net.

This was just the beginning of what turned out to be a series of unfortunate incidents that befell Inter, including two more injuries to one of the club's weakest areas. First, Jonathan had to be substituted off with what looked like a dislocated shoulder. In the second half it was Ranocchia who left the pitch.

I'm unsure whether Ranocchia's injury was more than a knock or a tactical change due to his earlier yellow card. Hopefully both can recover in time for the weekend's game against Genoa. I thought he yellow card Ranocchia picked up when he brought down Sergio Floccari in the area was a fairly soft penalty call by the goal-line official -- who hesitated slightly too long before deciding to give the spot-kick while still not looking completely convinced.

Inter later received a valid penalty when Fredy Guarin drew a foul in Lazio's area, but Ricky Alvarez failed to seal his brace sending the ball high into the stands. Ultimately the game ended in the Nerazzurri's third consecutive defeat. Their 15th loss set an all-time low for the club -- not only that, but it was at the hands of a Lazio side who hadn't won at the Giuseppe Meazza since 1998.

Throughout the game Inter president Massimo Moratti sat stone-faced watching from the stands without betraying the slightest hint of any emotion. but I'm certain there were many things being considered by the Nerazzurri supremo. "

"We're just taking each game as it comes, we're down to the bare bones so we have to rely on these players showing their strength of character and we'll see if we can get into Europe."

These were Moratti's words as he entered the stadium, but as he took his seat he was confronted with banners from the Curva Nord Ultras who finally decided to aim their frustration at their club's president by asking 12 questions about their concerns.

1. Why do you think the whole stadium applauded the Curva's past banners on the club?

2. Why is the same medical team that we had when we won the triple being questioned?

3. Why does the project to rejuvenate the team entail sales of the young players who are already in the team or from our Primavera?

4. What's the point of always selling our players?

5. 2010-2013 -- From the top of the world, the club plummeted to the current situation. Considering the example of other European clubs, do you believe the cause is entirely due to all the players and coaches during this period?

6. How is it that the club is always passive in relation to each attack in the media?

7. At Inter, there is always a culprit to put into place and a mole that has never ever been seen in other clubs. Wouldn't it be appropriate to have a "strong man" in the leadership in order to convey the feeling of belonging, handle all club business and show his face in defense of the club?

8. Why was the real reason that Lele Oriali had to leave the leadership never explained?

9. Why is it said that the club Inter is like a big family when in reality it is just the opposite? Haven't you realized that everyone thinks of themselves and their own chair?

10. How could you let the second shirt be red if you are an Interista?

11. It was said that your dream was the Champions League just like your father . . .Now it has been said that your second wish is the new stadium .. . Okay, but Inter?

12. How is it that those who leave Inter always speak well of you . . . but ill of Inter?

The final banner invited Moratti to respond and ease their growing discontent: "President, we have supported the team throughout the year without question. You love Inter, we love Inter. Now is the time for answers."

This frustration isn't of course just based on the travesty of this season, but is a culmination of issues that have been left unanswered for far too long. I hold my hands up, I am a big supporter of Moratti's ownership and him keeping control of the club. I am, in fact, very proud of Inter being owned by a true fan.

But I also agree with the Ultras that all these points need to be addressed and there needs to be more communication between the club and its fans. I for one will be extremely interested to hear Moratti's response to these banners over the next couple of days.

Meanwhile, Inter continue to sit in eighth, just one point ahead of place Catania with two difficult games left to play. Two games that the Nerazzurri have to win at all costs, otherwise they face finishing in a mid-table ninth allowing Catania to jump ahead of them. It seems to me it is highly likely Inter will now finish in at least eighth unless both Roma and Lazio lose their last two matches.

But as I've said before, I don't see missing out on Europe next term as such a bad thing considering the rebuild that is inevitable in 2013-14.