Cavani hat trick dominates decimated Inter
Inter's 3-1 defeat at Napoli Sunday came as no real surprise. As I explained in my preview, with the Nerazzurri missing 13 of their first-team squad due to injury, watching Napoli run rings around the visitors was the inevitable outcome.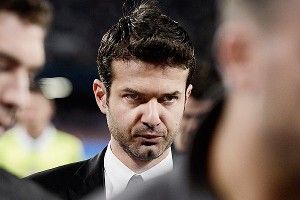 Roberto Salomone/AFP/Getty ImagesEven with a long injury list, Inter supporters questioned the few moves available to manager Andrea Stramaccioni.
Even if Inter had managed to field a full-strength squad, a defeat was still the most likely result considering it has been 15 1/2 years since the Nerazzurri last won at the Stadio San Paolo (October 1997).

The cursed season that Inter are enduring continued on Saturday when it was revealed that Inter's only real first-team striker, Tomasso Rocchi, had picked up a knock. It was a real blow for the Nerazzurri ahead of such an important match. It's a sad state of affairs when I find myself upset at the loss of Rocchi.

It wasn't a complete disaster though, with a few options available from the primavera squad. I was expecting to see Luca Garritano take up the role and start the match supported by Ricky Alvarez.

However, Andrea Stramaccioni in all his tactical wisdom thought a better option would be to play the game with no striker whatsoever, instead relying on a strike-force consisting of Alvarez and Fredy Guarin, who himself has been out injured for several weeks.

Again, I find myself at a loss to comprehend Stramaccioni's tactical thinking with this forward line, especially when in the final quarter he brought on Ezequiel Schelotto to partner Guarin up front --even with both Garritino and Rocchi available on the bench.

Inter's midfield pretty much failed to make any real contribution either, with Jonathan and Alvaro Pereira out on the wings appearing to be run ragged by the Napoli wing-backs Juan Zuniga and Cristian Maggio. There have been reports linking Inter to Zuniga, and after watching him play I would definitely say that the club should do everything possible to replace Pereira with this man.

In the centre of midfield, Mateo Kovacic made a few minor mistakes but once again was the heart of all Inter's forward plays. Marco Benassi and Zdravko Kuzmanovic on either side of the 18-year-old seemed ineffective throughout their time on the pitch, though Benassi's inexperience gives him a reasonable excuse. On the other hand, Kuzmanovic has no excuse and ultimately did nothing to convince me that he's worthy of his place within the Inter squad.

Esteban Cambiasso was introduced in place of Benassi for the second half, but as another player returning from injury, he was far from his usual standard to his lack of fitness.

The strangest decision by Stramaccioni in his starting lineup was his choice of defence. Opting for a three-man back line, he awarded Cristian Chivu with the honour of wearing the captain's armband and playing in between Andrea Ranocchia and Juan Jesus for his 200th Serie A appearance.

I have a few issues with this. First, I'm not a fan of Chivu in general; in my opinion, he shouldn't even be part of the squad. My main reason is he is the kind of player who spends the match watching the ball instead of the players he is supposed to be marking.

This trait often leads to mistakes being made that allow the opposition to get past him far too easily, and also results in him making rash challenges in attempting to rectify his mistakes.

All in all, he's not the sort of player you want in the centre of a shaky back three. The way Stramaccioni plays this three-man defence is another issue I have, as he positions the rest of his players more offensively, meaning that at times the centre-backs are left looking stranded with no support while defending.

To make this kind of defensive system work, the wing-backs have to play a far deeper role than Strama usually employs them, in effect giving the team a five-man back line while not in possession.

My final gripe with the tactics against Napoli is Strama's choice of captain in Javier Zanetti's absence. I realise he was short on realistic options and Chivu has in the past been captain for his former club, Ajax, but that was a long time ago and he doesn't really have the leadership qualities Inter need in these desperate times.

For me, the obvious choice would have been Samir Handanovic, who I believe has much better organisational skills than Chivu.

It wasn't all bad; after all, Inter managed to hold a 52 percent of possession. Admittedly, Napoli made far better use of their time on the ball, as was evident from Edison Cavani's sublime hat trick -- he now has 101 goals for Napoli -- but a couple of Inter players deserve a mention.

Handanovic deserves credit, as without the Slovenian shotstopper Napoli could possibly have won by a much larger margin. Despite conceding so many goals this season it is clear to see why Inter's No. 1 is attracting so much interest from Barcelona.

Finally I have to give some praise to Alvarez. Although he wasn't as impressive as in recent games, he did manage to make a difference to the outcome by not only winning Inter's first penalty decision in 23 games, but by also converting it to give the Nerazzurri their goal. Inter's last penalty came back in November when they beat Juventus.

This obviously wasn't a great game for 'La Benemata' but considering the personnel crisis they are enduring and what I would consider a lack of any realistic game plan, I do think the majority of the Inter players on the pitch showed a good determination against a much stronger Napoli side. As Stramaccioni said after the game: "We fought well considering the state we're in. Thanks to the lads for gritting their teeth."

Regardless of this determination, the team still lost, meaning qualification for the Europa League will now be extremely difficult to achieve with only four games left. But it is still achievable and, presuming the Nerazzurri can see off the challenge of Lazio on Wednesday, Interisti will still hold on to the hope of a top six finish; if not, the current eighth place may possibly be the best the club can expect from such a diabolical season