Inter must limit the damage Napoli can cause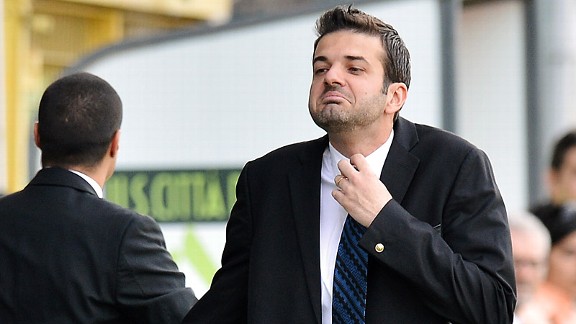 Tullio M. Puglia/Getty ImagesAndrea Stramaccioni could be in for some uncomfortable moments on Sunday when his Inter side visit Napoli.
An uphill struggle faces the Nerazzurri on Sunday evening as they travel to the bay of Naples to take on second place Napoli. Inter always knew the run-in for this season was going to be tough, with all four of the teams they have yet to face having the capability of defeating their full strength line-up. But with 15 first team regulars now out of action for the Nerazzurri, the pressure is really on Andrea Stramaccioni and his second string squad to find the results they need, or at the very least limit the damage these teams could possibly cause.

- Monaco linked with Cassano

The toughest of these challenges will be this upcoming fixture against a Napoli side that has been chasing the top spot all season long. The Napolese side aren't unbeatable as we've seen during the many matches this season where they've dropped valuable points in their five losses and nine draws. The question is: are the Nerazzurri up to the challenge?

I'm trying to not sound too negative about Inter's chances in this game, but you only have to consider that Napoli are undefeated in their last eight home fixtures against Inter (in open play), and if you look at the results from the last six visits the Nerazzurri have made to the Stadio San Paolo, across all competitions Napoli have won three, while Inter have claimed just one victory. In these games the home side have hit the back of Inter's net five times while the Nerazzurri have recorded just one goal, this came from Samuel Eto'o back in 2011 during a game that ended 1-1. Inter's only victory came from an penalty shootout following 120 minutes of a 0-0 match in the Coppa Italia back in January 2011.

So, as you can see, the chances of Tomasso Rocchi and Ricky Alvarez beating the Napoli keeper, Morgan de Sanctis, are very slim. In fact, only Juventus have conceded fewer goals than Napoli this season, so with such a depleted squad, Inter's challenge of scoring in this match is almost as tough as the challenge the defenders and Samir Handanovic will face at the other end of the pitch.

It's no secret that Inter have been leaking a ridiculous amount of goals this season, letting in 46 in 34 games, just five less than they've actually scored. Holding off the attacking threat of Marek Hamsik, Edison Cavani and Lorenzo Insigne is likely to prove to be a real test of discipline for the Nerazzurri back line.

The recent injury crisis that has decimated the Inter squad means the less than likely chance Inter would have to win this game normally is now even slimmer this time around, especially with their recent form of just one victory and five losses in the last six league matches. Let's face it, if this Inter squad can't beat relegation threatened Palermo, or mid-table sides like Cagliari and Parma, then what chance does the team stand against the club with the second best form in the league, a team that has won five out of their last six matches?

Can Stramaccioni inspire his team to take away anything from this game? Possibly, but his best chance would seem to be playing a very defensive formation and hold out for Inter's first 0-0 draw of the season. I realise this is highly unlikely given the young coach's preference for a more offensive approach, but taking that approach could result in Napoli dominating the game and handing the Nerazzurri a heavy defeat.

If I was Stramaccioni, I would opt for a 5-3-1-1 formation with the wingbacks instructed to play defensively and concentrate on helping the three centre backs to limit the chances that the Napoli forwards can create. I would then play a midfield three of Marco Benassi, Mateo Kovacic and Zdravko Kuzmanovic, relying on Kovacic's skill to link up with Alvarez in the trequartista role whenever possible. Then, although he's not suited to a lone striker role, Rocchi would spearhead any attacks the Nerazzurri manage to create. As I mentioned, for me this match must be approached with a mentality of damage limitation as opposed to looking for an almost impossible win.

The only positive I can draw from this game is the opportunity to watch Hugo Campagnaro, considering the soon to be 33-year-old will be an Inter player next season; I will be interested to pay more attention to how the defender plays. This game under the shadow of Mount Vesuvius is guaranteed to be a tense affair for us Interisti to watch, and we will all be hoping not so much for a win, but rather a worthy performance by the Nerazzurri to make us proud. Most importantly, we will be hoping for no more injuries to what are now just the bare bones of this Inter squad.