Another day, another defeat & another significant injury
Inter's visit to relegation-threatened Palermo was a must-win Sunday if the Nerazzurri wanted to keep a firm grip on fifth place, where they stood before the match.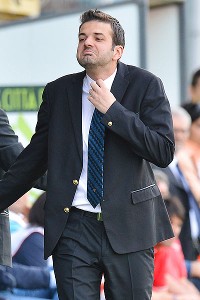 Tullio M. Puglia/Getty ImagesInter manager Andrea Stramaccioni may find things getting even more uncomfortable after the loss at Palermo.
Ninety minutes later, and the home side were celebrating their 1-0 win, while Inter were left picking up the pieces once again and head into next weekends difficult game against Napoli in a depressingly low seventh place.

Luckily for the Nerazzurri, Lazio only managed a 0-0 draw away to Parma keeping Inter a point ahead with four games to go.

Ten minutes was all it took for Palermo's Josip Ilicic to take the lead after another example of Inter's poor defending. This time, the blame goes to the ex-Palermo defender Matias Silvestre's error allowed Fabrizio Miccoli to setup the Slovenian while the in-form forward found the space he needed to claim his fifth goal in five games as the Inter defence just stood back and watched.

Surely before the game, Andrea Stramaccioni highlighted the threat Ilicic would pose and instructed the Inter defenders to stick to him and Miccoli like glue?

Throughout the season, I have questioned the loan of Silvestre after seeing him produce unconvincing performances in the Nerazzurri shirt, but with him just being a loanee, I thought we were saved from having to suffer from his under-par performances for more than just this term.

However it emerged last week this assumption was incorrect and the loan deal included a clause that means Inter must purchase him this summer. Palermo official Giorgio Perinetti told the Italian press: "There is nothing to discuss here. Everything was outlined in the contract which was signed."

The only good news to come from this is the Nerazzurri may be able to offload him straight away to crosstown rivals AC Milan, who are interested in a swap deal for the player, with their out-of-favour midfielder Antonio Nocerino going the other way.

Hopefully the Nerazzurri won't end up stuck with Silvestre, who offers no real advantage to the team, and the club can make amends for this major oversight concerning his loan agreement.

If losing to a team that only won five games previously wasn't bad enough, the real low blow for Inter came just 17 minutes in, when captain Javier Zanetti chased the ball over the byline and without any real contact from a Palermo player went down in pain. It seems that he pulled up badly after the run and early reports suggest he has damaged his Achilles' tendon. This is disastrous news for an Inter team already ravaged by injury.

Before the game, Stramaccioni spoke of the injury crisis that made 13 first-team players unavailable for the Palermo trip: "Our biggest regret is that we've had to make do without some of our most important players. I'm very calm at the moment because the players we have available are doing a great job. There aren't many left though."

To be honest, I'm not sure anyone is buying the bit about the players doing a great job.

This latest injury to Zanetti may prove to be the most significant since Diego Milito was ruled out of the rest of the season. 'Il Capitano' is without a doubt the most influential player in the Inter squad, and without him on the pitch for the remainder of the season the squad may struggle to find the leadership needed to make any sort of impact in what will be a tough last four matches against Napoli, Lazio, Genoa and Udinese.

Zanetti has only had two other injuries in his illustrious career and neither ere particularly serious, unlike the one apparently sustained Sunday. An Achilles injury would be serious to any player with an estimated recovery time of at least four months, but for the soon-to-be-40 Zanetti, I fear it could signal the end of his legendary playing career.

Of course his immense fitness may help him through to return next season, but until the tests are complete and we see how he fares in his recovery over the summer, there will be a lingering fear that we have seen the last of 'Pupi' on the pitch.

Finally, I have to question the decision by Stramaccioni to replace Zanetti with Ezequiel Schelotto, a player who has disappointed in his previous outings for the Nerazzurri, and one who on the bench carrying a slight knock, meaning that he took to the pitch lacking full fitness.

Personally I would've preferred to have seen Marco Benassi replace Zanetti in the midfield and Mateo Kovacic -- who yet again was Inter's best outfield player -- be given the chance to show what he could do higher up the pitch.

My biggest concern with Schelotto however, is his aggressive temperament. A few times now we have seen him allow the game to frustrate him to the point where his anger gets taken out on opposing players.

I was hoping the incident against Atalanta was a one-off, but again against Palermo we saw the Argentine get a bit too physical with his marker and pick up a yellow card.

Schelotto is definitely a player I hope to see leave Inter this summer, not just because of his temperament, but also because I just can't see how a winger fits into the tactics Inter plays. Formations that call for wing-backs and sometimes wide forwards, though never out-and-out wingers like the ex-Atalanta wide man.

Inter's next two games are the matches that will decide exactly how much of a disaster the Nerazzurri's season really will have been, taking on second-place Napoli at the Giuseppe Meazza next Sunday followed by Lazio three days later. I can't say I'm confident of the tattered remains of this Inter team managing to claim a single point over the next 10 days, and I'd be lying if I said I'm not looking forward to the end of this nightmare season.