Inter should look for success by building from back
We all remember the stellar performances that shot Jose Mourinho's Inter side to the pinnacle of European football in 2010. This unprecedented success that was won by stars such as Diego Milito, Samuel Eto'o, Wesley Sneijder and Javier Zanetti will live long in the memories of Interisti around the world.

However, this crowning glory signaled the beginning of the end for a dominance Inter had enjoyed over Italian football since the exposure of the Calciopoli scandal in 2006.

In the three seasons since Zanetti lifted the Champions League trophy, there has only been one piece of silverware for the Nerazzurri. This came in the their Club World Cup victory in December 2010 over the African side TP Mazembe. It was a game that Inter, to be fair, could probably have won if they just fielded Primavera players. I don't mean any disrespect to Mazembe by saying this -- after all, they beat Brazil's Internacional 2-0 in the semi-final -- but the gulf in stature and talent was plainly evident to see.

The rot that seems to have set into Inter since has seen the once-giant of Italian and world football sink closer and closer to mid-table obscurity in the last two seasons. If like me you still remember the dark days of Inter's past from the 1990s and early 2000s, the worry of a return to that trophyless time is becoming a very real threat.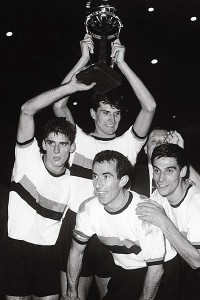 Getty ImagesIf Inter need a model player to build an effective defense, there is no better one than team legend Giancinto Facchetti, with trophy.
So what has changed so much within the team to see such a slide in fortune? Obviously, there are many reasons why things have changed so drastically, from finances and coaches to players and backroom staff. But in contemplating the club's decline, I have noticed one area of the team that always seems to make the biggest difference in the club's successful times -- the defense.

Inter has always managed to have certain stars who could make a huge difference either from midfield or attacking positions, but throughout Inter's most successful periods, they have always possessed a solid defensive line that had the ability to strike fear into the opponents' attacking players.

In fact, if you rewind time back to the mid-1960s the legendary 'La Grande Inter' squad that won back-to-back European Cup titles in 1964 and 1965 had one of the greatest backlines ever assembled. Yes, they had some of the best midfield and forward players in the world such as Sandro Mazzola, Jair and Luis Suarez (not the arm-biting one of Liverpool FC fame, obviously). But it was their outstanding defenders and wingbacks who perfected coach Helenio Herrera's tactics and made the team the undisputed 'Kings of Catenaccio'.

This unshakable defensive tactic relied on four key players, the sweeper (Libero) Armando Picchi; centre back Aristide Guarneri; right back Tarcisio Burgnich ('The Rock'); and, of course, left wingback and legendary symbol of FC Internazionale -- Giacinto Facchetti. Without these four players there would never have been a 'La Grande Inter'.

The same principle applies to the club's most recent successes as centre backs Ivan Cordoba, Marco Materazzi and later Lucio and Walter Samuel became a solid wall in front of Inter's goalkeeper, while Maicon proved a marauding wingback was still a powerful tool for the club on the right wing.

Admittedly I do believe the left side of defence was a weak link during this era, especially when Maxwell was moved forward to a left-wing position and replaced with Cristian Chivu. But the central pairing was always strong enough to compensate for this small weakness.

The other key position in building a successful defence is having an intelligent holding midfielder providing cover when needed in front of the centre backs. In the 1960s, this role was assigned to Gianfranco Bedin; more recently, Esteban Cambiasso and Zanetti have both shared this role.

So how does all this apply to Inter's current situation? Simply, it doesn't, and this is part of the problem the club is suffering from, a point president Massimo Moratti is all too aware of, as he stated in a recent interview: "The important thing is to create a team and to have a defense that doesn't concede goals."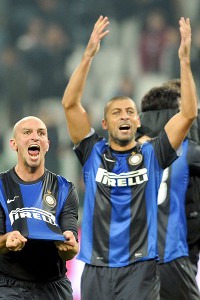 Claudio Villa/Getty ImagesEsteban Cambiasso, left, and Walter Samuel are among the players Inter need to think about replacing.
Players such as Samuel, Zanetti and Cambiasso who were so crucial to previous successes are now past their peak and unable to give the club the defensive security it needs. It has also become clear Andrea Ranocchia and Juan Jesus are too young and inexperienced to be relied on week after week to provide the trophy-winning defensive wall the team needs, even though I believe they are the future of the club and the rightful heirs to Materazzi and Lucio.

If the club can find an older (age 25-28), strong and experienced Samuelesque centre back to strengthen the backline while partnering these two, then maybe things can be different.

Inter as a club has relied on wingbacks for a long time, but the current players in these positions are nowhere near the standard that has won the team trophies in the past. Despite still playing like a player at least 10 years younger, Zanetti shouldn't be relied on for too much longer, especially when it comes to running the full length of the pitch.

The remaining three -- Jonathan, Yuto Nagatomo and Alvaro Pereira -- are all fairly decent players, but decent doesn't cut the mustard at a club such as Inter, so the club seriously has to look into purchasing young players who can emulate the greatness shown in the past by both Facchetti and Maicon.

One possibility is Primavera player Ibrahima Mbaye, who has admitted in the past is inspired by the late great Facchetti.

The last key element that needs looking at is the holding midfielder to replace Cambiasso. as I don't believe either Walter Gargano or Zdravko Kuzmanovic can fulfill this role sufficiently.

It is no secret that big changes are coming this summer for Inter, and already there is a wealth of attacking talent either signed or linked to the Nerazzurri. But the only way the club can return to the top of their game is by reverting back to basics and by not ignoring the philosophy of building their squad from the back.