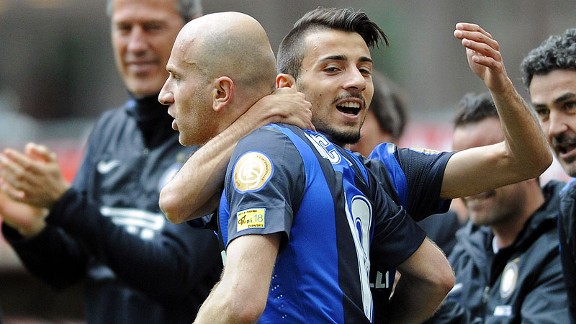 Claudio Villa/Getty ImagesAn otherwise-unproductive Tomasso Rocchi, left, gave Inter the winning goal.
After three home losses in a row, Inter's 1-0 win over Parma Sunday brought about a huge sigh of relief for the club, the players, Andrea Stramaccioni, and of course the fans.

The three points gained see Inter return to a more reasonable, if possibly temporary, fifth position from the embarrassing eighth they sat before kickoff.

I would like to say this was a well-won match by Stramaccioni's team, but their performance was generally mediocre against a team who have not won against Inter in the Giuseppe Meazza since May 1999. It was, of course, a must-win match against an out of form Parma who have failed to score in their last four away games.

-Video: Inter 1-0 Parma (UK, Ireland)

Parma coach Roberto Donadoni came into this game looking to change his team's recent fortunes against an Inter side who have been playing some shambolic football this season. Donadoni said he intended his team to take the game to the hosts and attack the 'vulnerable' Inter side they were facing -- a side who had only managed 15 points in the previous 14 games.

Despite these words from the Parma boss, his side approached the game fairly reservedly. Instead of attacking, they sat back and played a counter-attacking game.

Bizarrely, this was the exact same tactic that Stramaccioni applied to his team, a decision I'm struggling to understand considering his lone frontman Tomasso Rocchi is incapable of the pace required to play on the defender' shoulders, to get in behind the them, as would be expected when playing this tactic.

I can't help but believe Inter would've gained more control of the match had they approached it with a pressing mentality. Luckily for Stramaccioni, Parma preferred to play a patient game with many of their passes being played square, and with no real urgency to play the ball past the Inter ranks. Had their attitude have been different I wouldn't have been surprised to see another home defeat for the Nerazzurri.

As I've mentioned, I don't consider this a victory to be proud of. Even Rocchi's goal was fairly fortunate as he ended up hitting his shot into the ground, meaning it bounced behind the dive of Parma keeper, Antonio Mirante. Apart from the goal, Rocchi's presence was pretty much non-existent for his 85 minutes.

The big disappointment was Ezequiel Schelotto, who left everyone watching wondering "Why did Inter sign him and sacrifice Marko Livaja?" Time after time the Argentine lost possession either through bad ball control, terrible passes or just simply awful decision-making when on the ball.

Even though he had several shots on the Parma goal there was only one chance that actually looked as though it may have threatened to hit the back of the net, but this shot never came to anything due to an overzealous two-footed tackle by Parma defender Yohan Benalouane in the box.

This challenge looked to me to have been a foul, and as such should have really resulted in a penalty. Unsurprisingly, it did not, and I probably would have made more of this point had it not been for the wrong call that went in Inter's favour down the other end of the pitch in the 90th minute, when Alvaro Pereira pulled Alessandro Lucarelli over in front of the Inter goal, to which the referee called the foul the other way.

By the time Schelotto was substituted off to Inter fans' boos and jeers for such a terrible performance, it was obvious that the 4-3-3 formation the Nerazzurri was playing wasn't working and a new tactic was required to give the home side an edge in a game that could have gone either way.

However, and not for the first time this season, Stramaccioni stuck with his tactics and placed the oncoming young striker Luca Garrantino in exactly the same position as the outgoing winger.

Why Stramaccioni didn't switch to a 4-3-1-2 formation with the youngster and Rocchi up front while playing Ricky Alvarez behind, I really can't tell you. If this wasn't confusing enough, after Rocchi had put the Nerazzurri ahead and the veteran was removed in a change with Cristian Chivu to defend the lead, Stramaccioni switched to a three-man defence, meaning he actually had less defenders in his backline!

Now I'm sure Strama had his reasons for these choices but neither makes particular sense from a tactical view point.

The truth is Inter's defence wasn't the reason for keeping a clean sheet; too many mistakes were made from the centre backs Andrea Ranocchia and Juan Jesus. It was the hard work and effort produced from Javier Zanetti covering from the midfield, and some outstanding saves from Samir Handanovic, who was making his 300th Serie A appearance, that saved the day for Inter.

The only other three Inter players who made a huge difference in this match was Jonathan and Alvarez in the first half, and Mateo Kovacic in the second period. Not counting the ever-reliable Zanetti, in recent weeks it has only really been Jonathan, Alvarez and Kovacic who have stepped up their performances in an attempt to improve their club's dire form.

Kovacic is proving to be a very sound investment for the club; every game he is showing glimpses of the superstar he is destined to become. However, it is Jonathan and Alvarez who deserve the most praise, both these players have come under a lot of scrutiny from both pundits and fans alike in their time with the club.

With the loss of so many key players and bad results, these two have taken the challenge of improving their club's fortunes into their own hands and worked tirelessly to bring better results for Inter. I just hope the underachieving players can learn from them in Inter's final sprint during these last five games of what has been a hard season.