Predicting Inter's final league position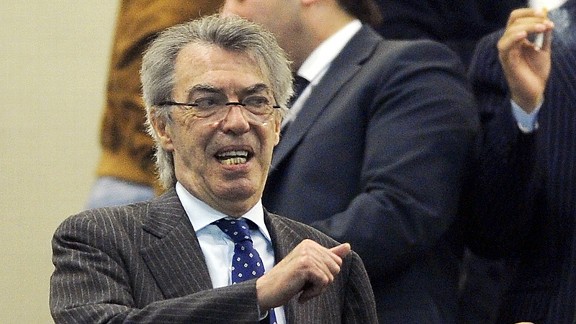 Claudio Villa/Getty ImagesFor the moment, Inter Milan president Massimo Moratti is still backing manager Andrea Stramaccioni.
Following Wednesday's Coppa Italia defeat, Massimo Moratti -- for the time being at least -- seems content to accept that his club's recent fortunes have been severely hampered by the injury crisis facing Andrea Stramaccioni: "We're talking about 11 injuries -- and 11 players considered indispensable," he told the press after the game.

- Stramaccioni defiant on future

Personally, however, I can't see this uncharacteristic patience from the Inter supremo continuing to last if the team doesn't manage to secure a top five finish in the final six matches of the season. Moratti himself a day later clarified what he said after the Roma game, but reading between the lines it seems to me that he is in no way saying Stramaccioni's job is secure: "For the time being I stand by what I said the other day. I can't make an assessment of a person who's been able to work with a third of what he was supposed to have."

As I mentioned in my reaction article, after seeing Inter knocked out of the Italian national cup I am almost certain there will be another coach in charge of the Nerazzurri come the start of next season. But if Stramaccioni can lead his depleted squad to qualification for the Europa League, he may just be given an extra few months to prove his worth in the 2013-14 season.

The Champions League qualifying spot of third place is practically impossible for Inter -- as it has been for a few weeks now -- but can Stramaccioni's Inter defy the odds and claim a fourth place finish to go straight into next season's Europa League group stage? It's possible, just not very probable! Currently Fiorentina sit in this spot with 55 points, just five points ahead of the Nerazzurri who are seventh in the table.

With six games left there is a potential of 18 points available and only one point difference between Inter and Lazio in fifth and sixth-placed Roma. For the club to finish in fourth place it is going to take a lot of good luck in Inter's favour, so maybe the final European spot of fifth could be enough to save Strama? I doubt it but you never know! Another route that may become available to Inter to stay in Europe next season would be to finish ahead of either of the Roman clubs and for the other one to win the Coppa Italia, obviously presuming the one that wins the Coppa is in a Europa League position.

The winner of the Coppa automatically qualifies for the Europa League so if that team already occupies either fourth or fifth, then sixth place will qualify for the preliminaries starting in August. To be honest, this method is probably Inter's best chance to save some shred of dignity from the disaster that has been the 2012-13 season. Again though, it requires a number of factors to go Inter's way.

I've mentioned before in previous articles that I personally feel Inter could possibly benefit more in their ability to rebuild the team if they don't have European commitments next season, but I just can't see Moratti giving Stramaccioni a chance to try that option. So with the Inter coach's job reliant on the club finishing in the top five, I decided to have a look at how I think the Nerazzurri and the teams around them will fare over the season run-in, and predict who will finish in the positions between fourth and ninth. I've included Udinese and Catania in this because both are within striking distance of overtaking Inter and even still have a chance of finishing in the top five if results go their way.

When looking at the fixture lists for these six teams I noted both Fiorentina and Catania have the easiest run-in to face with each only having to challenge teams that are still in contention for a top five finish once, the other five of their games will be against teams in the lower half of the table. After those two, it is both Udinese and Lazio next who each have to face two of the top nine, including their match against each other this weekend. That leaves Inter with half of their remaining fixtures against tricky top-half opponents, and Roma facing four out of the top nine.

I then went on to predict how many points each team would gain out of the remaining 18 available to work out my estimated finishing positions for each. Fiorentina and Lazio should have the best run of form -- I'm expecting both to secure four wins and two draws adding 14 points to each team's total. Roma should gain eight points with two wins, two draws and two losses.

While on the other side of Inter, I'm predicting Udinese to add nine points to their total with two wins, three draws and a loss, while Catania will gain a respectable ten points from three wins, a draw and two losses. Throughout this prediction I'm presuming Juventus, AC Milan and Napoli will stay in the top three with their results, so what about the fallen giant Inter? Unfortunately, I can only see them gaining an additional eight points with the same results as I've predicted for Roma, which means if I'm correct, the positions of fourth to ninth will stay exactly the same as they are now.

This is disastrous news for Inter who will finish in an even worse position than last season, and out of Europe for the first time since they finished eighth in the 1998-99 season. This is why I am so certain that we won't see Stramaccioni in the Nerazzurri hot seat next season. However, Interisti shouldn't lose hope just yet. After all, this is just my prediction of what will happen in the final weeks of the season, and everyone knows that in football anything can happen and the unexpected often does!