Two more injuries as Inter nightmare continues
Another match, another disappointing performance by Inter, and yet another defeat by a team the Nerazzurri should easily be beating.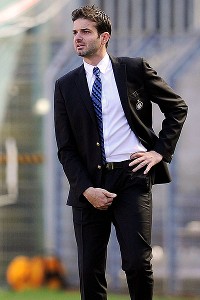 Giuseppe Bellini/Getty ImagesAndrea Stamaccioni's tenure at Inter became more tenuous with Sunday's loss at Cagliari.
Before Sunday's game, I was asked what I thought the final score would be against a team who should really be considered much inferior to Inter. My prediction of 2-0 turned out to be correct -- but little did I know it would be underdogs Cagliari who would secure the three points in Trieste.

Another penalty was awarded against Inter, and two more Nerazzurri players were added to the ever-growing injury list. Andrea Stramaccioni and Javier Zanetti said after the game the penalty the wrong call, but to be fair, I thought it was correct. As much as I didn't want to see Inter go down to another spotkick, it was a blatant foul by Matias Silvestre that left Domenico Celi with no other choice but to book the Inter defender and award the penalty.

- Highlights: Cagliari 2-0 Inter (UK and Ireland)
- Serie A: Inter slump to defeat at Cagliari

Silvestre stuck his leg out to attempt to take the ball from Mauricio Pinilla, but even after realising he had misjudged his tackle and missed the ball, he left his leg trailing far too long and practically invited the Rossoblu attacker to draw the foul.

The Sardinians' second goal was the result of something that I and many other Inter fans have complained of this season. Put simply, the Inter defence just switched off, allowing Cagliari to practically walk through their lines and slot home what was possibly one of their easiest goals of the season.

Seeing Walter Gargano replaced shortly after the half-time break with a suspected injury was annoying, when you consider the amount of recent Inter injuries. For me, however, Gargano has failed to produce the performances expected of him earlier in the season, so the loss isn't quite as devastating as it might have been.

Yuto Nagatomo only managed less than 10 minutes in his return from injury before being substituted after a suspected recurrence of the same injury that has seen him out of action recently. This reinforces my earlier article about the standard of the Inter medical staff. Was his treatment adequate? Was the Japanese wingback rushed back into the playing squad before he was ready?

Only those within the medical department of Inter and Stramaccioni know the answer to that, but I wouldn't be surprised if we don't see Nagatomo return before the end of the season. We will have to await the results of tests on both players to assess how serious their injuries are.

These injuries are obviously a concern for the club, but the real issue is the seriously below-par performances this Inter squad are producing week in and week out. Last season was supposedly one of the worst in Inter's history, but the way things are looking after Sunday, the club could be facing an even worse finish this term.

With 12 loses in 32 games and only a slightly better 15 wins, it is heartbreaking for fans to see the club sitting out of the European places in the seventh spot, just three points ahead of being in the mid-table position of ninth.

To see Inter failing so miserably this season has been shocking, to say the least. Although I have stated in the past that I would like to see Stramaccioni given another season to prove himself fully, I cannot see Massimo Moratti or even the fans standing for any more of these embarrassing results.

Against Cagliari, even a 58 percent possession stat couldn't help Inter gain control. To be honest, if it wasn't for Ricky Alvarez and Mateo Kovacic, I doubt the Nerazzurri would even hold that much of the ball. When a player who is at best mediocre such as Alvarez becomes Inter's best player in recent games, you can see how deep the problems lie for the Nerazzurri.

Stramaccioni has now faced Cagliari in three games since he took charge and has yet to beat the Rossoblu. Each time these two have met in the Stramaccioni era, Cagliari have scored twice each time, with the previous two encounters ending in a 2-2 draw.

To make this latest defeat all the more painful it is the first time since April 1996 that Cagliari managed a clean sheet against the Nerazzurri. This just emphasises Inter's lack of a consistent and confident goal scorer -- the Nerazzurri only managed to hit the target four times in 19 attempts. Having Tomasso Rocchi as the club's only first-choice striker means that even if the Inter midfielders can create the chances, there is generally no one is the right areas to capitalise on them. This reduces Inter's chances to long shots from outside the area, usually coming from Fredy Guarin and Alvarez, who generally hit the top tier of the stands more times than they hit the back of the net.

With Inter's chances of qualifying for any European competition next season hanging by a thread, a game like this against a team of much smaller stature should have been a must-win. But now, with only six fixtures left in the season and some tough opponents to face, Inter fans are starting to worry whether their team can even manage a top-six finish, let alone the top three they have thrown away over the last few months.

The general consensus amongs fans now is that the season can't end soon enough to bring an end to the nightmare this season has become.