Rebooting Inter's project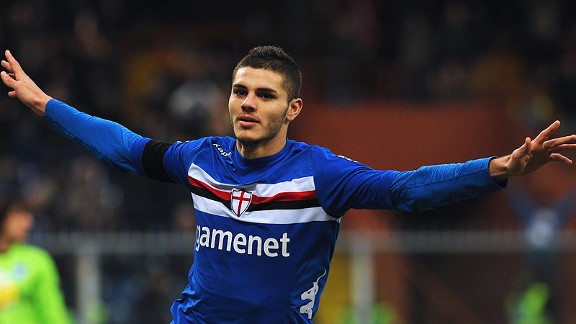 Valerio Pennicino/Getty ImagesMauro Icardi could be the star of the show for Inter next season.
A year ago, there was a buzz surrounding the Nerazzurri, with talk of a new rejuvenation project and the start of a new era for the club, but let's be honest with ourselves here, the 2012/13 season has been a disaster.

Whether this is due to the numerous injuries, bad refereeing decisions, bad tactics and luck, or just simply because of bad performances from the players is up for debate. But one thing has become very clear as the season has progressed, the new look Inter isn't quite the revamp we had all hoped for, and now with Champions League qualification all but over the club find themselves heading into the next campaign already €30 million poorer.

So what can we expect from the 2013/14 Inter? A reboot of their project is the likely scenario, and with a few of the players brought in for this season not making the required impact, the club will likely be looking at ways to offload those that just don't fit into the Nerazzurri way of doing things and replace them with cheap but exciting youngsters.

How can I be sure this is what's going to happen? Well, the club have already put the wheels in motion, signing a plethora of talented starlets. The Nerazzurri transfer department has been in overdrive since January and has secured deals for no less than five players, who are ready to join Inter from the very beginning of their preseason preparations. Recent rumours also suggest that regardless of the loss in revenue from missing out on Champions League football, Massimo Moratti is willing to spend yet more money during the summer to further strengthen his team. What effect this will have on the FFP situation remains to be seen, but at least efforts are being made to make Inter a competitive force once again.

Unlike the previous transfer windows, it seems all the departments of the team are being overhauled for the next campaign. The only exception to this is the goalkeepers which I would say is the only area that has great depth and quality in its cover. Samir Handanovic is one of Europe's best shot stoppers at the moment, and with Juan Pablo Carrizo as the second choice and Vid Belec and Raffaele Di Gennaro providing cover. This wealth of goalkeepers means Luca Castellazzi will be surplus to requirements, and I'm expecting the 37 year old to retire before his 38th Birthday in July.

All the other areas of the pitch, I'm hoping to see a clear out of players who just can't offer the club what they once may have been able to, and a real push to introduce a youthful feel to the squad.

In defence, whomever is coach next season (whether this is Andrea Stramaccioni remains to be seen) needs to stick with a four man defensive line as this suits Inter's style better than the three man backline. It seems that captain fantastic, Javier Zanetti, is looking to play another season with the club before hanging up his boots, and would be ideal to play the right-back position. In the centre, a rotation should between Inter's current centre-backs Andrea Ranocchia, Juan Jesus and the returning ex-Inter primavera player Marco Andreolli would work well. To add cover to the position Matteo Bianchetti should be involved in the first team, and to inject some much needed experience Inter have also signed Hugo Campagnaro, whose contract runs out with Napoli this summer, when he will see his 33rd birthday.

At left-back Ibrahima Mbaye should be shown some faith, the lad has impressed in his previous showings for the Nerazzurri and next season would be the ideal time for him to make the step up to the first team. Yuto Nagatomo will provide cover and extra options for both the left and right-back positions. Walter Samuel and Cristian Chivu will always be considered legends of the team but they are no longer as useful as they once were and should be sold or released in the summer. Jonathan has never really lived up to his potential so should also be moved on, as should Alvaro Pereira, who is allegedly being tracked by Tottenham for a summer move to the English Premier League. As for Matias Silvestre, he has never really shown his true ability for Inter so I can't see any other option than to let him return to Palermo after his loan spell finishes.

The midfield will see a major overhaul in the next transfer window, with rumours of Ezequiel Schelotto already maybe heading out of the club towards Torino. Other names that could also be on the way out are veteran Dejan Stankovic, Gaby Mudingayi, Joel Obi and Ricky Alvarez. Walter Gargano hasn't done enough this season to warrant Inter signing him permanently so he is likely to return to Napoli.

Esteban Cambiasso will stay, though he will become more of a fringe player within the team. Inter's central midfield will rotate between Zdravko Kuzmanovic, Marco Benassi and Alfred Duncan. Though the main player in this section and the guy it is rumoured next season's team will be built around is Mateo Kovacic, who has impressed immensely so far in his Inter career.

Further forward is where the real excitement comes. I see a three-man attacking midfield that will consist of Diego Laxalt on the left, Ruben Botta in the central attacking midfield position, and this season's hero Rodrigo Palacio on the right. There has recently been talk of Inter making a move for Barcelona's Alexis Sanchez for the right attacking-midfield position, but without Champions League qualification I just can't see that deal ever coming to anything. However, in the last day or two another option for this position has emerged in the form of St. Etienne's 23-year-old, Pierre Aubameyang, but with PSG also linked, this is again unlikely.

As a back- up for the midfield the club will possibly retain the services of Fredy Guarin, though with his decent market value I wouldn't be surprised to see him leave, while I would also like to see Daniel Bessa, Simeone Pasa and Rodrigo Alborno become more involved in first-team duties. Another current player whose future is in doubt is Antonio Cassano, but I am expecting the Italian forward to stay and provide experience and cover for the younger forwards, playing a less demanding role than he has been required to this year.

Finally, the strike force. The new-look Inter will be spearheaded by one of the most exciting young strikers in Europe, Mauro Icardi, and we will see fan favourite Diego Milito stay with the club as both a back-up striker and a mentor for the young Argentinean. This summer will also see a return of the star of last season's primavera Next Gen triumph, Samuele Longo, who I'm sure will be given plenty of chances to grow within the Inter team next season. That just leaves Tomasso Rocchi who I'm sure will be released in the summer due to his age, and for adding no real substance to the forward line since his arrival.

Looking at Inter's possible first eleven for next season I'm feeling very optimistic and confident that we will see a much stronger and competitive Nerazzurri fighting for a Champions League place in 2014. That is just with the players that have almost certainly already been signed by the club, so if any of the other names linked with Inter do arrive it can only improve what should already be a strong squad.