Controversy, another injury effectively finish Inter's season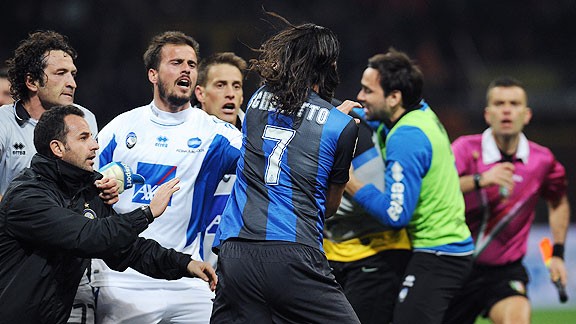 Valerio Pennicino/Getty ImagesInter's Ezequiel Schelotto (7) is likely to be disciplined for his part in a scuffle at the end of the loss to Atalanta.
I didn't think it was possible, but Inter Milan's fortunes have gone from bad to worse following their shock 4-3 defeat to their Lombardy neighbours Atalanta on Sunday, and it wasn't just the result that has all but finished the Milanese Nerazzurri's season.

With the absence of Rodrigo Palacio, it was no secret that the Inter team who hosted Atalanta needed to pull out all the stops to score the required goals to win. The game started with Tomasso Rocchi covering for Inter's latest absentee and Antonio Cassano having free reign to find space around the aging striker.

Determined to see his team take the lead, Andrea Stramaccioni felt that his best chance would come from playing a five-man midfield and to rely on Andrea Ranoccia, Walter Samuel and Juan Jesus to hold the three-man defensive line.

It all seemed to be going well until around the 30-minute mark, when Cassano played a back heel to Esteban Cambiasso, and immediately clutched the back of his leg in pain. Despite having his leg strapped up, the Italian forward knew he couldn't continue and after 30 seconds back on the pitch, he was signalling to be taken off. Reports at halftime suggested he has a strained hamstring, and early estimates say he won't be available until after Inter's Coppa Italia match against Roma in 10 days.

If we thought Palacio's injury was bad for Inter, this latest addition to the injury list is a disaster of epic proportions. In my previous article, I spoke about how all these injuries couldn't just be coincidence, and here's yet more proof to support my theory. Of course it also means that Inter have to play at least the next two games with just one striker, Rocchi.

Following Rocchi's 100th Serie A goal shortly before halftime, things were looking fairly good for Inter and I was optimistic we would see a good performance to secure the three points and take advantage of AC Milan's draw against Fiorentina earlier in the day.

I've never disguised the fact I'm not a fan of Rocchi, but to be fair to him, in the first half especially he appeared to have stepped up to the challenge of covering for Palacio by putting in the best performance I've seen from him in a Nerazzurri shirt.

Before Rocchi gave Inter the lead, Cassano's replacement, Ricky Alvarez, was the target of jeers from the Inter faithful following a mishit volley that should have easily hit the back of the net -- instead, it went so far wide it resulted in an Atalanta throw-in 10 yards from the corner flag.

I admit I was calling Ricky every name under the sun for that one, but the second half was a totally different story. The Argentine proved me wrong by instantly scoring and putting the hosts back in front following the first Atalanta equaliser, and then added a second less than five minutes later.

For me that should have been the game in the bag for Inter, and Stramaccioni should've reverted back to a four-man backline. Given the team's lack of firepower up front he should have made the decision to defend the two-goal lead for the remainder of the game.

As you've probably guessed, this didn't happen! Instead the team's good fortune turned on them when Ranocchia fell in the box behind Atalanta's Marko Livaja, who then turned and tripped over the defender, who landed under his feet. Referee Andrea Gervasoni must not have seen the incident properly as he promptly issued Ranocchia with a yellow card and awarded the visitors an incorrect penalty decision. This call would ultimately mean Atalanta left the Giuseppe Meazza with two points more than they should have and Inter without a point they deserved.

The call was so blatantly wrong that even captain Javier Zanetti risked punishment from the FIGC by speaking out: "A penalty on Ranocchia? The replays speak for themselves. I won't say anymore because I don't want us to risk punishment for these things as well."

Stramaccioni's reluctance to change his three-man defence went on to gift Atalanta two more goals as the defensive line melted under a barrage of pressure from the confidence-boosted visitors.

Before the finish, Inter did get one unmissable chance to even the score with the last kick. The ball arrived with Ranocchia just six yards in front of an open goal, but the defender scuffed his shot and could only watch in horror as the ball flew harmlessly into the air.

The big talking point will inevitably be the violent ending to the game. Two minutes into injury time as Inter prepared to take a vital corner, Inter winger Ezequiel Schelotto and ex-teammate Cristian Raimondi got into a tussle in the area which resulted in the Atalanta player throwing a punch at Schelotto, leaving the referee no choice but to dismiss Raimondi for violent conduct.

It didn't end there. When the final whistle blew, tensions were still high, and Schelotto made his way over to the Atalanta bench to confront Raimondi. The ensuing ruckus ended with staff from both benches separating the players and Inter team manager Ivan Cordoba dragged Schelotto down the tunnel to calm down.

It was a disappointing reaction from Schelotto to end what turned out to be a disappointing game full of misery, mistakes, controversial decisions and moments of both genius and madness. I can't help but think this match has signalled the end of Inter's season, with Cassano joining the ever-growing list of unavailable players and Schelotto likely to face discipline. There seems little or even no hope left for Inter this season -- even Europa League qualification could be a challenge for the Nerazzurri.

You never know, though. Despite the loss of revenue, not playing European football next season could be exactly what Inter needs to rebuild their squad and restart the project without any distractions. After all, it seemed to work for Juventus.