Are Inter's injuries purely down to bad luck?
"The truth is Palacio is Inter's greatest hope of holding any kind of chance of securing a top three finish this season."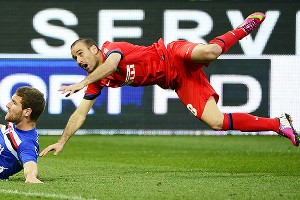 Olivier Morin/AFP/Getty ImagesRodrigo Palacio's injury, the latest in a string to beset Inter players, could be a sign of a subpar training system.
These were my words on Sunday evening following Rodrigo Palacio's brace secured Inter's win over Sampdoria. This statement now seems like a kiss of death to the Nerazzurri's season -- less than 24 hours after that article was published Inter announced the Argentine forward has a grade 2 hamstring strain.

This is the last thing the club or the fans wanted to hear. Inter have released no details about when it is likely we'll see a return of the club's top scorer, but initial reports suggest he could be out of action for at least a month which means his season -- like Diego Milito's -- is all but over.

This disastrous news has been met with disgust and outrage from the Inter faithful, who like myself are angry to find the club now reduced to a forward line consisting of Antonio Cassano and the utterly useless Tomasso Rocchi. I have been impressed with Cassano's work rate and creativity this season, but it is obvious in some games that the Italian has issues with his stamina and fitness.

My biggest concern from the team's perspective is that while he is fantastic in a creative capacity, his time in front of the net to provide much-needed goals is minimal. I can't complain at the eight league goals he's scored in the 26 league appearances, but he certainly hasn't been prolific enough to save Inter's season.

Even if Andrea Stramaccioni decided to play him as the out-and-out striker I don't believe he would be able to score the required goals, mainly because of the lack of creative depth within the current Inter squad. Let's face it -- Cassano himself is the club's most creative player, so if he isn't performing that role, who would provide the chances he'd need to score?

The other option to spearhead Stramaccioni's formations is the 35-year-old Rocchi who has proved the fans scepticism right by being as useless on the pitch as I predicted back in January. Admittedly, he has only made one league start for the Nerazzurri but in the 142 minutes he has played in the league since January, you would expect the striker to have scored at least one goal!

This alone proves that the club cannot rely on him to stand in for either Milito or Palacio, and especially not for both.

With Inter's two main scorers now sittingon the sidelines questions are being asked of the logic in selling half of Marco Livaja's card to Atalanta. Back in January it seemed a bizarre decision, but with hindsight and in light of recent injuries the deal appears ludicrous. At the start of the season when Inter loane Samuele Longo I could see the sense in giving the youngster some first-team experience to help him grow, especially as there was still Livaja at the club to provide cover, but to then allow that cover to leave is a prime example of some of the idiotic decisions the club has made in recent years.

Injuries are nothing new for Inter, but since Jose Mourinho left in 2010. the amount of Nerazzurri players on the treatment table seems to have increased at a worrying rate. Currently there are nine players injured out of the 31-man first team, almot a third of the squad!

Are the Nerazzurri just unlucky when it comes to player injuries? Personally I am starting to wonder if it is more a result of training methods, fitness regimes and how the players are treated by the club's medical staff.

There have been far too many injuries within the team in recent years to just put it all down to misfortune, and if I was Massimo Moratti I would be looking at how this aspect of the club is being run and how to change things to improve the situation in the future.

Another byproduct of all these injuries is the inevitable slump in form on the pitch. The last three seasons for the Nerazzurri have seen a lot of changes when it comes to coaches, tactics and even players, but these things alone shouldn't account for the huge difference in the team's performances.

The results speak for themselves -- between the 2006-07 season and the legendary 2009-10 term with both Roberto Mancini and Mourinho at the helm, Inter suffered no more injuries than most other clubs, and the results for those four seasons saw the team lose just 12 times in total, an extraordinary feat by any standard.

However during the 2010-11 season, the club started to experience a higher rate of players getting injured lost eight times. Last season and the current season have seen similar fortunes with injuries. Even though Stramaccioni has slightly improved the on-pitch results compared to last term, he has in 10 losses in 30 games compared to last season's 14 defeats in 38 matches.

These really are miserable stats to read for any devoted Interisti. You may argue that there have been a lot of factors that would have affected the number of losses since 2010 – mainly tnone of the coaches since have been of the same standard as Mancini or Mourinho.

For me however, it is all interconnected -- the head coach sets out the training regimes for his players and should be working closely with the club's medics and fitness staff. This is something I know both Mancini and Mourinho took a lot of pride in perfecting. With the increased number of injuries since, you have to question whether their successors have had the same dedication to training.

Of course, this is all speculation on my partm as I don't know what happens behind closed doors in day-to-day life at the club, but the increase in players being out of action can't be purely down to bad luck.

Now, with just eight matches left of a season that started full of so much optimism and promise, Interisti have to accept that the club's injuries, inconsistencies and bad decisions have left Inter to end the season not much improved on last year, and still in a complete shambles.