Humble Palacio takes Inter back to fifth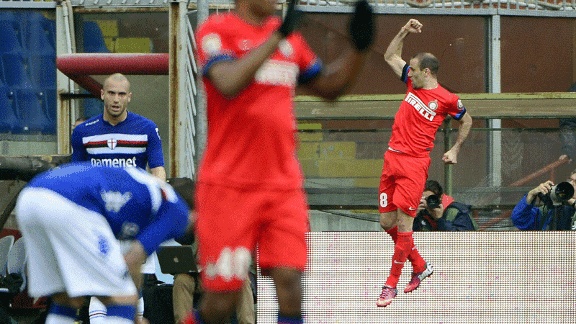 GettyImagesRodrigo Palacio scored a brace as Inter Milan won 2-0 at Sampdoria
Following Inter's 2-0 away win over Sampdoria, Rodrigo Palacio took the humble approach when quizzed about scoring his 21st and 22nd goals of the season. "I am not a saviour of Inter," he said. "I score goals because I am a forward. Everyone deserves this victory."

But the truth is Palacio is Inter's greatest hope of holding any kind of chance of securing a top three finish this season. His goal scoring record speaks for itself: 12 league goals, eight successful strikes in the Europa League and not forgetting two so far in Inter's Coppa Italia run.

Since Diego Milito's first injury earlier this season the pressure has been very much on Palacio's shoulders to take the place of 'el Principe' at the top of the Nerazzurri goalscoring chart for this term. The Argentinean has relished the challenge like any true professional and at times has single handedly kept Inter's hopes of Champions League football alive.

Admittedly the odds of Inter finishing in third place or above are extremely slim, but Interisti must be thankful that 'RodriGOL' has produced the form that many were sceptical he could achieve back at the start of the season.

Palacio was obviously my man of the match against Sampdoria, but the scoreline really doesn't do justice to the hosts. The possession stat of 50/50 gives a truer picture of the general flow of the game, but it is Sampdoria's 18 shots on goal compared to Inter's nine that shows which side held the attacking dominance throughout the fixture.

Sampdoria dominated the midfield play for large periods of the game, but fell down flat in the attacking third through a combination of bad luck, an inability to break down the defensive duo of Andrea Ranocchia and Juan Jesus and of course the cat like reactions on display from the Inter goalkeeper Samir Handanovic.

For me, this game highlighted some of the players in the Inter squad who should be offloaded this summer, especially when you consider their mediocre performances here against a team that last season finished sixth in Serie B. Jonathan is a prime example of this, several times during the match when the Brazilian was on the ball in acres of space he seemed incapable of staying on his feet, let alone making any useful passes or tackles. On the other side of the pitch Alvaro Pereira was nearly as bad, misplacing passes left, right and centre, or just making clumsy challenges when called upon defensively.

Another player who was seen to make several rash tackles and wayward passes against Sampdoria was the midfielder Walter Gargano. The defensive midfielder has surprised me this season as after seeing him play for Napoli previously, I was expecting good things from him in the heart of the Nerazzurri midfield, but all in all the Uruguayan has failed to live up to my expectations. I'm not saying any of these aren't decent in their own rights, if they were playing in a lower calibre team, but game after game they are proving they are not of the quality expected within an Inter squad.

For the second game in a row now, Fredy Guarin has also been disappointing, trying too hard at times to be a Lionel Messi type player when he should just concentrate on being himself. I am a fan of 'Guaro' but the Columbian has to reign himself in a bit and stick to playing within his abilities if he expects to stay on with the Nerazzurri in the future.

The rising star of the Inter line-up was once again Inter's man in the heart of the formation, Mateo Kovacic. The Croatian is proving that he has a huge future ahead of him and already has succeeded with the Nerazzurri where other starlets like Coutinho and Ricky Alvarez have failed, by forcing himself into the Inter starting eleven. The maturity in the 18-year-old's play is astounding, and even though he still has much improving to do (though age and experience will refine his game) he is already looking like a player coach Andrea Stramaccioni can build next the team around next season.

Stramaccioni himself needs to bring more discipline to his tactics, for too many games this season his squad has lacked any of the real fluidity or rhythm that a top team needs to challenge for honours. His constant formation changes are having a huge effect in this respect and instead of replacing Jonathan with Matias Silvestre and switching to a three man back line, I would've preferred to see him keep the original 4-3-1-2 by bringing on Ezequiel Schelotto instead. I would have liked to see Strama keep a bit of tactical consistency by maybe even moving Javier Zanetti to right-back and replace Jonathan with Marco Benassi in the midfield.

To stand any real chance of Champions league qualification next season Inter will need to win all their remaining eight games, matches which include tough fixtures such as Lazio and Napoli. This, of course, means us fans have to accept it isn't very likely to happen this season, we can however just keep hoping and just take one game at a time. You never know 'Pazza' Inter may just surprise all their doubters.