Can Inter repeat their previous Derby d'Italia heroics?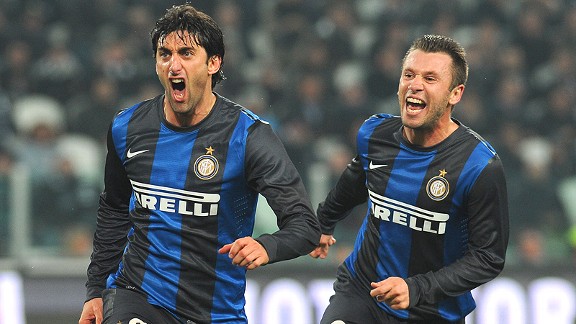 Valerio Pennicino/Getty ImagesDiego Milito, left, celebrates his goal with Inter teammate Antonio Cassano in last November's 3-1 win over Juventus. The Nerazzurri will be without the injured Argentine when the teams meet again on Saturday.
Following the emphatic 3-1 win over Serie A champions Juventus last November, it was thought Andrea Stramaccioni and his Inter squad could actually defy the odds and challenge the Turin side for the 2012-13 Scudetto title.

Now half a season on from that glorious win, the title is far beyond the Nerazzurri's reach and the club's attention has returned to its original target of a top three finish. The season run-in is now well underway, and after a disappointing four months, Inter sit in a lowly seventh place in the table with 47 points. Juventus, however, have managed to keep a firm grip on their top spot, holding 65 points, and being nine points ahead of second place Napoli, they look almost certain to claim their 29th Scudetti title.

However, the situation for Inter may not be quite as bad as it seems. They have a game in hand on the rest of their rivals for the top spots after the suspension of the Sampdoria game two weeks ago due to bad weather. Inter are obvious favourites to win this difficult away clash when it is finally played next week, so it would be fairly safe to say if the game had been played they would've leapfrogged the two Roman teams and be sitting in fifth coming into this vital fixture on 50 points, just three points behind third place Milan.

This of course is irrelevant for the time being as Inter's more immediate adversary is their arch-rivals, the Bianconeri. This will be serious challenge for the Nerazzurri; after all, Juventus are by far the strongest team in Italy over the last two seasons. Any fellow Interisti reading this will realise how painful that last sentence was for me to admit, but unfortunately there is no denying that it is true.

Inter have to stay positive though and keep believing in their abilities. Juventus, for all their strength, are not unbeatable as the Nerazzurri proved last time the teams met, and since then the Turin side have fallen to three other defeats. If Inter can bring to the game the determination, belief, courage and teamwork that they showed against Tottenham, then it is entirely possible that the old lady will fall to defeat at the hands of 'il Biscione' twice this season.

Andrea Ranocchia was asked recently about Inter's chances against Juve, and the young centre back seemed confident in his teammates: "We hope to repeat the trick and win again," he told Sportmediaset. He then went on to emphasise the point I made in the previous paragraph. "We can beat Juventus by working as a team, that's the real method. We should take an example from our performance in the second leg against Tottenham, when we moved as one."

Inter's exit from the Europa League may also work in their favour as their game in the midweek is against Sampdoria which, with all due respect to the Genoese side, is a far easier game to follow up this one than the Champions league tie against Bayern Munich that Juventus have to face on Tuesday in Germany.

The Derby d'Italia is always a hugely important game to both Inter and Juventus, but I have to wonder if considering their comfortable lead in the league and their ambitions in Europe, whether we will see a weaker Juventus side take to the pitch than what would normally be the case against the Nerazzurri? This remains to be seen, but if they feel comfortable enough to sacrifice league points to be stronger in the Champions League, it can only have a positive effect on Inter's chances.

I think Stramaccioni will go into this game wanting to prove a point that he is the right man to lead Inter forward and the current squad is capable of winning important games. They will, of course, be without their big game striker Diego Milito, who is still recovering from his knee injury. Several other Nerazzurri players are still on the injury list too and Juan Jesus is suspended from the game after not being able to serve his ban during the postponed Sampdoria game. I am confident however the club still has sufficient depth in the squad to cause Juventus some trouble.

I'm expecting a positive formation to take to the Giuseppe Meazza pitch on Saturday afternoon; maybe a line-up of 4-3-2-1 with Javier Zanetti, Ranocchia, Walter Samuel and Alvaro Pereira making up the defense. Esteban Cambiasso, the talented Mateo Kovacic and Walter Gargano completing the midfield three while Fredy Guarin will sit behind the frontline as a makeshift trequartista, alongside Antonio Cassano who will play a free role between the trequartista and a striking positions. The formation should then be fronted by Rodrigo Palacio, who as Inter's top scorer this season will be depended on to get on the end of and finish any chances created by his teammates.

Can Inter repeat their unexpected victory from earlier in the season? Probably not; but if my prediction of Juventus' attention being on Tuesday's European trip turns out to be true then maybe the Nerazzurri can catch them off guard. Unfortunately, even if Inter do manage to take the three points, sadly I can't see it doing much damage to the Bianconeri's title chances, though it would provide an important boost to the Nerazzurri.