A year of 'Stramala' at Inter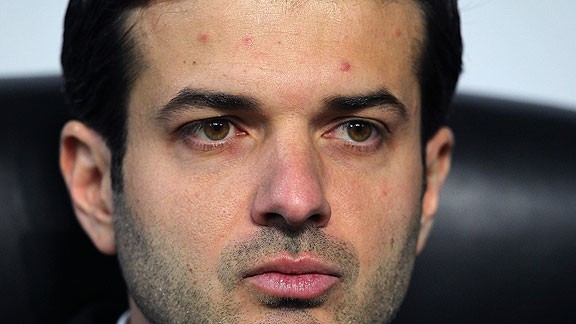 Marco Luzzani/Getty ImageThere has been a mix of good and bad in year one of the Andrea Stramaccioni era at Inter Milan.
March 26 is a special day for Andrea Stramaccioni.

It marks the one year anniversary of him becoming Inter's head coach. This is a pretty special feat - as any previous Inter coach will tell you - because few have passed this landmark or even reached it during Massimo Moratti's reign as owner of the Nerazzurri. In fact, 'Strama' is now the third-longest serving Inter coach since 2004 behind Roberto Mancini and the legendary Jose Mourinho. Rewind to the 25th March last year, and the unknown Stramaccioni led Inter's primavera team to take the first ever Next Gen trophy.

The Nerazzurri's first team boss, Claudio Ranieri, in comparison was losing all control of his team as was apparent in Inter's 2-0 defeat to their arch-rivals Juventus. This loss saw Inter sitting in eighth place in the table, and with no idea how to turn the team's fortunes around, Ranieri decided to throw in the towel and rescind his contract with the club. Much talk at the time was of Inter needing a long term project and a rejuvenation of their ageing and expensive squad, so the obvious candidate to act as the caretaker coach for the rest of the season was the man who knew the club's youngsters better than anyone, Stramaccioni!

Plucked straight from his celebrations, the young, inexperienced coach was given the daunting task of trying to save Inter's season, while proving to Moratti that he was the right man to lead the club into this new and exciting era. Proving himself didn't appear to be a problem for the 36-year-old as even after being in the job for just six days he led his new team to a thrilling 5-4 victory over Genoa.

For the remaining eight matches of the season, his 4-2-3-1 and 4-3-2-1 formations led to some exciting and vital victories, including the 4-2 demolition of Inter's cross-town rivals AC Milan, this defeat not only caused the Rossoneri to lose the bragging rights around Milan, but it also ended their hopes of beating Juventus to the title. Admittedly, this was a bittersweet result for me, as much as I wanted to see my team beat Milan and stop them claiming their 19th Scudetti, I wanted Juventus to win their 28th even less.

By this time the best the Nerazzurri could hope for was a Europa league spot, and only a final day defeat to Lazio denied Stramaccioni's team from securing a fourth place finish, instead the team ended the season in a disappointing sixth. Stramaccioni was the hero though, and widely considered to be the next great Inter coach. Once he had been confirmed as securing his job by Moratti, he was expected to replace the exiting players with a combination of his trusted primavera players along with some younger and cheaper summer acquisitions.

"I'm not the coach, but there are three or four members of the Primavera who could be introduced into the first team," said Moratti.

Even Inter president Moratti could see this exciting vision of the future, but so far this dream has yet to materialise as a reality. The young players that were expected to break into the first team under Stramaccioni's guidance are either still playing for the primavera or have been shipped off to various other clubs on loan or in co-ownership deals.

How much say Stramaccioni has actually had in these ludicrous decisions is anyone's guess, but it is my biggest disappointment of the 'Stramala' era so far. This season Inter have lacked a quality playmaker, so I fail to understand the logic of sending the highly rated Daniel Bessa out on loan. Even more baffling is the decision of leaving left back Ibrahim Mbaye in the youth team, when he played so well in the preseason, especially considering Yuto Nagatomo's injury has left the Inter boss with so few choices and new left back Alvaro Pereira hasn't quite been as convincing in many games as we thought he would be.

Perhaps the most confusing was the loaning out of Lorenzo Crisetig. Since the end of last year there has been much talk of Inter's need for a true regista in their midfield, a role Crisetig is perfect for, yet in the winter transfer window instead of bringing him home from his loan at Spezia, they sent him out once again, this time to Crotone. Luckily the club have secured the services of Mateo Kovacic who seems to be a very exciting young prospect instead.

I have spoken at length in the past about Stramaccioni's tactical mistakes this season, most of which have been brought about by numerous injuries, like the switch to a 3-4-1-2 formation, but how has 'Strama' really performed in his 54 games in charge since this time last year?

The truth is he's not done too badly at all, regardless of how it feels to us Interisti recently. He has led the Nerazzurri to victory 29 times and lost 15 games across all competitions, the remaining ten matches have resulted in draws giving the inexperienced coach a reasonably impressive 53.7 per cent win ratio.

In this time, his team have scored 97 goals which averages at 1.8 goals per game, and they have conceded a slightly disappointing 75 goals at an average rate of 1.4 goals per game. With a goal difference of plus-22, these stats could be much worse. And to be fair, the whole principle of football is to score more than you concede so this has to be classed as a success.

What does the future hold for Stramaccioni? To be honest, only Moratti can answer that question. But according to the rumours, the same fixture that cost Ranieri his job giving 'Strama' his break into top flight football, could also signal the beginning of the end of his Nerazzurri adventure. Whether or not he will still be at the helm of Inter come the start of next season remains to be seen, but I still think he should be given until next January to show what he can really do. With the inclusion of the new summer arrivals, and the primavera stars when they return to the club, next season will again be one of transition, but I hope to see a large step forward compared to the current campaign.

I have no doubt that Stramaccioni will become one of the great coaches of the footballing world, but the question remains as to whether or not it will be with Inter or with another club in years to come when he's built up his experience at the top of the game.