What does the future hold for Inter's senators?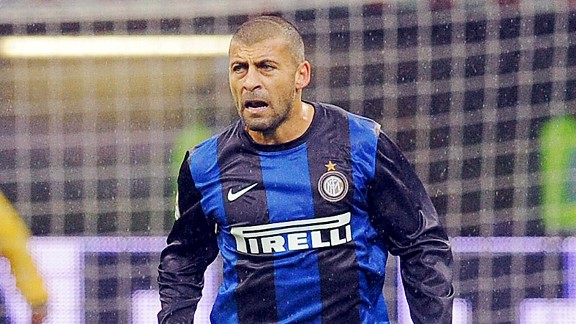 Giuseppe Bellini/Getty ImagesWalter Samuel is back from injury and could start in the Coppa.
So far Inter's rejuvenation project hasn't quite achieved the promise that was expected back in August. A turbulent season has seen more lows than highs for Andrea Stramaccioni's side, and with the team making hard work of hitting their targeted third place finish, there is a chance the Nerazzurri could finish the season anywhere from third spot all the way down to a mid-table tenth place.

As I've mentioned before, Inter should think themselves lucky that other Serie A teams are having similarly bad seasons too, otherwise who knows where they'd be now. Luckily the top half of the table is so close in points it is very likely that the finishing positions will not be decided until the final game of the season.

There isn't much that can be done about the situation Inter face in the league this season, but already it seems club President Massimo Moratti is looking to ensure his team is fighting for honours next season. Historically it has become expected by Interisti for the club to wait until the transfer windows are almost closed before making the majority of their moves for new players. However, since the winter mercato closed at the end of January, it seems the Nerazzurri transfer department has gone into overdrive to ensure all the areas that need strengthening across the pitch are being dealt with before the end of this current season.

- Campagnaro in talks with Inter

Names like Mauro Icardi and ex-Inter primavera defender Marco Andreolli have almost certainly been secured to join the club's ranks in the summer, although no official announcements have yet been made about such players, but it is widely regarded that the deals are as good as done. Depending on whether Inter can achieve Champions league qualification could also open the door to big name signings like Edin Dzeko and Alexis Sanchez, too.

So it seems the next transfer window could bring about a revolution within the club that may trigger the emergence of the next great Inter side. Only time will tell if these dreams really do become a reality, but what of the remnants of the last great Inter squad? The remaining Senators of the 'Triplete' Inter?

Walter Samuel celebrated his 35th birthday on Saturday, and the Argentinean is finally looking to be over his injury that has seen him out of action recently and is ready to start in next week's match against Juventus. 'The Wall' will see his contract at the club expire in June, and it is uncertain whether Inter will offer to extend for another year or even if Samuel himself will want to retire instead.

Samuel is one of those defenders that due to his strong physical presence and leadership on the pitch, along with an imposing playing style, he will prove to be very difficult to replace for the Nerazzurri. Personally I would like to see him extend for another season (probably at a reduced wage), not so much to appear on the pitch, but as a mentor and advisor to the young centre backs that the club will be relying on to hold their backline. A big deciding factor though will be when the club and Samuel himself come to evaluate how well the veteran defender has recovered from his injury and if he is up to continuing as a player next season.

Dejan Stankovic has spent the majority of this term injured and has only made three brief appearances all season. In his prime 'Deki' was a formidable player in Inter's midfield, but I am of the opinion that the club should've let him go last summer. His performances last season were nowhere near the standard that has been witnessed in the past, and the Serbian just looked slow, old and tired on the pitch. His handful of cameos this season have done nothing to make me change my mind, and as much as I will always remember the great things he's done at the club -- including some incredible long range power-blasted goals -- I am sure he will be leaving Inter this summer.

With his contract running out next summer, Esteban Cambiasso is rumoured to be contemplating his future at the club. River Plate are thought to be interested in securing the Argentinean's signature and with Inter reportedly being interested in River's Ezequiel Cirigliano, I would not be surprised to see the Nerazzurri midfield legend being used as a bargaining chip in the deal. 'Cuchu' turns 33 in August, so he may be tempted by seeing out his career in his native country. Cambiasso's leadership and presence will be missed in the squad and he will always hold a special place in Interisti hearts, but nostalgia can't be considered a good reason for the club to hang onto a player who doesn't fit in with their plans for the future.

Like Cambiasso, Inter striker Diego Milito's contract is due to expire in 2014, and at the start of the current season it was expected that in the summer the fan favourite whose goals secured the 2010 'Triplete', would leave the Giuseppe Meazza to end his career where it all started at Argentina's Racing. However, following a season ruined by injury, the striker, who turns 34 in June, is likely to see out his contract with Inter just to make amends for the games he's missed this year. He obviously won't be a regular starter in the squad, though it would work in Inter's favour for him to stay not only as a backup for Icardi, but also as a mentor for the young Argentinean to help him settle and grow into his role as the Nerazzurri front man.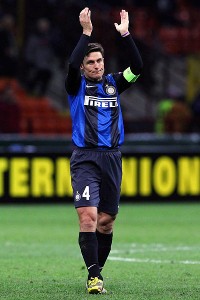 Marco Luzzani/Getty ImagesJavier Zanetti is already thought to be a future high-ranking director at Inter once he steps away from the game.
Last but not least is 'il Capitano' himself, the machine that is Javier Zanetti. 'Pupi' has Paolo Maldini's all-time Serie A appearances in his sights and has stated on more than one occasion that he will continue to play for Inter until he feels he is no longer useful. He recently signed an extension on his contract so it is likely he will continue as the team captain for at least another season despite him reaching 40 years of age before the start of the next term. He may not feature as much as he possibly might like, but as a player who seems like a youngster on the pitch with limitless energy, I wouldn't be surprised if he plays in every single match.

Of course, this is presuming Inter's talisman doesn't pick up an injury, which is unlikely for a player who has spent much of his career injury-free, but considering his age, it is a possibility. Whatever happens on the pitch for Zanetti, we can be assured that the club legend won't be leaving the Nerazzurri anytime soon. It has long been known that Moratti has promised to reward his loyalty with a director's role when he finally hangs up his boots, but if the rumours are to be believed, Zanetti won't become any ordinary director; instead he will be second only to Moratti himself as vice-president. Who knows, maybe one day he will follow in the great Giacinto Facchetti's footsteps and take over for Moratti as president of the club that he loves so much.

For those great senators of Inter that will be saying farewell to the club they gave so much to, we can be certain it will be with a heavy heart. But both the players and the fans will hold many great memories of these legends that made Inter's dreams become reality, and for that they will forever be remembered as part of the club's illustrious history.